Landschlacht, Switzerland, 19 August 2018
It has been ages since I have written about Turkey, but those who know me are aware that there are both many things I adore about this bridge between Asia and Europe and many things I abhor.
Of the little exploration I have done in this great republic (the Turquoise Coast with Alanya and Antalya, Kas and Kale, Egirdir and Pamukkale, and the great city of Istanbul)….
I fell immediately and forever in love with Istanbul.
I spent only three days there.
I would have loved to have spent three decades there.
I have written a wee bit about this amazing and ancient metropolis.
(See: Canada Slip and the Lamp Ladies, The sorrow of Batman, The fashionable dead, Take Me Back to Constantinople, Fireworks in the Fog, and Silence and Gold, of this blog.)
Of the little I know and understand about Turkey I find myself more and more disliking the present leader of Turkey and former mayor of Istanbul, Recep Erdogan, and so I have written a wee bit about him as well.
(See:  Bullets and Ballots and The rise of Recep of this blog.)
Above: His Excellency President Recep Erdogan
There is so much to see and do in Istanbul that it is difficult to know what to recommend.
Does one go to the district of Sultanahmet and visit Aya Sophia, the Blue Mosque and the Basilica Cistern?
Does one look for souvenirs in the historic Arasta Bazaar?
Does one watch whirling dervishes whirl or wind down at a nargile café?
Is life a bazaar and should one explore the labyrinthine lanes and hidden caravanserais of the world-famous Grand Bazaar, or is it better to follow the steady stream of local shoppers making their way to the Spice Bazaar?
Can a person remain the same after visiting that most magnificent of all Ottoman mosques, the Süleymaniye or after watching the sunset as one walks across the Galata Bridge?
Is it wrong to envy the lifestyles of sultans at Topkapi Palace or to indulge sultan-like in the steamy luxury of a hamam (Turkish bath)?
Can one forget the Bosphorus or be unimpressed by the Istanbul Modern Museum?
How did one live before Istanbul?
How can one live afterwards?
How does one discover Istanbul through literature?
It depends on what kind of Istanbul you seek.
Rose Macauley's The Towers of Trebizond is a largely auotbiographical novel that focuses on a group of lively and eccentric travellers on the way from Istanbul to Trebizond (Trabzon on the Black Sea coast of northeast Turkey).
Read this and you will soon find yourself on a boat between these cities.
Then there is The Prophet Murders by Mehmet Murat Somer:
"Most tourists come and visit the historical sights of Istanbul, but we have very modern parts and life is completely different there…."
The reader is transplanted into a subculture of the city, the transvestite club scene.
As Venice has Donna Leon's Commissario Guido Brunetti and Edinburgh has Ian Rankin's Inspector Rebus, Istanbul has Barbara Nadel's Inspector Ikmen crime series.
The first of the series, Belshazzar's Daughter, finds the Ikmen examining the torture and murder of an elderly Jewish man, a crime that sends shock waves through Istanbul.
Elia Shafak's highly acclaimed The Flea Palace focuses on the residents of the Bonbon Palace, a once Grand residency built by a Russian émigré at the end of the Tsarist period, but now a sadly rundown block of flats.
Think A Thousand and One Nights in modern Istanbul.
Nobel Prize winner Orhan Pamuk is one of Turkey's most celebrated authors and much of what he has written is essentially a love letter to his city of Istanbul.
Above: Orhan Pamuk
Pamuk shows through both his Istanbul: Memories and the City and his novels  – (at least those I have found and read) –  The Red-Haired Woman, A Strangeness in My Mind, The White Castle and The Museum of Innocence  – sides to Istanbul that most tourists never see nor will ever see.
"To savour Istanbul's backstreets, to appreciate the vines and trees that endow its ruins with accidental grace, you must, first and foremost, be a stranger to them."
From Lonely Planet's Istanbul:
"His status as a Nobel laureate deserves respect, but we feel obliged to say that we think Orhan Pamuk is a bit cheeky to charge a whopping 25 liras for entrance to his Museum of Innocence.
That said, this long-anticipated piece of conceptual art is worth a visit, particularly if you have read and admired the novel it celebrates.
The Museum is set in a 19th-century house and seeks to re-create and evoke aspects of Pamuk's 1988 novel The Museum of Innocence by displaying found objects in traditional museum-style glass cases.
The Museum also includes strangely beautiful installations, such as a wall displaying the 4,213 cigarette butts supposedly smoked by the narrator's lover Füsun.
The exhibits seek to evoke what Pamuk as described as "the melancholy of the period" in which he grew up and in which the novel is set."
The narrative and the Museum offer a glimpse into upper-class Istanbul life from the 1970s to the early 2000s.
The novel details the story of Kemal, a wealthy Istanbulite who falls in love with his poorer cousin, and the Museum displays the artefacts of their love story.
Kemal, of the wealthy Nisantasi family, is due to marry Sibel, a girl from his own social class, when he falls in love with his distant relative Füsun, who works as a sales assistant in a shop.
Kemal and Füsun begin to meet in dusty rooms filled with old furniture and memories.
After Füsun marries someone else, Kemal spends eight years visiting her.
After every visit, he takes away with him an object that reminds him of her.
These objects form the collection of the Museum of Innocence.
According to the Museum website, the collection, which includes more than a thousand objects, presents what the novel's characters "used, wore, heard, saw, collected and dreamed of, all meticulously arranged in boxes and display cabinets."
"The Museum of Innocence is based on the assumption that objects used for different purposes and evocative of the most disparate memories can, when placed side by side, bring forth unprecedented thoughts and emotions."
On the floor at the entrance of the Museum, the Spiral of Time can be seen from every floor.
If Aristotle thought of time as a line joining moments worth remembering, Pamuk sees time as a line joining objects.
"The idea for my museum came to me when I met His Imperial Highness Prince Ali Vâsib for the first time in 1982 at a family reunion in Istanbul….
Above: Ali Vâsib (1903 – 1983)
My curiosity at the family table prompted the elderly Prince to share some stories.
Among them was King Farouk's kleptomania.
Above: King Farouk I of Egypt (1920 – 1965)
During a visit to the Antoniadis Palace and Museum, Farouk had, unbeknowst to anyone, opened a cabinet and taken away an antique plate he had set his sights on for his own palace in Cairo.
Above: Antoniadis Palace, Alexandria, Egypt
Prince Ali was looking for a job that would provide him with an income and enable him to settle down in Turkey permanently after 50 years in exile.
During his exile (1924 – 1982), the Prince, for many years, made a living by working as a ticket taker and then as director of Antoniadis Palace and Museum in Alexandria, Egypt.
Someone at Pamuk's table suggested that the Prince might find employment as a museum guide at Ihlamur Palace, where he had spent so much time as a child.
Above: Ihlamur Palace, Istanbul
Upon this suggestion, the Prince and all those at the table began to imagine, in complete seriousness and without a trace of irony, how Ali might show visitors around the rooms where he had rested and studied as a child.
I remember that I later built on these imaginings with the zeal of a young novelist looking for new perspectives:
"And here, sirs, is where I sat 70 years ago studying mathematics with my aide-de-camp."
He would walk away from the ticket-toting crowd, step over the line that visitors are not allowed to cross – marked by those old-style velvet cords that hangs between brass stands – and sit once again at the desk he used in his youth….
I imagined the joy of being a guide to a museum and one of the museum's artifacts at the same time, and the thrill of explaining to visitors a life, with all its paraphenalia, many years after it was lived."
(Orhan Pamuk, The Innocence of Objects: The Museum of Innocence, Istanbul)
"I had not said:
"This trip to Paris is not on business, Mother."
For if she had asked my reason, I could not have offered her a proper answer, having concealed the purpose even from myself….
I felt such consolation, the same deep understanding, as I wandered idly around museums.
I do not mean the Louvre or the Beaubourg or the other crowded, ostentatious ones of that ilk.
Above: The Louvre, Paris
I am speaking now of the many empty museums I found in Paris, the collections that no one ever visits.
There was the Musée Édith Piaf, founded by a great admirer, where by appointment I viewed hairbrushes, combs and teddy bears….
Above: French singer Édith Piaf (1915 – 1963)
And the Musée de la Préfecture de Police, where I spent an entire day….
And the Musée Jacquemart-André, where other objects were arranged alongside paintings in a most original way.
I saw empty chairs, chandeliers and haunting unfurnished spaces there.
Whenever wandering alone through museums like this, I felt myself uplifted….
I would dream happily of a museum where I could display my life, where I could tell my story through the things left behind, as lesson to us all.
On visiting the Musée Nissim de Camondo,  I was emboldened to believe that the Keskins' set of plates, forks, knives, and my seven-year collection of salt shakers, I too could have something worthy of proud display.
Above: Béatrice (sister) and Nissim de Cumondo (1892 – 1917)
The notion set me free.
The Musée de la Poste made me realize I could display letters….
And the Micromusée du Service des Objets Trouvés legitimated the inclusion of a wide range of things, as long as they reminded me….
It took me an hour in a taxi to reach the Musée Maurice Ravel, formerly the famous composer's house, and when I saw his toothbrush, coffee cups, china figurines, various dolls, toys and an iron cage….
Above: French composer Maurice Ravel (1875 – 1937)
I very nearly wept.
To stroll through these Paris museums was to be released from the shame of my collection….
No longer an oddball embarrassed by the things he had hoarded, I was gradually awakening to the pride of a collector.
One evening while drinking alone in the bar of the Hôtel du Nord, gazing at the strangers around me, I caught myself asking the questions that occur to every Turk who goes abroad (if he has some education and a bit of money):
What did these Europeans think about me?
What did they think about us all?
Eventually I thought about how I might describe what Füsun meant to me to someone who knew nothing about Istanbul….
I was coming to see myself as someone who had travelled to distant countries and remained there for many years:
Say, an anthropologist who had fallen in love with an native girl while living among the indigenous folk of New Zealand, to study and catalog their habits and rituals, how they worked and relaxed, and had fun….
My observations and the love I had lived had become intertwined.
Now the only way I could ever hope tp make sense of those years was to display all that I had gathered together – the pots and pans, the trinkets, the clothes and the paintings – just as an anthropologist might have done.
During my last days in Paris, with….a bit of time to kill, I went to the Musée Gustave Moreau, because Proust had held this painter in such high esteem.
Above: French painter Gustave Moreau (1826 – 1898)
I couldn't bring myself to like Moreau's classical, mannered historical paintings, but I liked the Museum.
In his final years, the painter Moreau had set about changing the family house where he had spent most of his life into a place where his thousands of paintings might be displayed after his death.
This house in due course became a museum….
Once converted, the house became a house of memories, a "sentimental museum", in which every object shimmered with meaning.
As I walked through empty rooms, across creaking parquet floors and past dozing guards, I was seized by a passion that I might almost call religious….
My visit to Paris served as the model for my subsequent travels.
On arriving in a new city I would move into the old but comfortable and centrally located hotel that I had booked from Istanbul, and armed with the knowledge acquired from the books and guides read in advance, I would begin my rounds of the city's most noteworthy museums, never rushing, never skipping a single one, like a student meticulously completing an assignment.
And then I would scan the flea markets, the shops selling trinkets and knickknacks, a few antique dealers.
If I happened on a salt shaker, an ashtray or a bottle opener identical to one I had seen in the Keskin household, or if anything else struck my fancy, I would buy it.
No matter where I was – Rio de Janeiro, Hamburg, Baku, Kyoto or Lisbon.
At suppertime I would take a long walk through the back streets and far-flung neighbourhoods.
Peering through the windows, I would search out rooms with families eating in front of the television, mothers cooking in kitchens that also served as dining rooms, children and fathers, young women with their disappointing husbands, and even the rich distant relations secretly in love with the girl in the house.
In the morning, after a leisurely breakfast at the hotel, I would kill time on the avenues and in the cafés until the little museums had opened.
I would write postcards to my mother and aunt, peruse the local papers, trying to figure out what had happened in Istanbul and the world, and at 11 o'clock I would pick up my notebook and set out hopefully on the day's program."
(Orhan Pamuk, The Museum of Innocence)
Pamuk goes on to relate his experiences in other museums around the world:
Helsinki City Museum
Museum of Cazelles, France
State Museum of Württemberg in Stuttgart
Musée International de la Parfumerie, Grasse
Alte Pinakothek, Munich
Musée de la Vie Romantique, Paris
Historiska Museum, Göteborg, Sweden
Brevik Town Museum, Norway
Civico Museo del Mare, Trieste, Italy
Museum of Insects and Butterflies, La Ceiba, Honduras
Museum of Chinese Medicine, Hangzhou
Musée du Tabac, Paris
Musée de l'Atelier de Paul Cézanne, Aix-en-Provence
Rockox House, Antwerp, Belgium
Sigmund Freud Museum, Vienna
Museum of London
Florence Nightingale Museum, London
Musée de Temps, Besancon, France
Teylers Museum, Haarlem, the Netherlands
Fort St. George Museum, Madras, India
Castelvecchio Museum, Verona
Museum der Dinge (Museum of Things), Berlin
Uffizi Museum, Florence
Sir John Soane's Museum, London
Museu Frederic Marès, Barcelona
Glove Museum, New York City
Museum of Jurassic Technology, Culver City, California
Ava Gardner Museum, Smithfield, North Carolina
Museum of Beverage Containers and Advertising, Nashville
Tragedy in US History Museum, Saint Augustine, Florida
Stalin Museum, Gori, Georgia, Russia
Museum of the Romantic Era, Porto, Portugal
(In darker font are the places your humble blogger has also visited….)
So many museums, so many places, so many memories….
But for Kemal Bey each museum was appreciated (or not) more for its connection to Füsan and emotions evoked, rather than for the virtues of the museum itself.
Helsinki had familiar medicine bottles, Cazelles – hats his parents wore, Stuttgart convinced him that possessions deserved display in splendour, Grasse had him trying to remember Füsan's scent, Munich's Pinakothek's stairs would serve as a model for the Museum of Innocence while Rembrandt's masterpiece The Sacrifice of Abraham reminded him of having told Füsan this story and of the moral of giving up the thing most precious to us and expecting nothing in return.
And so on.
And what does Pamuk / Kemal want from the Museum?
"Do you know who it was that taught me the central place of pride in a museum?….
The museum guards, of course.
No matter where I went in the world, the guards would answer my every question with passion and pride….
If someone asks a question at our Museum, the guards must describe the history of the collection, the love I feel for Füsan, and the meanings invested in her possessions, with the same dignified air….
The guards' job is not, as is commonly thought, to hush noisy visitors, protect the objects on display (though of course everything connected to Füsan must be preserved for eternity!) and issue warnings to kissing couples and people chewing gum.
Their job is to make visitors feel that they are in a place of worship that, like a mosque, should awaken in them feelings of humility, respect and reverence.
The guards at the Museum of Innocence are to wear velvet business suits the colour of dark wood – this being in keeping with the collection's ambience and also Füsan's spirit – with light pink shirts and special Museum ties embroidered with images of Füsan's earrings.
They should leave gum chewers and kissing couples to their own devices.
The Museum of Innocence will be forever open to lovers who can't find other place to kiss in Istanbul….
Never forget that the logic of my museum must be that wherever one stands in it, it should be possible to see the entire collection, all the display cases and everything else.
Because all the objects in my museum – and with them, my entire story – can be seen at the same time from any perspective, visitors will lose all sense of time.
This is the greatest consolation in life.
In poetically well-built museums, formed from the heart's compulsions, we are consoled not by finding in them old objects that we love, but by losing all sense of time….
And let those who have read the book enjoy free admission to the Museum when they visit for the first time.
This is best accomplished by placing a ticket in every copy.
The Museum of Innocence will have a special stamp and when visitors present their copy of the book, the guard at the door will stamp this ticket before ushering them in."
(Orhan Pamuk, The Museum of Innocence)
And, sure enough, at the bottom of page 713 (invalid if torn from the book), the reader finds a free ticket for a single admission to the Museum.
The butterfly stamp is reminiscient of the Museum's Spiral of Time.
The Museum of Innocence, both the novel and the building, offers a glimpse into upper class Istanbul life from the 1970s to the early years of the Second Millennium.
The collection includes more than a thousand objects and presents what the novel's characters used, wore, heard, saw, collected and dreamed of, all meticulously arranged in boxes and cabinets.
In the Museum's catalogue, The Innocence of Objects, Pamuk lays out a manifesto for museums.
Pamuk calls for exchanging large national museums, such as the Louvre and the Hermitage, for smaller, more individualistic and cheaper museums, that tell stories in the place of histories.
"A museum should work in its capacity to reveal the humanity of individuals."
To get to the Museum took some effort on my part as a first-time solo visitor.
My Istanbul accommodation was in the southeast district of Cagaloglu on the European side of the Bosphorus Strait.
The Museum is also on the European side but required crossing the Golden Horn via the Galata Bridge, which demanded either half the afternoon to walk that distance or at least an hour using public transport.
It was warm, at least by this Canadian's standards, so I opted for public transport – tram and bus.
And as Pamuk writes in Istanbul: Memories and the City, "there was more to my world than I could see".
I had, before Istanbul, many books I wished to read and Pamuk's books remain on my list after Istanbul, but reading his works and visiting his museum I began to understand why his writing has sold over 13 million books in 63 languages making him Turkey's best selling author.
Pamuk has tried to highlight issues relating to freedom of speech at a time when his President is trying to destroy it.
He is among a group of authors tried for writing essays that criticized (and rightly so) Turkey's treatment of the Kurds.
In 2005, after Pamuk made a statement regarding the Armenian Genocide and mass killings of Kurds, a criminal case was opened against the author based on a complaint filed by ultra-nationalist lawyer Kemal Kerincsiz.
The criminal charges against Pamuk resulted from remarks he made during an interview in February 2005 with the Swiss publication Das Magazin, a weekly supplement to a number of Swiss newspapers: the Tages-Anzeiger, the Basler Zeitung and the Solothuner Tagblatt, to name but a few.
In this interview, Pamuk stated:
"Thirty thousand Kurds have been killed here and a million Armenians. 
And nobody dares to mention that. 
So I do."
He was consequently subjected to a hate campaign that forced him to flee the country.
(I am uncertain whether he lives in Istanbul again or not.)
In an 2005 interview with BBC News, Pamuk said that he wanted to defend freedom of speech, which was Turkey's only hope for coming to terms with its history:
"What happened to the Ottoman Armenians in 1915 was a major thing that was hidden from the Turkish nation.
It was a taboo.
But we have to be able to talk about the past."
In Bilecik, Pamuk's books were burnt in a nationalist rally.
Above: Bilecik, Turkey
Article 301 of the Turkish Penal Code states:
"A person who publicly insults the Republic or the Turkish Grand Assembly, shall be punishable by imprisonment of six months to three years."
The charges against Pamuk caused an international outcry and led to questions about Turkey's then-desired entry into the European Union.
Amnesty International released a statement calling for Article 301 to be repealed and for Pamuk and six other people awaiting trial under the Article be set free.
Above: Logo for Amnesty International
PEN (Poets, Essayists, Novelists and all other writers) also denounced the charges against Pamuk:
"PEN finds it extraordinary that a state that has ratified both the United Nations International Covenant on Civil and Political Rights and the European Convention on Human Rights, both of which see freedom of expression as central, should have a Penal Code that includes a clause that is so clearly contrary to these very same principles."
Eight world-renowned authors (José Saramango, Gabriel Garcia Márquez, Günter Grass, Umberto Eco, Carlos Fuentes, Juan Goytisolo, John Updike and Mario Vargas Llosa) issued a joint statement supporting Pamuk and decrying the charges against him as a violation of human rights.
On 27 March 2011, Pamuk was found guilty and was ordered to pay 6,000 liras in total compensation to five people for having insulted their honour.
"I strongly feel that the art of the novel is based on the human capacity, though it is a limited capacity, to be able to identify with 'the other'.
Only human beings can do this.
It requires imagination, a sort of morality, a self-imposed goal of understanding this person who is different from us, which is a rarity."
(Orhan Pamuk, Carol Becker interview, The Brooklyn Rail, February 2008)
"What literature needs most to tell and investigate are humanity's basic fears: the fears of being left outside, and the fear of counting for nothing, and the feelings of worthlessness that come with such fears, the collective humiliations, vulnerabilities, slights, grievances, sensitivities and imagined insults, and the nationalist boasts and inflations that are their next of kin.
Whenever I am confronted by such sentiments and by the irrational overstated language in which they are usually expressed, I know they touch on a darkness inside me.
We have often witnessed peoples, societies and nations outside the Western world – and I can identify with them easily – succumbing to fears that sometimes lead them to commit stupidities, all because of their fears of humiliation and their sensitivities.
I also know that in the West – a world which I can identify with the same ease – nations and peoples taking an excessive pride in their wealth, and in their having brought us the Renaissance, the Enlightenment and modernism, have, from time to time, succumbed to a self-satisfaction that is almost as stupid."
(Orhan Pamuk, Nobel lecture, 7 December 2006)
The Museum of Innocence is five levels of emotional complexity, much like Pamuk's writing.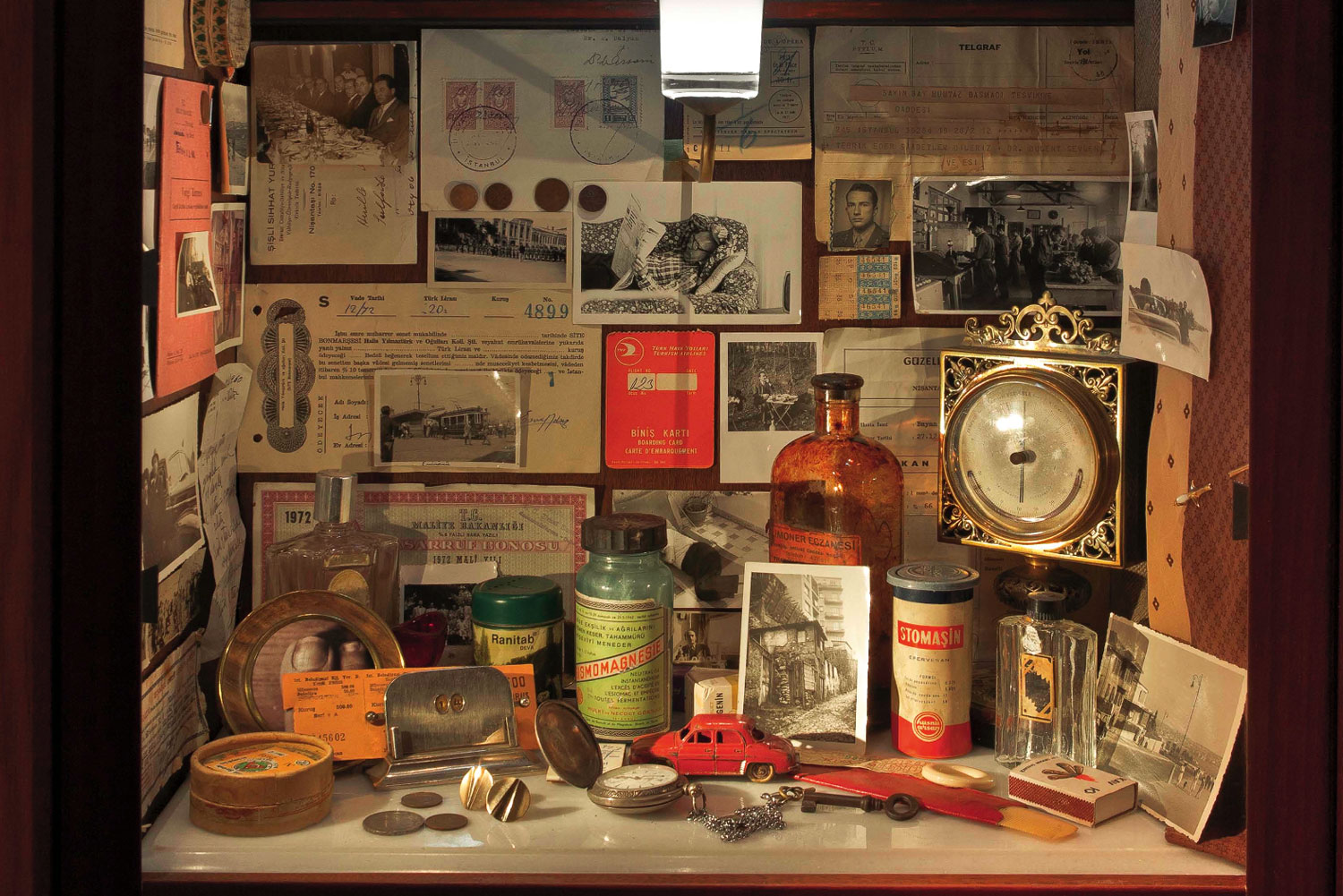 On the ground floor is where the visitor can buy tickets (if his novel isn't available), pick up an audio guide, read the acknowledgements wall, watch a movie and videos and see Box #68 with the aforementioned 4,213 cigarette stubs (more than the Musée du Tabac).
On the first floor, we witness Kemal's happiest moment of his life, the Sanzelize Boutique, photographs of distant relations, love at the office, matchbooks from fuaye restaurants, Füsun's tears collected in a yellow jug, the Merhamet Apartments, Turkey's first fruit soda (Meltem), the F box, city lights and happiness, the feast of the sacrifice, photos to be kissed on the lips, and how love, courage and modernity are represented by the night, the stars and other people's lives.
The eyes through photographs wander down Istanbul's streets, across bridges, over hills and into squares.
I discover a few unpalatable anthropological truths about Turkish culture:
If a man tried to wriggle out of marrying the girl he slept with and the girl in Question was under the age of 18, an angry father might take the philanderer to court to force him to marry.
These cases attracted press attention, so it was customary for newspapers to run photographs of the "violated" girls (not the "violating" men) with black bands over the ladies' eyes to spare their being identified in this shameful situation. (No names were published, but it does seem odd that photos needed to be printed at all if the avoidance of shame truly was the goal.)
The press used the same black eyeband in photographs of adultresses ("…and here's to you, Mrs. Robinson"), rape victims and prostitutes ("Roxanne, you don't have to put on the red light.") so often that reading a Turkish newspaper was like wandering through a masquerade ball.
Turkish newspapers ran very few photographs of Turkish women without black bands unless they were singers, actresses or Beauty contestants.
These were presumed to be of easy virtue anyway.
I witness Ahmet Isikci's enigmatic art, how one's whole life depends on the taxis of Istanbul.
I learn the story of Belki, the sorrow of funerals, a father's gift of earrings to his mistress, the hand of Rahmi Efendi that almost pats the dog ("Take this longing from my tongue and all the guilty things these hands have done."), the spell that ("the sound of") silence casts, and an engagement party at the Istanbul Hilton.
Oh, the agony of waiting can be relieved if you carefully study an anatomical chart of love pains!
And, remember, don't lean back that way or you might fall.
Pamuk wants his visitor to take consolation in objects and how they can remind a person of those they love.
"By now there was hardly a moment when I wasn't thinking about her.
I would awake to the same pain, as if a black lamp were burning eternally inside me, radiating darkness."
Sadly, Füsun doesn't live here anymore, though there are streets that remind me of her and shadows and ghosts I mistake for her, life has left me with nothing but vulgar distractions.
I am an unnamed dog sent into outer space.
A dog which dares not entertain even a small hope that might allay his heartache.
Life is an empty house, an end-of-summer party without guests.
I make my confession to the Bosphorous and seek consolation in a yali.
Soon I am swimming on my back between Istanbul's ships.
The melancholy of autumn leads to cold and lonely November days spent wandering the neighbourhood between the Fatih Hotel and the Golden Horn.
Maybe I need a holiday on Uludag.
I wonder:
Is it normal to leave your fiancée in the lurch?
I mourn my father's death, realizing that the most important thing in life is to be happy.
I was going to ask her to marry me, because happiness means being close to the one you love, that's all.
On the second floor, I learn that a film about life and agony should be sincere and that an indignant and broken heart is of no use to anyone.
I contemplate the spiral of time and I ask that you come again tomorrow and we can sit together again.
These are lemon films I watch but I am unable to stand up and leave.
A game of tombula should get past the censors as we share evenings on the Bosphorus at the Huzur Restaurant.
We make the gossip column.
We are our own fire on the Bosphorus.
Dogs are everywhere and the air reeks of cologne.
So climb up to the top floor to Kemal's room.
Then down to the basement for a complimentary Turkish coffee.
Such is the Museum of Innocence.
Sources: Wikipedia / Google / Lonely Planet Istanbul / Orhan Pamuk, The Museum of Innocence / Orhan Pamuk, The Innocence of Objects / Orhan Pamuk, Istanbul: Memories and the City