Landschlacht, Switzerland, 13 November 2017
Maybe it´s the endless days of grey skies outside or being restless with being confined indoors by illness that has got me feeling morbid of late.
Perhaps my ghastly mood has been affected by the topics I have written about recently: ghosts and corpses on the London Tube (Canada Slim Underground) and the millions dead in the Thirty Years War (Canada Slim and the Road to Reformation), so maybe I need not wonder that I find myself even dreaming about mortality.
My choice of reading material hasn´t helped, what with police constables talking with ghosts (Rivers of London) and a story about how death stalked three brothers (The Tales of Beedle the Bard) or the news…..
I need to think about happier places and more joyful times.
It´s once again time to write about London.
Maybe this will help….
London, England, 23 October 2017
Day One of our London week and already we had discovered Paddington Bear and Praed Street and rode the Underground.
We left the Tube at Piccadilly Circus, one of the great centres of London life and one of the noisiest and busiest traffic intersections we had ever seen, situated at the meeting of five major streets.
I thought of the hustle and bustle of New York City (Piccadilly Circus resembles, in many ways, Times Square in Manhattan.), and the chaos and clutter of Paris or Rome, the madness of Seoul….
This is THE fashionable place to be, a Circus (from the Latin for "a round open space at a street junction") named after Piccadilly Hall, belonging to Robert Baker, a tailor famous for selling piccadills (large broad collars of cutwork lace that were fashionable in the late 16th and early 17th centuries by folks like Walter Raleigh and Queen Elizabeth I).
Above: Potrait of English nobleman Grey Brydges wearing a piccadil (1615)
The myriad of night spots….this is the West (End) World of entertainment, never resting, constantly abuzz with activity day and night, at once both obviously artificial yet vibrantly real and alive.
This is the heart of Theatreland.
Here is the Criterion Theatre, built in 1873, seating for 588 people, featuring The Comedy about a Bank Robbery since March 2017.
Over there is the London Pavilion, now a shopping arcade and home to Ripley´s Believe It or Not! Museum dedicated to the weird, the unusual and the unbelievable, once was a theatre, then was transformed into a cinema that once premiered The Bride of Frankenstein, Dr. No and A Hard Day´s Night and once housed Madame Tussaud´s Wax Museum.
Come into the world´s largest branch of Ripley´s.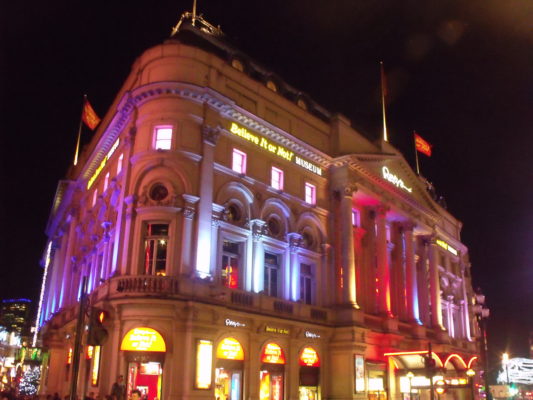 See a chewing gum sculpture of the Beatles and the Tower Bridge built from 264,345 matchsticks.
Nearly 30 pounds just to get in the door.
Wherever that door might be, for on the day of our arrival Ripley´s permanently closed at the Piccadilly Circus location.
Still not as expensive as the Chinawhite.
Nearby is the famous nightclub for the famous, the Chinawhite, where only members and celebrities enter – Membership costs 700 pounds a year.
Here Premier League footballers hobnob with Hollywood actors and supermodels.
The Chinawhite has seen the likes of celebrities like Kate Moss, Leonardo DiCaprio, Jude Law, Paris Hilton, Tom Cruise, Prince Harry, Justin Bieber, to name only a few….
Piccadilly Circus is a high profile location, eternally recognisable by its bright billboards that dominate a curve of this traffic circle.
Coca Cola shouts, the public is updated about Tube closures and delays, new products and promotions are ablaze these days in bright LED glory.
And even this symbol of commercialism gone ecstatic is not immune to politics.
In 2002, Yoko One paid 150,000 pounds to display a lyric of her late husband (1940 – 1980) John Lennon´s song Imagine: "Imagine all the people living life in peace." for a number of weeks.
The lights have been turned off when national figures of great importance have died, like Winston Churchill (1965) and Princess Diana (1997) on the days of their funerals.
All the people seem to congregate at Piccadilly Circus, so much that the phrase "It´s like Piccadilly Circus." is used in English parliance to say that a place is extremely crowded.
It is said that if a person lingers long enough in Piccadilly Square that they will eventually bump into everyone they know.
Once seen, this can be believed.
Piccadilly Circus has inspired sculptors, painters and musicians.
Bob Marley (1945 – 1981) mentions Piccadilly Circus in his song "Kinky Reggae", in his album Catch a Fire.
And where everyone is…. makes Piccadilly Circus the site of numerous political demonstrations.
In the centre of the Circus stands the Shaftesbury Memorial, commemorating the philanthropic Anthony Ashley-Cooper, the 7th Earl of Shaftesbury (1801 – 1885).
Above: Shaftesbury, National Portrait Gallery, London
Anthony´s early family life was loveless, a circumstance common among the British upper classes, so he grew up without any experience of parental love.
He saw little of his parents and when duty or necessity compelled them to take notice of him they were formal and frightening.
Even as an adult, Anthony disliked his father and was known to refer to his mother as "the Devil".
This difficult childhood was softened by the affection he received from their housekeeper, Maria Millis, and his sisters.
Ashley was elected to Parliament in 1826 and a year later, he was appointed to the Select Committee on Pauper Lunatics and Lunatic Asylums.
The Committee examined many witnesses concerning the White House, a madhouse in Bethnal Green in London.
Ashley visited the White House on the Committee´s behalf.
The patients were chained up, slept naked on straw, and went to toilet in their beds.
They were left chained from Saturday afternoon until Monday morning when they were cleaned of the accumulated excrement.
They were then washed down in freezing cold water and one towel was shared by 160 people, with no soap.
It was overcrowded and the meat provided was "that nasty thick hard muscle that a dog could not eat".
The White House had been described as "a mere place for dying" rather than a cure for the insane.
Ashley would be involved in framing and reforming the Lunacy Laws of the land.
After giving his maiden speech, in support of madhouse reform, Ashley wrote in his diary:
"So, by God´s blessing, my first effort has been for the advance of human happiness. 
May I improve hourly! 
Fright almost deprived me of recollection but again, thank Heaven, I did not sit down a presumptuous idiot."
He had cited the case of a Welsh lunatic girl, Mary Jones, who had for more than a decade been locked in a tiny loft with one boarded-up window with little air and no light.
The room was extremely filthy and filled with an intolerable smell.
She could only squat in a bent position in the room which caused her to become deformed.
Shaftesbury´s work in improving the care of the insane remains one of his most important, though less well-known, of his achievements.
He was better known for his work on child labour and factory reform, mining conditions, the prohibition of boys as chimney sweeps, education reform, the restoration of Jews to the Holy Land and the suppression of the opium trade.
Above: Flag of the modern state of Israel
Forget the Mary Poppins Disney idea of chimney sweeping being a glamourous profession…..
Many of these climbing boys were illegitimate and had been sold by their parents.
They suffered from scorched and lacerated skin, their eyes and throats filled with soot, in danger of suffocation, in danger of cancer of the scrotum.
Not so lucky to be a chimney sweep.
Though not Jewish, Shaftesbury believed that the Jews should have their own Homeland – however others might object – that they were "a country without a nation" in need of "a nation without a country".
The Shaftesbury Memorial is a bronze fountain topped by a cast aluminium figure of an archer, that everyone calls Eros, but was intended by the artist Sir Alfred Gilbert to identify the angel of charity, Eros´ brother Anteros.
This is fashionable London, where Eros, the angel of love, is more fashionable than Anteros.
This is Piccadilly Circus where anything goes.
Or at least once did.
In 1750, London was disturbed by two earth tremors severe enough to bring down a pair of old houses and a number of chimneys on 8 February and 8 March.
A former member of the Life Guards, on the evening of 7 April, created mass panic after walking up and down Piccadilly shouting out that the world would end on 8 April.
A huge number of Londoners made plans to escape the City, but Piccadilly  was so choked wth traffic that many got no further than Hyde Park.
Women sat out of doors in their gowns while men played cards, awaiting the apocalypse that never came.
The doomsayer was subsequently sent to Bedlam, a madhouse.
Above: "Bedlam", a word meaning "uproar and confusion" and the nickname of the Bethlem Royal Hospital, London
During World War II so many prostitutes assembled at Piccadily Circus that the men in uniform who enjoyed their services called them "the Piccadilly Commandoes".
And the idea of assembling together leads to "Piccadilly Circus" being used as the codeword for the spot where the D-Day (6 June 1944) Invasion fleet would assemble in the English Channel before landing on the beaches of Normandy to fight the Nazi hordes.
Above: D-Day assault routes into Nazi-occupied Normandy, France
We would ourselves, the wife and I, assemble with the hundreds that gather at Piccadilly Circus all day and all night.
No apocalypse came, and the prostitutes now frequent another section of London these days.
I know not where.
We did not ask.
But I can read.
I read about Fore Street, Edmonton Green, North London.
When the pubs empty and the night is late, the girls come out.
This is when the work picks up, when the men get loud and want it….bad.
Between the street lights there are no other women walking the street.
Folks reckon there are at least 7,000 prostitutes in London – 96% of them immigrants.
Above: Prostitution worldwide: legal/regulated (green), legal/unregulated (blue), organised illegal (yellow), illegal (red)
Girls from Europe´s east or the Americas or Asia south….
At least 2,000 of them out every night on the streets.
Talk to the police.
Talk to the shopkeepers.
They´ll tell you that there are many more than that.
More and more every week.
There are few streetwalkers in inner London.
There used to be a lot of women of easy virtue in Soho and in Southwark.
But they have mostly gone.
Sex shops are for the tourists.
The girls now live at the fringes, cast out from city centre.
They don´t do this for pleasure, and sometimes it is they who pay.
The need for men´s money is overshadowed by the danger of men.
Some walk away with bruises, others with cuts.
Others never walk back or walk again.
I try not to think about what I have read.
We are tourists.
We follow Coventry Street east towards Leicester Square.
We are surprised by the Swiss Court with maypole adorned by the coats of arms of Switzerland´s 26 cantons.
What is that doing here?
Did London anticipate visitors from Switzerland?
To the left/north, we see a church on Leicester Place, the Notre Dame de France.
The French have been in London for a very long time.
The Huguenots built fortunes in the textile industry, but Notre Dame was not built for the wealthy.
It was founded in 1865 to take care of the lower class French.
Soho was once, not that long ago, a kind of French enclave.
Even today Notre Dame operates  a refugee centre.
At first glance Notre Dame looks unremarkable, although circular churches in Britain are rare.
But the glory of Notre Dame is within not without.
Murals by legendary French filmmaker/artist/designer Jean Cocteau fill one side chapel.
Depicting themes from the Crucifixion and the Assumption of Mary, Cocteau´s work is vigourous, seductive, alive in a manner no Brit could ever imitate.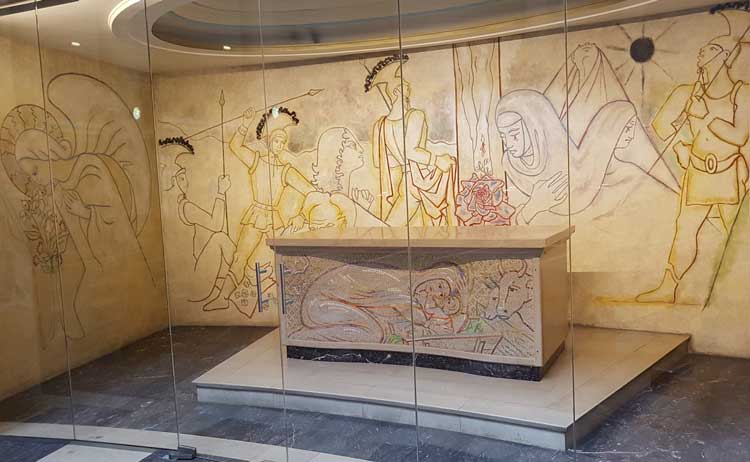 A black hole sun, the feet of Christ, muscular soldiers in tiny skirts toss dice for the Saviour´s robe at the base of the Cross.
Above the altar a tapestry by Robert de Caunac….Mary is the new Eve and a huge statue of the Virgin of Mercy by Georges Saupique watches over all.
Light a candle before plunging into the former fleshpots of Soho and Leicester Square.
Most Londoners avoid Leicester Square unless they´re heading for the cinema.
Leicester Square is famous not only for huge cinemas, but also for the old clockhouse which has been converted into a popular tourist information centre where we picked up our London Passes, granting us free access or reduced rates at many of the attractions London has to offer.
Leicester Square, long famous as a centre of entertainment, is built around a small garden laid out by Albert Grant (1831 – 1899) in 1874.
In the centre of the garden is a statue of William Shakespeare (1564 – 1616) and at the four corners of the garden are scientist Sir Isaac Newton (1642 – 1726), painter Sir Joshua Reynolds (1723 – 1792), artist William Hogarth (1697 – 1764) and Scottish surgeon Dr. John Hunter (1728 – 1793), along with a statue of Hollywood actor/director Charlie Chaplin (1889 – 1977).
Above: Self-portrait, William Hogarth
I think of William Hogarth´s most famous pictorial series, A Harlot´s Progress, paintings show the story of a young country woman, M. (Moll or Mary) Hackabout, and her search for work as a seamstress in London and how she eventually ends up as first as a mistress to become a common prostitute who gets imprisoned and then dies from syphilis at the age of 23.
Above: Plate 1, A Harlot´s Progress, brothel keeper Elizabeth Needham (on the right) procures a young woman newly arrived in London
It is suggested that Hogarth either meant for M. to be named after the heroine of Moll Flanders or ironically named after the Virgin Mary.
Above: Poster of the 1996 film Moll Flanders
(Daniel Defoe´s novel Moll Flanders tells the story of "the fortunes and misfortunes of a woman who was Born in Newgate Prison, was 12 times a whore, 5 times a wife, 12 years a thief, 8 years a criminal in Virginia, who had last grew rich, lived honestly and died a penitent".)
(Daniel Defoe´s most famous novel Robinson Crusoe is second only to the Bible in its number of translations.)
In the 18th century, this once pleasant leafy square was home to the fashionable "Leicester House set", headed by successive Hanoverian Princes of Wales who did not get along with their fathers.
In the mid-19th century, Leicester Square boasted Turkish baths and music halls.
Today M & M´s World has taken the sheen off the traditional shine.
We debate how and when we will use our London Passes.
We opt to visit an attraction that doesn´t require admission, that can allow us to delay until the next day using our London Passes.
We plunge back into the Tube yet again.
South, the Tube propels us under the Thames River, with stops at Charing Cross, Embankment, Waterloo, Elephant and Castle.
(Charing Cross is named after the Queen Eleanor (of Castile)(1241 – 1290)(reigned 1272 – 1290) Memorial Cross in what was once the hamlet of Charing.
Above: The Queen Eleanor Cross, Charing Cross, London
Embankment is the name of a Thames River pier, the main western departure point of the river boat service, the MBNA Thames Clippers.
Waterloo Road, Bridge, Train Station and Tube Station are all named to commemorate the Battle of Waterloo, Belgium (18 June 1815).
Above: The Battle of Waterloo, by William Sadler
The Elephant and Castle was once the name of a local inn.)
Another tube line northeast to Borough tube station.
In the time of Stuart and Tudor kings and queens, the main reason for crossing the Thames to Southwark, was to visit the disresputable Bankside for its pubs, brothels and bear pits around the south end of London Bridge.
Four hundred years later, people come to visit the mighty Tate Modern Museum, the remarkably reconstructed Shakespeare´s Globe Theatre and the Shard with its sublime view which on a clear day stretches on forever.
Above: Shakespeare´s Globe, London
We poke our heads up from the Underground, to a junction where the three streets of Marshalsea Road, Long Road and Great Dover Street meet and greet Borough High Street.
Where the High meets the Long, we see the Church of St. George the Martyr, separated from the tiny lane of Tabard Street by the last remaining wall of the infamous Marshalsea Prison.
Southwark was home to many famous literary figures, including Geoffrey Chauncer, William Shakespeare and Charles Dickens.
Above: Charles Dickens (1812 – 1870)
Charles immortalised The Borough area in his novel Little Dorritt, whose fictional father, like Charles Dickens´ own father, was imprisoned in Marshalsea Prison for failing to pay his debts.
Dorritt gets married at St. George and inside the church is a stained glass memorial showing Dorritt kneeling in prayer.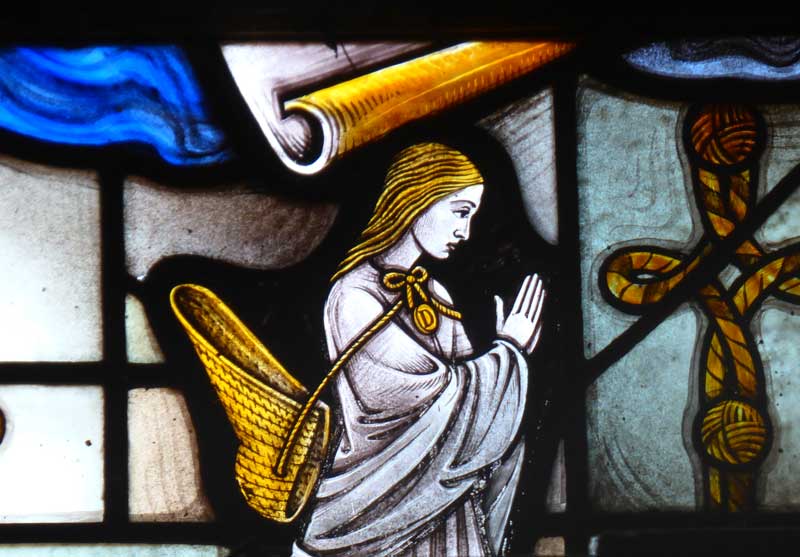 St. George´s steeple has four clocks, but one of them, facing Bermondsey to the east, is black and is not illuminated at night, allegedly because the parishioners of Bermondsey refused to pay their share for the church.
Diagonally across the High Street is Little Dorritt Park.
Go through Little Dorritt Park to Redcross Way, turn right and cross over Union Street, and on your left you will see a wasteland.
This piece of wasteland, owned by Transport for London (TfL), contains the bodies of over 15,000 people, over half of them children.
There is no evidence of their passing, for this was unhallowed ground, for prostitutes and paupers.
Crossbones Graveyard, in medieval times, was an unconsecrated graveyard for the prostitutes, the "single women"/"trulls"/"buttered buns"/"squirrels"/"punchable nuns", known as "Winchester Geese" as this Liberty of the Clink area of Southwark was administered by the Bishop of Winchester who had the power to licence prostitutes and brothels ("stews").
The Liberty was a free zone outside the jurisdiction of the Sheriff of London, near the prison called the Clink.
The brothels in the Liberty persisted for 500 years until Oliver Cromwell closed down the entire area.
The Winchester Geese were refused burial in the graveyard of St. Saviour´s parish, even though they owed their jobs to the church.
After the closure of the Liberty, Crossbones Graveyard served as a burial place for the poor.
It was closed in 1853 as it was "completely overcharged with the dead".
The round brown memorial sign on the gates, where the local people have created a shrine, reads "The Outcast Dead R.I.P".
The gates are covered with ribbons of sympathy, there are vigils for the Outcast on the 23rd of each month at 7 pm and the perfectly formed Crossbones Garden of Remembrance is open weekday afternoons from noon to 3 pm.
But we are hours too soon for the vigil and are too late to enter the Garden.
Our goal is to whirlwind view the Tate Modern within the space of 90 minutes before it closes at 5 pm then stroll beside and across the Thames before returning to our hotel.
Above: The Tate Modern
The dead of Crossbones remain outcast, the women who shared their bodies forgotten, the destitute have no value.
We haven´t got the time.
After all, we are tourists.
Above: The Shard, London
Sources: Wikipedia / Google / Baedeker´s- AA London / DK Eyewitness Travel Top 10 London 2017 / Lonely Planet London Condensed / The Rough Guide to London / Julian Beecroft, For the Love of London: A Companion / Michael Bond, Paddington´s Guide to London: A Bear´s Eye View / Rachel Howard and Bill Nash, Secret London: An Unusual Guide / Ben Judah, This Is London: Life and Death in the World City / Simon Leyland, A Curious Guide to London: Tales of a City / Eloise Millar and Sam Jordison, Literary London
Above: The Expulsion from Paradise, by James Tissot