Landschlacht, Switzerland, 28 December 2018
There is an old saying by which I try to live by:
"A promise made is a debt unpaid."
On 4 December I made a promise on Facebook:
"Greetings from Lanzarote.
Life not bad.
Weather warm.
Will write blogs upon return home giving juicy details and fabulous photos.
Have experienced piracy, hiked around an island, became an artist's groupie, have eaten too much, have drunk too much.
Hotel filled with Brit seniors, odd Russians and German drunkards.
Whitewashed houses and black volcanic soil.
Clear skies and spontaneous activities.
Early mornings and late nights.
Tomorrow a camel ride across a volcano.
Although vacation only five days long, much happening in this short time.
Sometimes a break away does a body good."
It is now time to keep that promise, so this blog will see, interspersed with other stories from past travels in Italy, London, Porto, Serbia and Switzerland, sagas from the Spanish Canary Island of Lanzarote where the wife and I holidayed on 2 – 6 December.
I will try to make this account as exciting as possible, and, no, there won't be slides!
Costa Teguise, Lanzarote, Canary Islands, Spain, 2 December 2018
We needed a vacation, a retreat from the regular rigors of our jobs.
I am not quite certain how my wife / my queen came to be curious about Lanzarote.
Perhaps it was random Internet surfing or discussions with her friends or colleagues but the end result was that my wife offered Lanzarote as one of three possible options for a week's escape.
(The other two were the French city of Lyon with its Festival of Lights or a German spa in Bavaria.)
Given options, I will always choose the most distant destination, so too-damn-early Sunday morning found us driving to Zürich and flying Edelweiss Air to the Aeropuerto de Lanzarote (also named the Aeropuerto César Manrique).
Above: Aeropuerto de Lanzarote
En route I read the recently purchased Lonely Planet Canary Islands:
"A UNESCO biosphere reserve, Lanzarote is an intriguing island with an extraordinary geology of 300 volcanic cones.
There are great beaches, interesting sights and plenty of restaurants and hotels.
The landscape has a stark and otherworldly appearance, with the occasionally bucolic, palm-filled valley juxtaposed with surreal, crinkly black lava fields."
On arriving in Lanzarote, the visitor feels himself transported in time, whisked back to the beginnings of the world, a fresh, clean world in which he himself is the hero of discovery and the king of conquest.
The Aeropuerto de Lanzarote is the sole airport on the island and is located in San Bartolomé, 5 km / 3.1 miles southwest of the town of Arrecife.
It handles flights to many European airports and serves 41 airlines with their hundreds of thousands of tourists each year from 84 destinations along 183 routes.
In 2017, the Aeropuerto handled 7,389,025 passengers in its two terminals, Guacimeta (inter-island travel) and Gaucimeta (international travel).
Above: César Manrique mural, Gaucimeta Terminal, Aeropuerto Lanzarote
To say that we were excited when we arrived would be an understatement, for our research had revealed that there was so much for us to explore:
Seas of lava and enchanted grottos
Columns of steam emerging from the bowels of the Earth
Amazing multicoloured walls of stone
Enigmatic and threatening volcanoes
Waves beating furiously on tortured cliffs that loom like giants frozen for all time in their march to the sea
Mysterious lagoons that suddenly appear amongst the rocks
Pockets scooped in the lava that protect wild malvasía vines
Acres of unsurpassed wine
Golden beaches and transparent blue waters
Peaceful, flower-bedecked white villages
Another world, another time.
We learned that the best way to travel around Lanzarote is by rental car, for the roads are well-maintained and the island is small.
(Certainly the independent traveller can get around the island by bus, but one needs to plan carefully as services to some island destinations can be infrequent.
There are four buslines that serve the airport: buslines 22 and 23 bring the visitor to Arrecife, buslines 161 and 261 travel to the resort towns of Playa Blanca and Puerto del Carmen.)
After a few fear-fraught moments of wondering whether our luggage arrived, finding our assigned rental car and then figuring out how to make the damn thing behave in the way we wished it, we drove around and above the town of Arrecife heading ever northwest to the stretch of shore known as Costa Teguise where we would spend four evenings as guests at the Hotel Grand Teguise Playa.
The Hotel is in a perfectly central location, right on the beautiful Playa del Jablillo.
At the heart of the hotel is the huge hall, from whose galleries meter-long hanging plants descend.
Two staircases lead down to the service area where an elegant bar is set amidst lush water and greenery and a stage extends out amongst all of this from which guests are entertained, whether they wish to be or not, every night.
There is also a large outdoor area with two pools and a pool bar, directly in front of the sandy beach.
For the stubbornly active there are sports facilities for tennis, table tennis and squash along with a fitness centre and a sauna.
We checked in and were immediately compelled to don plastic wristbands that identified us as guests and classified us as to what services we are entitled.
It was a decent hotel and we were impressed with the cafeteria's gluten free and vegetarian options.
Our room was fairly basic and was kept tidy and clean, though it was lacking tea, coffee and kettle, it had air conditioning and a balcony for voyeurism and ventilation.
Our gold wristbands identified us as having purchased the all-inclusive option and for the most part we were glad that we had done so, for this meant free drinks at the bar as well as breakfast and dinner.
Though charging guests for extras like the room safe, WiFi and water in the cafeteria was a bit offputting.
We felt that we rarely wanted to be back in Costa Teguise for lunch as we would be away exploring the Island.
(And we would indeed explore.)
The staff were friendly but the place was clearly understaffed, making me wonder if I should quit working in Switzerland and try to find work in a hotel or private school on Lanzarote!
There is no disputing that the hotel (and Costa Teguise itself) felt like a retirement home for snowbird Canadians in south Florida, but having spent a month in Klinik Mammern rehabilitating from two broken arms where I, age 53, was one of the youngest patients there, I wasn't so bothered by age discrepancies as I once might have been.
What did bother me somewhat, and perhaps this is a reflection of my four years at Starbucks, was how little appreciation and respect was shown to the staff by the guests.
They were oh so quick to criticize and condemn, but oh so slow to thank and interact with them.
I made a point of being as charming with everyone as I could, though the socialist within me seethed.
Costa Teguise is one of Lanzarote's most important concentrations of tourist installations: 5-star hotels and apartments, bungalows and chalet complexes alongside shops, restaurants, bars, pubs and a wide variety of sports facilities where the traveller may indulge in whatever individual or group sports he/she prefers.
Costa Teguise begins a few kilometres from Arrecife and is dotted with coves of golden sand separated by headlands of black lava spotted with luxurious residential developments surrounded by a sea of green.
The town is encircled by a rosary of splendid beaches, bathed by warm crystalline waters that boast a rich treasure of marine life and swept by waves and winds that entrall the boys of summer, sailors and surfers.
Forty years ago there was nothing here except the bare black lava coast.
Today this city constructed on a drawing board already stretches for miles with 10 square kilometres already built and still some roads leading to nowhere.
Costa Teguise was originally planned as a sophisticated holiday resort in which the hustle and bustle that mars Puerto del Carmen would be left out.
The master planner César Manrique was in charge.
Above: César Manrique (1919 – 1992)
César Manrique is Lanzarote's most famous native son and his influence is everywhere and was often felt throughout our stay on the Island.
Manrique reminders range from the blatantly obvious, like his giant mobile sculptures adorning roundabouts across Lanzarote, to the subtle and unseen lack of highrise buildings and advertising billboards that scar most tourist destinations.
It was primarily thanks to Manrique's tireless, persistent lobbying for maintaining traditional architecture and protecting the natural environment that prompted the cabildo (island government) to pass laws restricting urban development.
The growing tsunami of tourism, beginning in the late 1970s, threatened to sweep away everything before it, but Manrique's ceaseless opposition to such unchecked urban sprawl touched a nerve with many locals and led to the creation of the environmental group El Guincho which has had some success in revealing and reversing abuses by developers.
Manrique was involved in the construction of the luxury hotel Meliá Salinas and designed the prototype of the Pueblo Marinero.
Our hotel is in many ways a copy of the Meliá Salinas.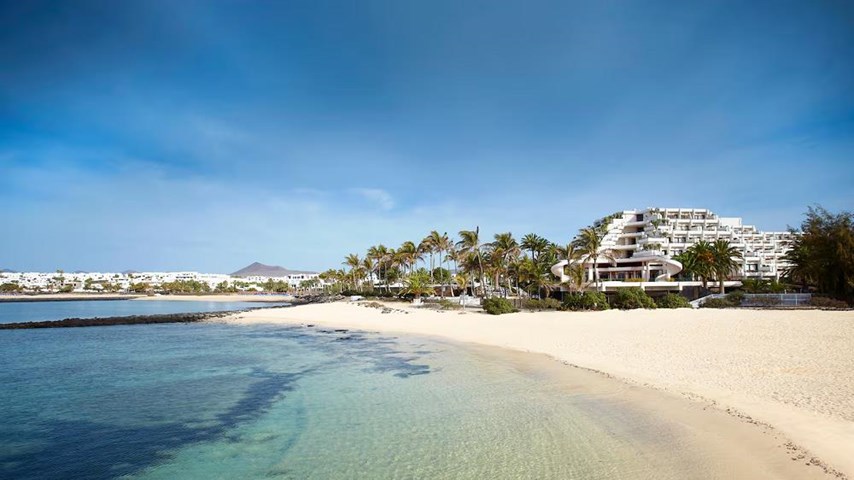 At first it seemed as if Manrique's project would succeed, but the rapid development of tourism quickly overtook all well-intentioned concepts.
At the start of the 1980s big construction started and Costa Teguise expanded in all directions.
The continual demand promised rich profits and soon the planners began to turn the original holiday village of manageable size into a giant retirement city.
40,000 guests are able to be accommodated at any one time, so the dimensions of Costa Teguise reflect this, though, at first glance, this place is not particularly inviting.
Long, empty streets, widely spaced hotel and apartment complexes, the lack of any urban centre and a virtually nonexistent homestead culture make Costa Teguise an emotionally chilly holiday resort.
Despite this, Costa Teguise remains popular for families with children and the elderly and some accommodation facilities have been created for these special needs.
Thanks to the optimal wind conditions, Costa Teguise (aka "Breezy Teguise") is considered the surf spot of the Canary Islands and, in fact, the Playa de las Cucharas has reserved an entire beach section exclusively for surfers.
There is almost always a stiff breeze blowing in from the northeast and there are many days throughout the year when the churned-up sea is speckled with colourful sails and wetwear surfers.
Nonetheless there remains an unfilled longing that Costa Teguise fails to fill.
There is no old town, no grand church, no mighty castle.
Only the truly determined and the desperately bored find something worth seeing in this pure seaside resort.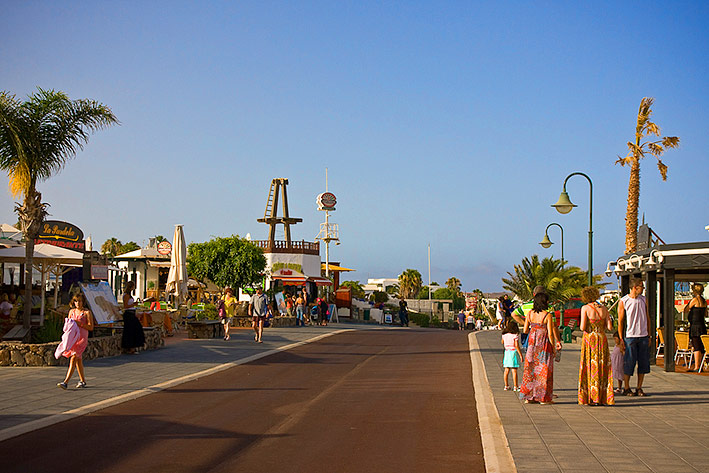 Somehow visiting a hotel seems like a natural choice in a city teeming with them.
The aforementioned Hotel Meliá Salinas is located on the eastern outskirts of the Playa de las Cucharas, not far from the city's former salt works.
It was built in the early 1970s as the first hotel in town and was considered a trendsetter for the noble future of the planned vacation city.
None other than César Manrique was involved in the design and even today the Salinas is one of the most beautiful and distinctive hotels in Lanzarote, with its green overgrown courtyards and magnificent garden and thus was once included in the list of artistic and cultural legacies of Lanzarote that the visitor mustn't miss.
(And, happily, one does not have to be a staying guest to look in at the Salinas and the beautiful vegetation with which it is adorned.)
Though our hotel does a grand job of imitating the Salinas, the Playa Teguise still fails to equal its splendour and originality of design.
Manrique also had his hand in the design of the Pueblo Marinero, this central courtyard building on the Avenida de las Islas Canarias.
In the style of Lanzarote's traditional architecture, Manrique, in the late 1970s, conceived of a holiday village that he hoped would be exemplary for the further development of the island.
Built in a wide quadrangle around an open interior, the houses are no taller than two floors, are all in white with green windows, doors and wooden balconies, and they all contain the typical fireplaces, pavilion and other decorative details typical of Lanzarote tradition.
This planned structure however had little effect on the future, because as tourism boomed in the following years almost explosively, the Pueblo Marinero sunk beneath a flood of sombre apartment complexes.
Today, in the courtyard with its many restaurants and cocktail bars around a central pavilion, the Pueblo plays a major role in tourist life and several times a week the Pueblo hosts a small market.
If you are truly at loose ends and at the end of your wits, the Lanzarote Aquarium is an OK wet weather option, though the high entrance fees and the gloomy dark interior are intimidating.
The Aquarium in the Centro Comercial El Treból on Avenida las Acacias shows in rather tiny tanks the underwater world to be found on the Canarian coasts, in the open sea and on tropical reefs.
The visitor is allowed to physically handle sea cucumbers and starfish.
A final basin displays civilization's waste that washes up on Lanzarote's shores.
But what grabs the casual attention is the Palacio Real La Mareta.
Just outside town, in the direction of Arrecife, this former holiday villa of the Jordanian King Hussein is hermetically sealed off directly on the coast.
Above: King Hussain bin Talal of Jordan (1935 – 1999)
La Mareta is a small palace surrounded by subtropical gardens designed by the Madrid architect Higueras in collaboration with (surprise, surprise) César Manrique.
Hussein was often found here in Lanzarote, but the Jordanian royal donated the palace to his Spanish counterpart Juan Carlos I in 1991 when the skyline of the nearby desalination plant became larger and more massive.
Above: Juan Carlos I of Spain (b. 1938)(reign: 1975 – 2014)
Juan Carlos has since used it for himself and his extensive family and for foreign state visits by Russian President Gorbachev, Spanish President Zapatero, Czech President Havel, German Chancellors Köhl and Schröder.
Also known as the King's House, La Mareta is managed by Spain's Patrimono Nacional (similar to Britain's National Trust) and remains a vacation retreat for the Spanish Royal Family.
Costa Teguise lies on a flat stony coast, which consists almost exclusively of black lava crust.
In order to get to know the most beautiful corners of Costa Teguise, a long walk along the beaches (Playa del Ancla / Playa Bastián / Playa del Jablillo / Playa de las Cucharas / Playa de los Charcos) is recommended, as the four latter of the five beaches are linked by a footpath.
You can start either from Playa Bastián to the west or from Playa de los Charcos to the east, an altogether charming walk, but somewhat windy as there is often a violent breeze, especially on the unsheltered Jablillo peninsula.
The sporadically positioned wind turbines point to the past when Costa Teguise was a desalination area, when, with the help of wind power, seawater was pumped into evaporation basins.
If you still want to explore the surroundings of Costa Teguise, you can hike north along the uncrowded coast or explore the region by mountain bike – depending on your personal desire and condition – to the next settlement Los Cocoteros or even further to the Salinas de los Agujeros (one of only two working salt works on Lanzarote) to the village of Arrieta or in the opposite direction to Arrecife.
When we were not travelling around the Island my queen and I did most of what her Müller guide recommended:
A visit to the Meliá Salinas
A wander through the Pueblo Marinero
A glance at the Palacio
A walk along the Promenade
(We were never so desperate that we considered the Aquarium.)
I thought a lot about how we travelled and wondered how it must be for royalty to do the same.
Can the present King of Spain Felipe VI freely stroll into the lobby of the Meliá Salinas, wander casually in the market of the Pueblo Marinero and walk without worrying about security upon the Promenade?
Above: King Felipe VI of Spain
Certainly he would have people to do his laundry and buy his groceries and arrange his excursions.
And I have little doubt that the English, German and Russian tourists that invade Costa Teguise every year would probably not recognize him.
Still can one really say that Felipe's life is superior to my own?
I don't want to retire to Costa Teguise (or to Landschlacht either) but as a place to visit, as a place to observe, that strangest of creatures, the package deal tourist, this Lanzarote tourist trap town is worthy of attention.
Imagine a group of badly dressed, badly behaved seniors, half dead, half alive, grumbling and complaining to spite their continued involuntary existence and then smile that you are not yet one of them.
One day I too will be old.
One day I too will die.
Perhaps one day I will return to Costa Teguise.
But not yet.
Not yet.
Above: Flag of Lanzarote
Sources: Wikipedia / Google / Lonely Planet Canary Islands / Eberhard Fohrer, Lanzarote (Michael Müller Verlag) / Jorge Echenique & Andrés Murillo, Lanzarote (Ediciones Andrés Murillo) / Ignacio Romero, Lanzarote: A Hiking Guide