Landschlacht, Switzerland, Monday 6 July 2020
Let there be no doubt:
My souvenir book loves Porto.
Above from the top left corner clockwise: Clérigos Church and Tower; Avenida dos Aliados; Casa da Música concert hall; Ribeira district; Avenida da Boavista business hub; Luiz I bridge and Porto from Vila Nova de Gaia
"The facades of the colourful houses line the streets, displaying their elegance in full sight of the sweet and beloved River Douro.
It is the tale of a platonic love with no end in sight and so each house adopts its own adornment with clothes on the balcony or flowerpots in the windows, impressing those who pass.
These facades, accompanied by their beloved River, the narrow lanes bearing the marks of time, the majestic Clérigos Tower and the rabelo boats are part of this unique place, captured by the lenses of tourists.
I know of what I speak, for I have often witnessed admiring glances being exchanged and heard flattering phrases in many languages of the world.
I myself feel special to be part of this space, belonging to mankind.
I know also that one day it will be my turn to leave and by then my duty will be done, for I will take with me a piece of this city, made of mists and smiles.
Ever since I was brought here, every single morning I am placed outside, within view of visitors.
During the night I rest in a dark shop surrounded by objects that show the city photographed, illustrated, magnetized, embroidered, carved and even spiritualized.
Whilst I repose, I think how much I will miss the authentic warmth of the population, who welcome people with smiles of gold and gruff voices.
Even so, I am prepared to be removed quite soon from the postcard display and be sent, with a message, to a distant place, where I will continue to display the facades of my colourful and aligned houses, eternally in love with a golden river."
(Susana Fonseca)
It is true.
It is hard to hate Porto.
Yes, it is a large city, but it is also a beguiling one, with a lengthy history and a constant Catholicism, but where Coimbra is Saint Augustine, Braga the Virgin Mary and Lisbon Mary Magdelene, Porto is Martha.
In the Gospel of Luke, Jesus visits the home of two sisters named Mary and Martha.
The two sisters are contrasted:
Martha was "encumbered about many things" while Jesus was their guest, while Mary had chosen "the better part", that of listening to the master's discourse.
Above: Jesus at the house of Mary and Martha, Harold Copping, 1927
As Jesus and his disciples were on their way, He came to a village where a woman named Martha opened her home to him.

She had a sister called Mary, who sat at the Lord's feet listening to what he said.

But Martha was distracted by all the preparations that had to be made.

She came to Him and asked,

"Lord, don't you care that my sister has left me to do the work by myself?

Tell her to help me!"

"Martha, Martha," the Lord answered, "you are worried and upset about many things, but only one thing is needed.

Mary has chosen what is better and it will not be taken away from her."
Above: Christ with Martha and Maria, by Henryk Siemiradzki, 1886
Perhaps it is my manual labour background, but I find myself more sympathetic towards Martha than I do towards Mary, and, by extension in this city-to-Biblical-personality analogy, more sympathetic towards Porto than Lisbon.
For me, this wee Biblical passage sums up Porto's attitude towards the rest of Portugal.
Above: Flag of Portugal
Porto may never feel it is properly rewarded for all the hard work it provides, because Porto is more than just another prettified tourist destination, it is a busy commercial city whose fascination lies in its riverside setting and day-to-day life.
Porto is cramped streets and ancient alleys and antiquated shops.
During our week's sojourn in this northern Portuguese metropolis, my wife and I did all the touristy things that tourists are advised to do.
And of Porto I have described much already in this blog:
Canada Slim and the War of the Oranges (6 August 2018)
Canada Slim and the Station Sanctuary (19 January 2019)
Canada Slim and the Voices without Echo (3 June 2019)
Canada Slim and the Harry Potter Fado (11 October 2019)
As well, there is much more to be said about Porto in the months and years to come.
(My wife and I have already spent time on the Algarve and in Lisboa, but as these visits occurred prior to the commencement of this blog I have not described my two previous visits to Portugal – a land I love with a passion fierce.)
Above: Coat of arms of Portugal
In my last Porto post I described the sites within the city that Harry Potter fans flock to and some to where we followed the flock of Potterheads.
I mention this Potter post, for the sole reason that the bookshop (Livraria Lello) that Ms. Rowling once haunted and wherein her books are perpetually offered for sale, therein I discovered a Portuguese poet's work.
And as French author Jacques Salomé so wisely wrote:
"Un livre à toujours deux auteurs: celui dui l'écrit et celui qui le lit."
(A book always has two authors: he who writes it and he who reads it.)
Above: Jacques Salomé
Fernando Pessoa (1888 – 1935) was a Portuguese poet and writer born in Lisbon, but whom I did not discover until this trip to Porto.
Pessoa is considered one of the greatest poets to have ever written in the Portuguese language and a giant of world literature.
Above: Fernando Pessoa, 1914
At the age of six, Pessoa moved to Durban, South Africa where for nine years he learned to read and write English perfectly.
Of the four books he published in his lifetime, three were written in English.
Above: Modern Durban, South Africa
On leaving South Africa Pessoa returned to Lisbon, wherein he spent much of the rest of his life.
Above: Images of Lisbon
During his life, Pessoa worked in various places as an English and French language correspondent.
He also worked as a businessman, editor, literary critic, journalist, political commentator, translator, inventor, astrologer and advertiser while producing his works in verse and prose.
And yet, despite this, during his life, Pessoa was virtually unknown, avoiding society and the literary world.
As a poet, Pessoa was known for his multiple pseudonyms, what came to be known as "heteronyms", which were and still are today the subject of many of the studies produced on his life and work.
On 29 November 1935, Pessoa was taken to Lisbon's Hospital de Sao Luis, suffering from abdominal pain and a high fever.
There he wrote, in English, his last words:
"I know not what tomorrow will bring."
He died the next day, 30 November 1935, around 8 pm, aged 47.
Above: Pessoa's tomb in Lisbon, at the cloister of the Hieronymites Monastery since 1985.
In his lifetime, he published four books in English and one in Portuguese.
However, he left a lifetime of unpublished, unfinished or simply sketchy work in a domed, wooden truck (25,574 manuscript and typed pages, which have been housed in the Portuguese National Library since 1988).
To get a grasp on this unusual man, one diary entry stands out:
"8 March 1914
I found myself standing before a tall chest of drawers, took up a piece of paper, began to write, remaining upright all the while since I always stand when I can.
I wrote some 30 poems in a row, all in a kind of ecstasy, the nature of which I shall never fathom.
It was the triumphant day of my life and I shall never have another like it.
I began with a title, "The Keeper of Sheep", and what followed was the appearance of someone within me to whom I promptly assigned the name of Alberto Caeiro.
Please excuse the absurdity of what I am about to say, but there had appeared within me, then and there, my own master.
It was my immediate sensation.
So much so that, with those 30 odd poems written, I immediately took up another sheet of paper and wrote as well, in a row, the six poems that make up "Oblique Rain" by Fernando Pessoa.
Immediately and totally….
It was the return from Fernando Pessoa / Alberto Caeiro to Fernando Pessoa alone.
Or better still, it was Fernando Pessoa's reaction to his own inexistence as Alberto Caeiro."
In a sense this duality – (or in Pessoa's case, multiplicity) – is something I can identify with.
Sometimes I write as purely and simply myself.
Within these blogposts I am both Canada Slim and myself, for the censor and critic that is the latter persona, the pseudonym persona liberates from myself the self-expression I need.
Just six hours from the moment I began this post (4 July 2020) I posted this on Facebook:
In preparation to write my much-interrupted, long-intervalled "Chronicles of Canada Slim", I found again, like the passion one possesses for someone who is loved, some collected works purchased the last time I was in Portugal.
A Portuguese poet, Fernando Pessoa, speaks to me in sonnets that sing and poems that praise and persuade a person of the majesty of existence.
He writes:
"I have in me all the dreams of the world."
And to dream seems to be lacking within the soul of too many in Deutschschweiz and Deutschland.
"Sad is he who dwells in pleasure,
Content with his abode,
Without a dream, as it ruffles a feather,
Fanning the glow of the embers
In the fire as it doth erode.
Sad is he who lives contented!
He lives because life doth endure.
Nothing in his soul ever suggested,
More than the basic truth imparted,
That of only one's grave can one be sure."
And this it seems to be the be-all and end-all of those I have known in the lands where German (or variations thereof) is spoken.
Make one's fortune, secure one's comfort, do the practical and know one's limits.
But I say with Pessoa, that I am misjudged and misunderstood in these lands (where I followed my passion for a woman far wiser in the ways of her language-linked companions than I could ever be)….
"Because I am the size of what I see and not the size of my height".
I am as I see, not as I am seen.
It saddens me that we judge one another by standards that mean so little: the size of a bank account, the coziness of one's castle, the reputation that precedes and follows a fellow far beyond his reach, the illusion of beauty, the prejudices of one's age.
We see only the green of our sofas not the blue of jazz in the ether.
We hear only chaos from without and fear the calm from within, for the former we comprehend, the latter is a land too quiet and thus disquieting.
The wisdom and power of words are the worlds I see and they fill a universe that defines me far beyond how I am seen."
Such is how Pessoa inspires me.
This maverick, this undefinable, undeniable spirit wrapped up in a carapace of conformity has been described by Mexican poet Octavio Paz (1914 – 1998) as a "solemn investigator of futile things", the epitome of an empty man who, in his helplessness, creates a world in order to discover his true identity.
Above: Octavio Paz
In a sense I see myself as a funhouse mirror of Pessoa, not so much an echo of his disquiet about life and the world we occupy, but rather I see the world as an echo of myself.
The world I see in the places I describe is less a reality of what is, but rather is more a reflection of who I am.
A regular follower of my writing responded almost immediately to the aforementioned Facebook post:
"If I may be allowed to offer an uninvited opinion as a sincere reader, writing teacher, professional editor and translator, your secret mentor, and increasingly your appreciative, possibly infatuated fan girl.
You have really found your voice and your writing has become effortless, more honest and less contrived and therefore so much more relatable.
There are fewer experimental verbal arabesques and palpably more consolidated content and purified emotion."
High praise indeed, from a woman for whom I have nothing but a universe's worth of respect.
But praise I am uncertain of whether I am worthy to be given.
There is still so much I have to learn.
There is still so much I have yet to say without the expertise and experience so critical for expression.
How I long to be able to capture the beating of a heart, the symphony of a soul that Pessoa so eloquently elucidates!
Oh, to write as Anthony Trollope, whom Henry James describes as:
"He felt all daily and immediate things as well as saw them.
He felt them in a simple, direct salubrious way, with their sadness, their gladness, their charm, their comedy, all their obvious and measureable meanings."
Above: Anthony Trollope (1815 – 1882)
I am reminded of another writing hero of mine, Hermann Hesse (1877 – 1962) and the manner in which he describes himself and how he is described:
"He does not want to follow the path trodden by many, but to resolutely plow his own furrow. 
He is not made for the collective life."
"I have been, and still am, a seeker, but I have ceased to question stars and books. 
I have begun to listen to the teachings my blood whispers to me. 
My story is not a pleasant one. 
It is neither sweet nor harmonious as invented stories are. 
It has the taste of nonsense and chaos, of madness and dreams, like the lives of all men who stop deceiving themselves."
"What torments Hesse is the difficulty of being authentic – of staying true to who you really are, despite the enormous pressures of alienation and conformity."
"If I search retrospectively for a common thread of meaning, then I can indeed find one.
A defense of (sometimes even a desperate plea on behalf of) human personality, the individual."
"Hesse was forced to confront the entire weight of the institutions ranged against him – family, church, school, society – and to do battle with them in the name of defending his individuality."
"The only way I can conceive of writing is an act of confession."
When I describe a place I am not describing what it is, but rather how I see it.
I am not describing a place, as much as I am describing how that place makes me feel.
Of who I am rather than where I am.
I am, in some ways, very Portuguese, at least when I try to write.
I am reserved.
I leave gesticulating exuberance to others.
I am mild-mannered, gentle and homely, and yet my vision seeks to encompass the world.
I seem placid and harmless and it takes much to provoke me, but much lies beneath the surface, where there is a temperament one would expect from a land of mist and bogs.
I am not one for golden descriptions of sandy beaches, but instead I possess like my Portuguese brethren an eternal saudade, a feeling of longing for what could have been, a nostalgia for what has gone, when I sit at my keyboard and try to inadequately capture a sense of what a place really is (or at least my reality through which I see it).
Above: Saudade (1899), by Almeida Júnior
Oh, to write as one born Portuguese!
To write in a manner akin to how a Portuguese farmer farms, with a knack of conjuring a harvest even from the most barren of ground.
And so I stare at my screen seeking seeds of expression from the blank face of an unsympathetic computer.
Sometimes I think I will never leave Schulstrasse here in Landschlacht, that my mind like my body remains a prisoner of the choices I have made.
Once written down, words captured for eternity, are forever frozen in paralytic prose.
Above: Landschlacht, Switzerland, as seen on a clear day from the German shore of Lake Constance
When I consider much that is travel writing….
When I consider how Pessoa viewed life….
When I consider how I have on occasion viewed life….
Above: Saudades de Nápoles (Missing Naples), 1895, by Bertha Worms
I think about "The Secret Life of Walter Mitty".
"The Secret Life of Walter Mitty" (1939) is a short story by James Thurber.
The most famous of Thurber's stories, it first appeared in The New Yorker on 18 March 1939, and was first collected in his book My World and Welcome to It (Harcourt, Brace and Company, 1942).
It has since been reprinted in James Thurber: Writings and Drawings (The Library of America, 1996, ISBN 1-883011-22-1), is available on-line on the New Yorker website and is one of the most anthologized short stories in American literature.
The story is considered one of Thurber's "acknowledged masterpieces".
Above: James Thurber (1894 – 1961)
It was made into a 1947 movie of the same name, with Danny Kaye in the title role, though the movie is very different from the original story.
It was also adapted into a 2013 film, which is again very different from the original.
The name Walter Mitty and the derivative word "Mittyesque"have entered the English language, denoting an ineffectual person who spends more time in heroic daydreams than paying attention to the real world, or more seriously, one who intentionally attempts to mislead or convince others that he is something that he is not.
The short story deals with a vague and mild-mannered man who drives into Waterbury, Connecticut, with his wife for their regular weekly shopping and his wife's visit to the beauty parlor.
During this time he has five heroic daydream episodes.
The first is as a pilot of a US Navy flying boat in a storm, then he is a magnificent surgeon performing a one-of-a-kind surgery, then as a deadly assassin testifying in a courtroom, and then as a Royal Air Force pilot volunteering for a daring, secret suicide mission to bomb an ammunition dump.
As the story ends, Mitty imagines himself facing a firing squad, "inscrutable to the last."
Each of the fantasies is inspired by some detail of Mitty's mundane surroundings.
In a way, it is like inventing a clear day from a dark reality, a hero out of an ordinary human, a Paradise out of Purgatory.
Above: Expulsion from Paradise, painting by James Tissot (1902)
From Fernando Pessoa's The Book of Disquiet:
"The journey in my head
In the plausible intimacy of approaching evening, as I stand waiting for the stars to begin at the window of this 4th floor room that looks out on the infinite, my dreams move to the rhythm required by long journeys to countries as yet unknown, or to countries that are simply hypothetical or impossible.
Above: Pessoa's birthplace: a large flat at São Carlos Square, just in front of Lisbon's opera
Today, during one of those periods of daydreaming which, though devoid of either purpose or dignity, still constitute the greater part of the spiritual substance of my life, I imagined myself free forever of Rua dos Douradores, of my boss Vasques, of Moreira the bookkeeper, of all the other employees, the errand boy, the post boy, even the cat.
Above: Pessoa's last home, from 1920 till his death, in 1935, currently the Fernando Pessoa Museum
In dreams, that freedom felt to me as if the South Seas had proferred up a gift of marvellous islands as yet undiscovered.
Freedom would mean rest, artistic achievement, the intellectual fulfillment of my being.
But suddenly, even as I imagined this (during the brief holiday afforded by my lunch break), a feeling of displeasure erupted into the dream:
I would be sad.
Yes, I say it quite seriously:
I would be sad.
For my boss Vasques, Moreira the bookkeeper, Borges the cashier, all the lads, the cheery boy who takes the letters to the post office, the errand boy, the friendly cat….
They have all become part of my life.
I could never leave all that behind without weeping, without realizing, however displeasing the thought, that part of me would remain with them and that losing them would be akin to death.
Moreover, if I left them all tomorrow and discarded this Rua dos Douradores suit of clothes I wear, what else would I do?
Because I would have to do something.
And what suit would I wear?
Because I would have to wear another suit.
We all have a Senhor Vasques.
Sometimes he is a tangible human being, sometimes not.
In my case he really is called Vasques and he is a pleasant, healthy chap, a bit brusque at times but he is no doubledealer.
He is selfish but basically fair, much fairer than many of the great geniuses and many of the human marvels of civilization on both left and right.
For many people Vasques takes the form of vanity, a desire for greater wealth, for glory or immortality….
Personally I prefer to have Vasques as my real life boss since, in times of difficulty, he is easier to deal with than any abstraction the world has to offer….
Above: Actor Steve Carell, Emmy Awards 2010, for his role as boss Michael Scott, in US series The Office
And I return to an other's house, to the spacious office in the Rua dos Douradores, the way some return to their homes.
I approach my desk as if it were a bulwark against life.
I feel such an overwhelming sense of tenderness that my eyes fill with tears for my books that are in reality the books of other people whose accounts I keep, for the inkwell I use, for Sergio's stooped shoulders as, not far from me, he sits writing out bills of lading.
I feel love for all of this, perhaps because I have nothing else to love or perhaps too, because even though nothing truly merits the love of any soul, if, out of sentiment, we must give it, I might just as well lavish it on the smallness of an inkwell as on the grand indifference of the stars….
With the soul's equivalent of a wry smile, I calmly confront the prospect that my life will consist of nothing more than being shut up for ever in Rua dos Douradores, in this office, surrounded by these people.
I have enough money tp buy food and drink, I have somewhere to live and enough free time in which to dream, write – and sleep – what more can I ask of the gods or hope for from Fate?
I had great ambitions and extravagant dreams, but so did the errand boy and the seamstress, for everyone has dreams.
The only thing that distinguishes me from them is that I can write.
Yes, that is an activity, a real fact about myseof that distinguishes me from them.
But in my soul I am just the same.
I know that there are islands in the South and grand cosmopolitan passions and….
I am sure that even if I held the world in my hand, I would exchange it all for a tram ticket back to Rua dos Douradores.
Perhaps it is my destiny to remain a bookkeeper forever and for poetry and literature to remain simply butterflies that alight on my head and merely underline my own ridiculousness by their very beauty."
Above: Crimson Assurance, Monty Python's The Meaning of Life
Porto, Portugal, Wednesday 25 July 2018
The morning has begun, poorly.
Somehow, in all our running around the day previously, our one city-specific, Porto-focused guidebook, specially ordered for this trip, the book has vanished.
We stumble across a bookshop (Leya) that sells English language materials and we fortuitously find a copy of the lost travel guide.
The Swabian soul of my wife, as thrifty as a Scot, is displeased with this development and thus the tone of the day is set, with much of the morning lost.
After a visit to the Sé (Cathedral) we discover that though not quite all roads lead to the city centre's Avenida dos Aliados, ours do.
At the foot of the Avenida – in the area known as Praca da Liberdade – are a couple of sidewalk cafés and an equestrian statue of Dom Pedro IV.
Dom Pedro I (1798 – 1834), nicknamed "the Liberator", was the founder and first ruler of the Empire of Brazil.
As King Dom Pedro IV, he reigned briefly over Portugal, where he also became known as "the Liberator" as well as "the Soldier King".
Born in Lisbon, Pedro I was the fourth child of King Dom João VI of Portugal and Queen Carlota Joaquina, and thus a member of the House of Braganza.
When the country was invaded by French troops in 1807, he and his family fled to Portugal's largest and wealthiest colony, Brazil.
The outbreak of the Liberal Revolution of 1820 in Lisbon compelled Pedro I's father to return to Portugal in April 1821, leaving him to rule Brazil as regent.
He had to deal with threats from revolutionaries and insubordination by Portuguese troops, all of which he subdued.
The Portuguese government's threat to revoke the political autonomy that Brazil had enjoyed since 1808 was met with widespread discontent in Brazil.
Pedro I chose the Brazilian side and declared Brazil's independence from Portugal on 7 September 1822.
On 12 October, he was acclaimed Brazilian Emperor and by March 1824 had defeated all armies loyal to Portugal.
A few months later, Pedro I crushed the short-lived Confederation of the Equator, a failed secession attempt by provincial rebels in Brazil's northeast.
A secessionist rebellion in the southern province of Cisplatina in early 1825, and the subsequent attempt by the United Provinces of the Río de la Plata to annex it, led the Empire into the Cisplatine War.
In March 1826, Pedro I briefly became king of Portugal before abdicating in favor of his eldest daughter, Dona Maria II (1819 – 1853).
The situation worsened in 1828 when the war in the south resulted in Brazil's loss of Cisplatina.
During the same year in Lisbon, Maria II's throne was usurped by Prince Dom Miguel (1802 – 1866), Pedro I's younger brother.
The Emperor's concurrent and scandalous sexual affair with a female courtier tarnished his reputation.
Other difficulties arose in the Brazilian parliament, where a struggle over whether the government would be chosen by the monarch or by the legislature dominated political debates from 1826 to 1831.
Unable to deal with problems in both Brazil and Portugal simultaneously, on 7 April 1831 Pedro I abdicated in favor of his son Dom Pedro II, and sailed for Europe.
Pedro I invaded Portugal at the head of an army in July 1832.
Faced at first with what seemed a national civil war, he soon became involved in a wider conflict that enveloped the Iberian Peninsula in a struggle between proponents of liberalism and those seeking a return to absolutism.
Pedro I died of tuberculosis on 24 September 1834, just a few months after he and the liberals had emerged victorious.
He was hailed by both contemporaries and posterity as a key figure who helped spread the liberal ideals that allowed Brazil and Portugal to move from absolutist regimes to representative forms of government.
Above. Monument to the Independence of Brazil where Pedro I and his two wives are buried
I am told, by the sheer fact that a statue stands here to honour him, that we should regard Pedro as a hero, but I find myself wondering….
How much blood was spilled to realize his goals?
At the head of the Avenida dos Aliados stands another statue of another man we are meant to honour and this one is of less difficulty.
João Baptista da Silva Leitão de Almeida Garrett, 1st Viscount of Almeida Garrett (1799 – 1854) was a Portuguese poet, orator, playwright, novelist, journalist, politician and a peer of the realm.
A major promoter of theatre in Portugal he is considered the greatest figure of Portuguese Romanticism and a true revolutionary and humanist.
He proposed the construction of the Dona Maria II National Theatre and the creation of the Conservatory of Dramatic Art.
Garrett was born in Porto, the son of António Bernardo da Silva Garrett (1739–1834), a fidalgo of the Royal Household and Knight of the Order of Christ, and his wife (they were married in 1796) Ana Augusta de Almeida Leitão (b. 1770), the daughter of an Irish father born in exile in France and an Italian mother born in Spain.
At an early age, Garrett changed his name to João Baptista da Silva Leitão, adding a name from his godfather and altering the order of his surnames.
In 1809, his family fled the second French invasion carried out by Soult's troops, seeking refuge in Angra do Heroísmo, Terceira Island, Azores.
While in the Azores, Garrett was taught by his uncle, Dom Frei Alexandre da Sagrada Família (1737 – 1818), the Bishop of Angra.
In childhood, his mulatto Brazilian nanny Rosa de Lima taught him some traditional stories that later influenced his work.
In 1818, Garrett moved to Coimbra to study at the University law school.
In 1818, he published O Retrato de Vénus, a work for which was soon to be prosecuted, as it was considered "materialist, atheist and immoral".
It was during this period that he adopted his pen name Almeida Garrett, seen as more aristocratic.
Although Garrett did not take active part in the Liberal Revolution that broke out in Porto in 1820, he contributed with two patriotic verses, the Hymno Constitucional and the Hymno Patriótico, which his friends copied and distributed in the streets of Porto.
After the "Vilafrancada", a reactionary coup d'état led by the Infante Dom Miguel in 1823, he was forced to seek exile in England.
Above: Prince Miguel saluting soldiers on arrival at Vila Franca
Garrett had just married the beautiful Luísa Cândida Midosi who was only 12 or 13 years old at the time and was the sister of his friend Luís Frederico Midosi.
While in England, in Edgbaston, Warwickshire, he began his association with Romanticism, being subject to the first-hand influences of William Shakespeare (1564 – 1616) and Walter Scott (1771 – 1832), as well as to that of Gothic aesthetics.
Above: House on Farquhar Road, typical of the Edgbaston area, demonstrating the affluence
In the beginning of 1825, Garrett left for France where he wrote Camões (1825) and Dona Branca (1826), poems that are usually considered the first Romantic works in Portuguese literature.
In 1826, he returned to Portugal, where he settled for two years and founded the newspapers O Portuguez and O Chronista.
In 1828, under the rule of King Miguel of Portugal, he was again forced to settle in England, publishing Adozinda and performing his tragedy Catão at the Theatre Royal in Plymouth.
Together with Alexandre Herculano (1810 – 1877) and Joaquim António de Aguiar (1792 – 1884), Garrett took part in the Landing of Mindelo, carried out during the Liberal Wars (1828 – 1834).
Above: Landing of the liberal forces in Porto on 8 July 1832
When a constitutional monarchy was established, he briefly served as its Consul General to Brussels.
Upon his return, he was acclaimed as one of the major orators of Liberalism, and took the initiative in the creation of a new Portuguese theatre (during the period, he wrote his historical plays Gil Vicente, Dona Filipa de Vilhena, and O Alfageme de Santarém).
In 1843, Garrett published Romanceiro e Cancioneiro Geral, a collection of folklore.
Two years later, he wrote the first volume of his historical novel O Arco de Santana (fully published in 1850, it took inspiration from Victor Hugo's The Hunchback of Notre Dame).
O Arco de Santana signified a change in Garrett's style, leading to a more complex and subjective prose with which he experimented at length in Viagens na Minha Terra (Travels in My Homeland, 1846).
His innovative manner was also felt in his poem collections Flores sem Fruto (Flowers without Fruit, 1844) and Folhas Caídas (Fallen Leaves, 1853).
Nobled by Dona Maria II of Portugal in 1852 with the title of 1st Viscount of Almeida Garrett, he was Minister of Foreign Affairs for only a few days in the same year (in the cabinet of the Duke of Saldanha).
Almeida Garrett ended his relationship with Luísa Midosi and divorced in 1835 to join 17-year-old Adelaide Deville Pastor in 1836.
She was to remain his partner until her early death in 1839, leaving a daughter named Maria Adelaide, whose early life tragedy and illegitimacy inspired her father to write the play Frei Luís de Sousa.
Later in his life he became the lover of Rosa de Montúfar y Infante, whom he celebrated at his last and probably best poetry book Folhas Caídas.
Garrett died of cancer in Lisbon at 6:30 in the afternoon of 9 December 1854.
He was buried at the Cemetery of Prazeres and, on 3 May 1903, his remains were transferred to the national pantheon in Lisbon's Jerónimos Monastery.
I find myself more forgiving of those that write over those that rule.
Behind Garrett stands Porto's city hall, the Câmara Municipal.
(The metropolitan area is governed by the Junta Metropolitana do Porto (JMP), headquartered in Avenida dos Aliados, in downtown Porto under the presidency of Hermínio Loureiro, also the mayor of Oliveira de Azeméis municipality, since the Municipal Elections held in 2013, when he succeeded Rui Rio, mayor of Porto.
The Assembleia Metropolitana do Porto (Porto Metropolitan Assembly) is composed of 43 MPs, the PSD (Social Democratic Party) party has 20 seats, the PS (Socialist Party) 16, the CDS (the People's Party) three, CDU (Unitarian Democratic Coalition) three, and the BE (Left Bloc), one.
Although the government has halted the intention of creating new metropolitan areas and urban communities, it is keen to ensure greater autonomy to Porto and Lisbon metropolitan areas.
Greater Porto is the second largest metropolitan area of Portugal, with about 1.7 million people.
It groups the larger Porto Urban Area, the second largest in the country, assembled by the municipalities of Porto, Matosinhos, Vila Nova de Gaia, Gondomar, Valongo and Maia.
A smaller urban area of Póvoa de Varzim and Vila do Conde, which ranks as the six largest in continental Portugal.
The new regional spatial planning program (PROT-Norte) recognizes both urban areas and engages in their development.
There are some intentions to merge the municipalities of Porto with Gaia and Matosinhos into a single and greater municipality, and there is an ongoing civil requisition for that objective.
The government also started to discuss the merging of some municipalities due to conurbations, but gave up.
There is a similar idea for the conurbation of Póvoa de Varzim and Vila do Conde, and both municipalities have decided to work as if both are the same city, cooperating in health, education, transports and other areas.
Several municipalities of the metropolitan area also moved closer, thus becoming a cohesive group.
The urban-metropolitan agglomeration known as the Northwestern Urban-Metropolitan Agglomeration or Porto Metropolitan Arch is a regional urban system of polycentric nature that stretches far beyond the metropolitan borders, and includes circa 3 million people, which takes in other main urban areas such as Braga and Guimarães, the 3rd and 8th largest cities (as defined by urban areas) of Portugal.
One should also note that the entire region of Northwestern Portugal is, in fact, a single agglomeration, linking Porto and Braga to Vigo in Galicia, Spain.)
"I went up towards the Town Hall.
The sky rumbled and opened onto Porto, unleashing laments that included steady rainfall.
One could barely distinguish the white pedestrian crossings under the downpour that shook my poor umbrella, already twisted by other storms.
As soon as I reached the door of Guarany Café, I walked in on an impulse, leaving trails of water wherever I passed.
Thus I remained for a few moments, drenched and momentarily wretched.
As if by magic a cup of hot coffee eased my discomfort.
I watched the storm and the dark morning.
I remembered the story a friend had told me about an Englishman (John Whitehead: 1726 – 1802) who had lived at Porto (1756 – 1802) in the 18th century.
He is believed to have been responsible for supervising and executing several urban works in the city, but people also considered that he had made a pact with the devil, for he was able to attract the grey lightning-bearing clouds to his gardens.
No doubt, today would have been a perfect day for his experiments with the lightning conductor, which certainly involved science rather than witchcraft.
What would he think of this avenue he never knew?
This avenue which welcomes the rain and the sun with the same generosity?
All these cars, which pass by taking people to their destinations, or these buses which carry tourists to the Palácio da Bolsa, to the Church of Sao Francisco and to the Torre dos Clérigos?
All these imposing buildings which stretch granitically upwards to the sky?
This set paving?
Would he call us witches?
Eccentrics?
I looked at my watch and I let out a scream that crashed against its face.
I was late!
Outside, the sky calmed its fury, making the pedestrian crossings visible…."
(Susana Fonseca)
It seems on every street corner, the defeated, but undaunted, People-Animals-Nature Party (one sole MP) has young people standing with clipboard petitions that seek support to continue their battle against bullfighting, a bid beaten in Parliament on 6 July.
From the Câmara to the Mercado to the Torre dos Clérigos to the Café Majestic, the morning and much of the afternoon pass quickly.
West of the Torre we find ourselves threading our way between the faculty Buildings of the Universidade do Porto.
Below the main University building spreads the Jardim da Cordoaria  (garden of the ropemakers), also known as the Jardim de Joao Chagas, sheltering impromptu card and chess schools beneath giant plane trees.
It is a small, historic urban park with a serene vibe featuring a variety of trees, plants & sculptures.
The garden was founded by the Viscount of Vilar d'Allen in 1865 and was designed by the German landscaper Émile David (1839 – 1873).
In 1941, a cyclone altered the appearance of this romantic garden.
In preparation for the celebrations of Porto as the 2001 European Capital of Culture, the garden was the target of an intervention by the architect Camilo Cortesao.
His work was highly contested by some celebrities and associations in Porto, because it implied a major change in the space in question.
In the garden space are the sculptures:
Rapto de Ganimedes (the rapture of Ganimedes)(1898) by Fernandes de Sá (1874 – 1959)
Flora (1904) by Antonio Teixeria Lopes (1866 – 1942)
Ramalho Ortigao (1909) by Leopoldo Almeida (1898 – 1975)
Antonio Nobre (1926) by Tómas Costa
Thirteen to laugh at each other (2001) by Juan Munoz (1953 – 2001)
The garden's namesake João Pinheiro Chagas (1863 – 1925) was a Portuguese journalist and politician.
He was born in Rio de Janeiro, Brazil, of Portuguese parents who soon moved back to Portugal.
He was an editor at the newspapers O Primeiro de Janeiro, Correio do Norte, O Tempo and O Dia.
After becoming a republican, he also founded the República Portuguesa and was the director of O País (1898).
The monarchist government's reaction to the British Ultimatum of January 1890 (that forced Portugal to renounce its extravagant claims to the territories that lay between Portuguese Angola and Portuguese Mozambique), made him a fierce republican and one of Portugal's most fervent anti-monarchy journalists and propagandists.
After the proclamation of the republic, on 5 October 1910, he was appointed minister in Paris, and, the following year, after the end of the term of the provisional government, he was chosen to lead the first constitutional government of the Portuguese First Republic.
It was in power for only two months, from 4 September to 13 November 1911.
This was a sad prelude to the political instability of the First Republic.
On 17 May 1915, he was again appointed President of the Ministry (Prime Minister), but he didn't take office.
He remained a diplomat until his retirement in 1923.
He died in Estoril, aged 60.
Above: Joao Chagas
Two of the garden's statues are of Portuguese literature, the writer Ortigao and the poet Nobre….
If there is one art form the Portuguese are proud of, it is literature.
You cannot be Portuguese unless you have read The Lusiads, Luis de Camoes' (1524 – 1580) epic poem narrating Vasco da Gama's sea voyage to India, complete with tales of sea monsters.
Portugal's Jane Austin is Eca de Queirós (1845 – 1900), whose studied portraits of life in 19th century Lisbon are every bit as witty.
Then came Fernando Pessoa, despite a multiple personality disorder, who with his musings on the meaning of life is remembered as a Modernist genius.
José Saramago (1922 – 2010) carried the torch of experimentalism, writing whole books without punctuation, and one, Blindness, without naming a single character.
The current golden boy of Portuguese literature is José Luís Peixoto who writes fractured mosaics of books that are like assembling a jigsaw puzzle.
Portugal's greatest writers are glorified wherever you go in the country.
Statues commemorate their places of birth and death.
Even the town of Barcelos' football team is named after a writer, Gil Vicente (1465 – 1536).
The garden's Ramalho Ortigão (1836 – 1915) spent his early years with his maternal grandmother in Porto.
He studied law in the University of Coimbra, but he did not complete his studies.
After returning to his home town, he taught French at a college run by his father.
Among his students was Eça de Queiros.
In 1862 he dedicated himself to journalism and became a literary critic at the Diário do Porto and contributed to several literary magazines.
At this period, romanticism was the dominant trend in Portuguese literature, led by several major writers, including Camilo Castelo Branco (1825 – 1890) and António Augusto Soares de Passos (1826 – 1860), who influenced Ortigão.
Above: Camilo Castelo Branco
Above: António Augusto Soares de Passos
In the 1870s, a group of students from Coimbra began to promote new ideas in a reaction against romanticism.
This group, eventually called the 70s Generation, was to have a major influence on Portuguese literature.
As a supporter of romanticism, Ortigão became involved in a struggle against them and even fought a duel with Antero de Quental (1842 – 1891).
Above: Antero de Quental
In spite of this early opposition, Ortigão afterwards became friendly with some members of the group.
It was at this period that he wrote The Mystery of the Sintra Road and created the satirical journal As Farpas, both in collaboration with Eça de Queiros.
When Queiros became a diplomat, initially in Cuba, Ortigão continued As Farpas alone.
Ortigão also worked as a translator.
In 1874 he produced a Portuguese translation of the English satirical novel Ginx's Baby by Edward Jenkins (1838 – 1910).
Above: "Ginx's Baby" Jenkins as caricatured by Spy (Leslie Ward) in Vanity Fair, August 1878
Ramalho Ortigão died in Lisbon on 27 September 1915.
The second literary person honoured by a statue in the garden, António Nobre (1867 – 1900) was a member of a wealthy family.
He was born in Porto, and spent his childhood in Trás-os-Montes and in Póvoa de Varzim.

Above: Images of modern Póvoa de Varzim
He studied law unsuccessfully at the University of Coimbra from 1888 to 1890 when he dropped out.
As a student in Coimbra, and according to his own words, he only felt at ease in his "tower" (referring to the Torre de Anto – Anto Tower, in upper Coimbra, where he lived) during the "sinister period" he spent studying law at the University of Coimbra.
An unknown fiancée more fictitious than concrete, his friend Alberto de Oliveira, and a brief intervention in the literary life, through some magazines, did not conciliate him with the academic city of Coimbra where this predestined poet flunked twice.

He went to Paris where he earned a degree in political science at the École Libre des Sciences Politiques.
There, he came in contact with the French coeval poetry, where he met Paul Verlaine (1844 – 1896) and Jean Moréas (1856 – 1910), among others.
Above: Paul Verlaine
Above: Jean Moréas
He also met the famous Portuguese writer Eça de Queiros in Paris, who was a Portuguese diplomat in the city.
It was from 1890 to 1895, that Nobre studied political science in Paris, where he was influenced by the French Symbolist poets and it was there that he wrote the greater part of the only book he published.
The Paris exile, sad by his own words (poor Lusitanian, the wretched, lost in the crowd that does not know him), was not a time for happiness.
The aristocratic shutting up caused nausea or indifference.
Frustrated and always marginal experiences made him bitter.
He was far from the sweat and from all sorts of fraternity, from desire and hate, and from the wailing of the breed, a childlike, lost, instinctive and princely life, a souvenir of the sweet old landscape that memory seems to encourage.
In his tender but never rhetorical mourning Nobre manifests himself and mourns over himself as a doomed poet, with a hard soul and a maiden's heart, which carried the sponge of gall in former processions.
His verse marked a departure from objective realism and social commitment to subjective lyricism and an aesthetic point of view, walking more towards symbolism – one of the various modernist literary currents.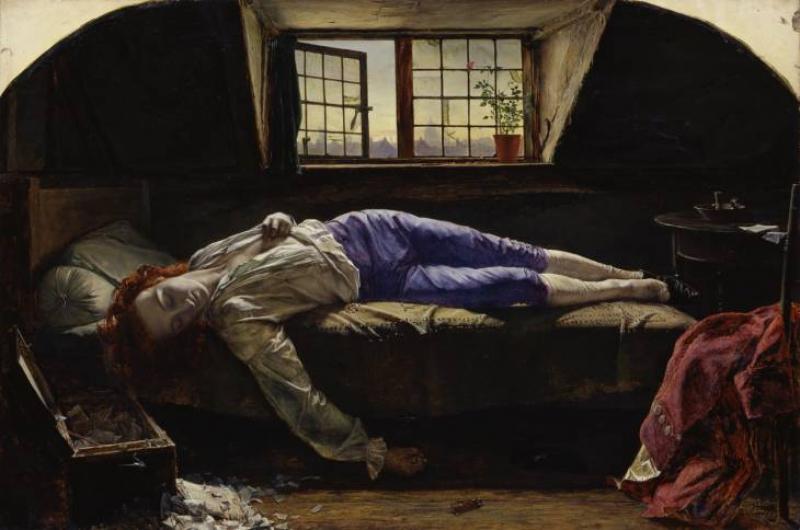 The lack of means, aggravated by his father's death, made him morbidly reject the present and the future, following a pessimistic romantic attitude that led him to denounce his tedium.
However excessive, this is a controlled attitude, due to a clear aesthetic mind and a real sense of ridicule.
He learned the colloquial tone from Almeida Garrett and Júlio Dinis (1839 – 1871), and also from Jules Laforgue (1860 – 1887), but he exceeded them all in the peculiar compromise between irony and a refined puerility, a fountain of happiness because it represents a return to his happiest of times — a kingdom of his own from where he resuscitates characters and enchanted places, manipulating, as a virtuoso of nostalgia, the picturesque of popular festivals and of fishermen, the simple magic of toponyms and the language of the people.
Above: Jules Laforgue
In his prescience of pain, in his spiritual anticipation of disease and of agony, in his taste for sadness, in his unmeasured pride of isolation, António (from Torre de Anto, at the centre of old Coimbra where the poet lived an enchanted life, everywhere writing his mythical and literary name: Anto) keeps an artist's composure, always expressing the cult of the aesthetic life and of the elegant personality.
In his courtship of death (to whose imminent threat he would later answer with dignity), he takes his spiritual dandyism to extremes, like in the "Balada do Caixão" (The Coffin Ballad).
His poetry translates the lack of a total maturation, an adolescent "angelism" present in fabulous confirmations:
He is "the moon", "the saint", "the snake", "the sorcerer", "the afflicted", "the inspired", "the unprecedented", "the medium", "the bizarre", "the fool", "the nauseated", "the tortured", "D. Enguiço", "a supernatural poet."
Above: The Divine Comedy, Paradise, illustration by Gustave Doré
Narcissus in permanent soliloquy, whether he writes nostalgic verses to Manuel or speaks to his own pipe….
Above: "La Trahison des Images" ("The Treachery of Images") (1928-9) or "Ceci n'est pas une pipe" ("This is not a pipe") by René Magritte, 1898-1967.
António Nobre (A. N.) makes poetry out of the real.
He covers what is prosaic with a soft mantle of legend ("My neighbour is a carpenter/he is a second-hand trader of Mrs. Death") and creates, with a rare balance between intuition and critique, his familiar "fantastic" ("When the Moon, a beautiful milkmaid / goes deliver milk at the houses of Infinity").
His catholic imaginary world is the same as in a fairy tale, a crib of simple words, but with an imaginative audacity in the scheming of those words that separate him from the consecrated lyrical language.
His power of "invention" comes forth in the inspired, yet conscious, use of the verbal material ("Moons of Summer! Black moons of velvet!" or "The Abbey of my past").
Between the Garrettian and the symbolic aesthetic, the most personal and revealing feature of his vocabulary is naturally — even for his longing for the childhood aesthetical retrieval – the diminutive.
A man of sensibility rather than of reflection, he took from French symbolism, whose mystery and deep sense he could never penetrate, the repelling of oratory and of formal procedures, original imagery ("Trás-os-Montes of water", "slaughter house of the planets"), the cult of synaesthesia, rhythmic freedom and musical research.
Above: In the slaughterhouse, Lovis Corinth, 1893
A. N. had a very thick ear.
All his poetry is rigorously written to be heard, full of parallelisms, melodic repetitions, and onomatopoeias, and is extremely malleable.
Its syllabic division depends on the rhythm that obeys feeling.
However, the images or the words of his sentences rarely have the precious touch of symbolic jewelry.
Evidently, in "Poentes de França", the planets drink in silver chalices in the "tavern of sunset".
However, his transfiguration of reality almost always obeys not a purpose of sumptuous embellishment, like in Eugénio de Castro, but an essentially affectionate eager desire of an intimism of things ("the skinny and hunchbacked poplars").
António Nobre died of tuberculosis in Foz do Douro, Porto, on 18 March 1900, after trying to recover from the disease in Switzerland, Madeira and New York City.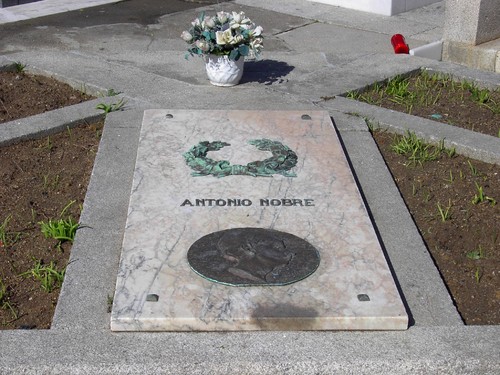 Other than Só (Paris, 1892), two other posthumous works were published: Despedidas (1st edition, 1902), with a fragment from O Desejado, and Primeiros Versos (1st edition, 1921).
António Nobre's correspondence is compiled in several volumes:
Cartas Inéditas a A.N., with an introduction and notes by A. Casais Monteiro
Cartas e Bilhetes-Postais a Justino de Montalvão with a foreword and notes by Alberto de Serpa, Porto, 1956
Correspondência, with an introduction and notes by Guilherme de Castilho, Lisbon, 1967 (a compilation of 244 letters, 56 of which were unpublished).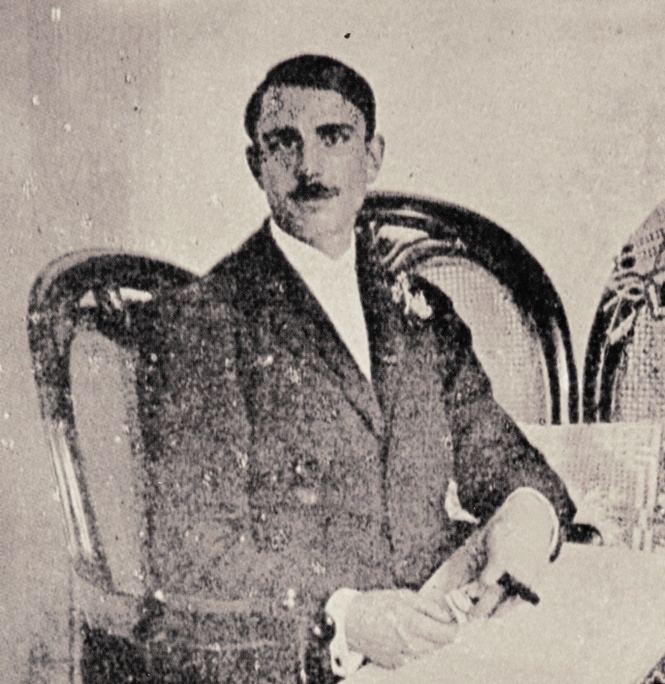 "When he (Nobre) was born, we all were born.
The sadness that each one of us brings with him, even in the sense of his joy, still is him, and his life, never perfectly real and certainly not lived, is, after all, the summary of the life we live – fatherless and motherless, lost from God, in the middle of the forest, and weeping, weeping uselessly, with no other consolation than this, childish, knowing that it is uselessly weeping. "
Fernando Pessoa, February 1915
The artist that made Nobre's garden statue has been called "the most significant of the first generation of artists to achieve maturity in post-Franco Spain, and one of the most complex and individual artists working today."
Juan Muñoz (1953– 2001) was a Spanish sculptor, working primarily in paper maché, resin and bronze.
He was also interested in the auditory arts and created compositions for the radio.
He was a self-described "storyteller".
In 2000, Muñoz was awarded Spain's major Premio Nacional de Bellas Artes in recognition of his work.
He died shortly after, in 2001.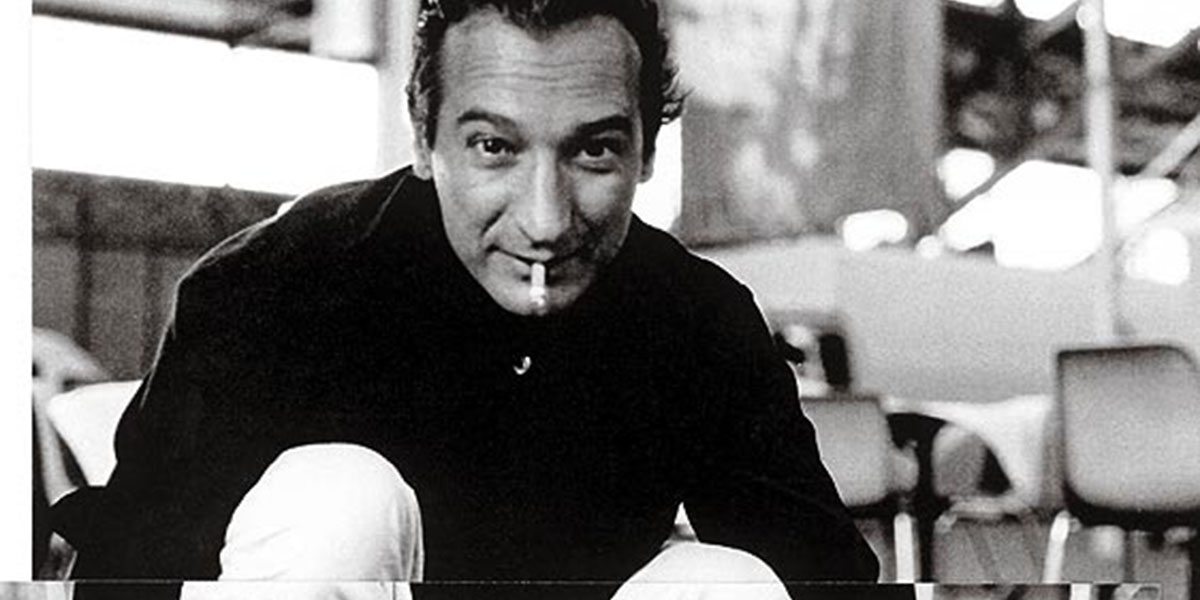 His works are displayed in such galleries as the Guggenheim Museum Bilbao, Guggenheim Museum New York, Hirshhorn Museum and Sculpture Garden in Washington D.C., the Art Institute of Chicago, and the Tate Modern in London.
In one unpublished radio program (Third Ear, 1992), Juan Muñoz proposed that there are two things which are impossible to represent:
The present and death.
The only way to arrive at them was by their absence.
Above: Created by Juan Munoz in 1999, this work celebrates the Tyne Salmon. The 2008 Tyne Bluetooth Salmon Trail Cubes are seen with the 22 bronze life-size figures that command a view of South Shields Harbour and the Tyne Piers.
The ropemakers' garden, this garden in memory of Joao Chagas, is close to the Torre dos Clérigos, the General Hospital of Santo António and the Portuguese Centre of Photography.
The Portuguese Centre of Photography was founded in 1997.
The first exhibitions were held in December of that same year on the ground floor of the building until 2000.
The building was temporarily closed for renovation and reopened in 2001.
Following the advice of the working group established by the Minister Manuel Maria Carrilho, in 1996, the then Ministry of Culture created the Portuguese Centre of Photography.
The photographic culture began then to revive by the appearance of photography schools, festivals and galleries attracting photographers that were exiled during the Salazar regime, publishing internationally relevant work.
The exhibition rooms of the ground floor were used that year, starting in December, but the building would only be occupied entirely by the CPF in 2001.
I do not know why the Centre in 2018 (6 July – 4 November) decided to focus on her photographs, but I do know why my wife needed to visit the Centre:
My wife has always been a huge fan of Mexican artiste Frida Kahlo.
The attraction for me, besides keeping my significant other happy, is Kahlo's ability to invent herself.
Frida Kahlo (née Magdalena Carmen Frida Kahlo y Calderón) (1907 – 1954) was a Mexican painter known for her many portraits, self-portraits, and works inspired by the nature and artifacts of Mexico.
Inspired by the country's popular culture, she employed a naïve folk art style to explore questions of identity, postcolonialism, gender, class, and race in Mexican society.
Her paintings often had strong autobiographical elements and mixed realism with fantasy.
In addition to belonging to the post-revolutionary Mexicayotl movement, which sought to define a Mexican identity, Kahlo has been described as a surrealist or magical realist.
Born to a German father and a mestiza mother, Kahlo spent most of her childhood and adult life at La Casa Azul, her family home in Coyoacán—now publicly accessible as the Frida Kahlo Museum.
Although she was disabled by polio as a child, Kahlo had been a promising student headed for medical school until she suffered a bus accident at the age of eighteen, which caused her lifelong pain and medical problems.
During her recovery she returned to her childhood hobby of art with the idea of becoming an artist.
Kahlo's interests in politics and art led her to join the Mexican Communist Party in 1927, through which she met fellow Mexican artist Diego Rivera (1886 – 1957).
The couple married in 1929, and spent the late 1920s and early 1930s travelling in Mexico and the United States together.
During this time, she developed her artistic style, drawing her main inspiration from Mexican folk culture, and painted mostly small self-portraits which mixed elements from pre-Columbian and Catholic beliefs.
Her paintings raised the interest of Surrealist artist André Breton, who arranged for Kahlo's first solo exhibition at the Julien Levy Gallery in New York in 1938.
Above: André Breton (1896 – 1966)
The exhibition was a success and was followed by another in Paris in 1939.
While the French exhibition was less successful, the Louvre (pictured above) purchased a painting from Kahlo, The Frame, making her the first Mexican artist to be featured in their collection.
Throughout the 1940s, Kahlo participated in exhibitions in Mexico and the United States and worked as an art teacher.
She taught at the Escuela Nacional de Pintura, Escultura y Grabado "La Esmeralda" and was a founding member of the Seminario de Cultura Mexicana.
Kahlo's always-fragile health began to decline in the same decade.
She had her first solo exhibition in Mexico in 1953, shortly before her death in 1954 at the age of 47.
Above: Kahlo's death mask on her bed in La Casa Azul
Kahlo's work as an artist remained relatively unknown until the late 1970s, when her work was rediscovered by art historians and political activists.
By the early 1990s, she had become not only a recognized figure in art history, but also regarded as an icon for Chicanos, the feminism movement and the LGBTQ+ movement.
Kahlo's work has been celebrated internationally as emblematic of Mexican national and indigenous traditions and by feminists for what is seen as its uncompromising depiction of the female experience and form.
Above: Frieda and Diego Rivera by Frieda Khalo (1931)
Frida is a 2002 American biographical drama film, directed by Julie Taymor, which depicts the professional and private life of the surrealist Mexican artist Frida Kahlo.
(In an interview, Taynor said this about Kahlo:
"She painted what she painted because she had to, because she was passionate about it.
She didn't care at all if people bought her paintings.
As she said, she painted her reality.")
Above: Julie Taymor
Frida begins just before the traumatic accident Frida Kahlo (Salma Hayek) suffered at the age of 18 when the wooden-bodied bus she was riding in collided with a streetcar.
She is impaled by a metal pole and the injuries she sustains plague her for the rest of her life.
To help her through convalescence, her father brings her a canvas upon which to start painting.
Throughout the film, a scene starts as a painting, then slowly dissolves into a live action scene with actors.
Frida also details the artist's dysfunctional relationship with the muralist Diego Rivera (Alfred Molina).
When Rivera proposes to Kahlo, she tells him she expects from him loyalty if not fidelity.
Diego's appraisal of her painting ability is one of the reasons that she continues to paint.
Throughout the marriage, Rivera has affairs with a wide array of women, while the bisexual Kahlo takes on male and female lovers, including in one case having an affair with the same woman as Rivera.
The two travel to New York City so that he may paint the mural Man at the Crossroads at the Rockefeller Center.
While in the United States, Kahlo suffers a miscarriage, and her mother dies in Mexico.
Rivera refuses to compromise his communist vision of the work to the needs of the patron, Nelson Rockefeller (Edward Norton).
As a result, the mural is destroyed.
The pair return to Mexico, with Rivera the more reluctant of the two.
Kahlo's sister Cristina (Mia Maestro) moves in with the two at their San Ángel studio home to work as Rivera's assistant.
Soon afterward, Kahlo discovers that Rivera and Cristina are having an affair.
She leaves him and subsequently sinks into alcoholism.
The couple reunite when he asks her to welcome and house Leon Trotsky (Geoffrey Rush), who has been granted political asylum in Mexico.
She and Trotsky begin an affair, which forces the married Trotsky to leave the safety of his Coyoacán home.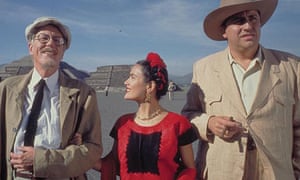 Kahlo leaves for Paris after Diego realizes she was unfaithful to him with Trotsky.
Although Rivera had little problem with Kahlo's other affairs, Trotsky was too important to Rivera to be intimately involved with his wife.
When she returns to Mexico, he asks for a divorce.
Soon afterwards, Trotsky is murdered in Mexico City.
Rivera is temporarily a suspect and Kahlo is incarcerated in his place when he is not found.
Rivera helps get her released.
Kahlo has her toes removed when they become gangrenous.
Rivera asks her to remarry him and she agrees.
Her health continues to worsen, including the amputation of a leg, and she ultimately dies after finally having a solo exhibition of her paintings in Mexico.
Being a photography museum, the focus of the Kahlo exhibition was not so much upon her paintings as it was on photos she took or were taken of her.
(Later, across the Douro River, we would stumble across a small gallery where her art was displayed and duplicated.)
And, though Kahlo wasn't Portuguese and possibly never set foot on Portuguese soil, her life story somehow fits into our Porto experience seamlessly.
Art is open to individual perception, but words offer individual definition in far starker forms.
Some of what Kahlo wrote in preserved letters and diaries strikes me closer to the core of who she was far more powerfully than the visual impact of her vibrant paintings or expressive photographs.
"They thought I was a Surrealist, but I wasn't.
I never painted dreams.
I painted my own reality."
"I drank because I wanted to drown my sorrows, but now the damned things have learned to swim."
"I paint self-portraits because I am so often alone, because I am the person I know best."
"His (Diego Rivera's) supposed mythomania is in direct relation to his tremendous imagination.
That is to say, he is as much of a liar as the poets or as the children who have not yet been turned into idiots by school or mothers.
I have heard him tell all kinds of lies: from the most innocent, to the most complicated stories about people whom his imagination combined in a fantastic situation or actions, always with a great sense of humour and a marvelous critical sense.
But I have never heard him say a single stupid thing or banal lie.
Lying, or playing at lying, he unmasks many people.
He learns the interior mechanism of others who are much more ingenuously liars than he.
And the most curious thing about the supposed lies of Diego is that in the long and short of it, those who are involved in the imaginary combination become angry, not because of the lie, but because of the truth contained in the lie that always comes to the surface."
The overall message that this day taught me is the solitude of individuality.
We may be within the crowd of a famous bookstore (Livraria Lello) or walking together in the intimacy of a married couple's strolling through a park.
And yet each of us is alone.
Above: René and Georgette Magritte with their dog after the war
We live alone and we die alone, for we are prisoners within our bodies and exiles within our minds.
Above: Thomas Wolfe (1900 – 1938) who in an often quoted passage stated: "The whole conviction of my life now rests upon the belief that loneliness, far from being a rare and curious phenomenon, is the central and inevitable fact of human existence."
I may know my wife better than any other person in my life, and yet is there any man who can truly say that a woman cannot still continually surprise him?
My wife is convinced to her core that she knows exactly who I am, but how can she, when I am continually discovering myself as I evolve within the passages of life and time?
Perception is the expression of that solitude of individuality.
The Porto I see and feel is a universe removed from the Porto that my wife sees and feels.
Though we share the same experience, we see and feel that experience through the prism of our own individual selves.
As we wind our way through some of Porto's oldest and most atmospheric streets, ascending from the Baixa (lower town) to the Sé (cathedral) that looms high above the city like a guardian god, then down to the Ribiera (riverside) where we are magnetically drawn to the historic heart of the harbour hub….
We are together, hand-in-hand.
We are apart, mind from mind, emotions unspoken as words fail miserably to adequately express the thoughts that flood our souls unbidden.
We descend with the setting sun, down to the chaos of hotch-potch houses that breathe in the vibrancy of cafés and restaurants replete with tired tourists and working waiters, bustling buskers and enthusiastic entertainers.
We dine beside the river on a shore between bridges.
We share a bottle of port wine, for this is what is done in the birthplace of this beverage.
The waiter defines what we are drinking as one would explain electricity to an infant.
Words like ruby and reserve, LBV and colheita fill the air and cross our consciousness, all to no avail.
We are no gourmets, no vintners nor clever connaisseurs.
We have seen so much and learned so much and felt so much, in this our first full day in Porto, and yet have understood so little.
Husband and wife share a meal and a bottle, unable or unwilling to share souls.
How can she politely express her annoyance with some of her husband's boorish bumbling behaviours without causing a beastly reaction by expressing this?
How can I lovingly criticize her impatience while simultaneously admiring her imagination in the usurped planning of our days, without a contradiction that confuses more than it cooperates?
We are together.
We are apart.
How very human.
How ironic it is that the individuality of Each binds the Every together.
We are united by our separateness.
The Douro defines the night.
A river shared by two shores, binding and blessing while dividing and differentiating.
The river rushes beside us and through us.
There is wisdom in wine and knowledge at night.
(Update: Sunday 5 July 2020
The COVID-19 pandemic in Portugal is part of the worldwide pandemic of coronavirus disease 2019 (COVID-19) caused by severe acute respiratory syndrome coronavirus 2 (SARS-CoV-2).
Above: Corona Virus cases in Portugal (the darker the area, the more cases therein)
On 2 March 2020, the virus was confirmed to have reached Portugal, when it was reported that two men, a 60 year-old doctor who travelled to the north of Italy on vacation and a 33 year-old man working in Spain, tested positive for COVID-19.
March 12: The Portuguese government declared the highest level of alert because of COVID-19 and said it would be maintained until 9 April.
Portugal entered a mitigation phase as community transmission was detected.
Above: São Bento Palace, Lisbon, is the seat of the Portuguese Legislature.
March 18: The President of the Republic, Marcelo Rebelo de Sousa, declared the entirety of the Portuguese territory in a State of Emergency for the following 15 days, with the possibility of renewal, the first since the Carnation Revolution in 1974.
In response to the COVID-19 pandemic President Marcelo Rebelo de Sousa declares that a national state of emergency will take effect from the next day, with Finance Minister Mário Centeno unveiling €9.2 billion in economic assistance to households and companies.
As of this day there have been 642 confirmed cases of COVID-19 with two deaths.
March 24: The Portuguese government admitted that the country could not contain the virus any longer.
March 26: The country entered the "mitigation stage".
The health care sites dedicated to fighting the disease started.
The Bank of Portugal estimates that the economy will contract by between 3.7% and 5.7% of GDP in 2020 in light of the COVID-19 pandemic, with unemployment rising to between 10.1% and 11.7%.
April 2: Parliament approved the extension of the State of Emergency, as requested by the President.
The State of Emergency will remain until 17 April, subject to further extensions of similar duration.
Under the new regulations, for the Easter celebrations, from 9 April (Maundy Thursday) to 13 April (Easter Monday) the Portuguese government decreed special measures in restricting people movements between municipalities with very few exceptions, closing all airports to civil transportation and increased control in the national borders.
Above: Letter from the Portuguese President, Marcelo Rebelo de Sousa, to the Speaker of the Assembly of the Republic, Eduardo Ferro Rodrigues, requesting Parliament for authorisation under the terms of the Constitution, for a declaration of the state of emergency in the context of the 2020 COVID-19 pandemic.
4 April – Government figures indicate that more than 500,000 workers are in danger of temporarily losing their jobs due to the COVID-19 pandemic, after almost 32,000 businesses apply to the government to furlough employees.
The day also sees the total number of COVID-19 cases surpass 10,000, with 10,524 cases and 266 deaths reported.
12 April – Reuters reports that one in eight of Portugal's 504 deaths from COVID-19 to date have occurred in care homes, with officials concerned about the spread of the corona virus among the elderly residents.
As of this day there have been 16,585 recorded cases in the country.
14 April – The International Monetary Fund forecasts an 8.0% drop in Portuguese GDP for 2020 as a consequence of the COVID-19 pandemic, with unemployment predicted to rise to 13.9%.
The economy is forecast to recover in 2021 with unemployment falling to 8.7%.
16 April – MPs vote to further extend the national state of emergency until the beginning of May.
The vote comes amid a declining growth in infections, prompting the Health Secretary Antonio Sales to praise the "excellent behaviour and civic-mindedness of the Portuguese people".
The number of confirmed cases of COVID-19 to date stands at 18,841 with 629 deaths.
28 April – President Marcelo Rebelo de Sousa announces that the national state of emergency in place since 18 March will begin to be lifted from 3 May.
April 30: The Portuguese Ministers' Council approved a plan to start releasing the country from the COVID-19 container measures and cancelling the State of Emergency.
The Automóvel Club de Portugal confirms the cancellation of the 2020 Rally de Portugal due to the COVID-19 pandemic, abandoning plans to reschedule the event's planned 21–24 May date to October.
1 May – The Directorate-General of Health confirms that the number of fatalities from COVID-19 in Portugal has surpassed 1,000, with eighteen deaths in the preceding 24 hours bringing the country's total to 1,007.
As of this date there have been 25,531 recorded cases and 1,647 recoveries.
2 May – The State of Emergency was cancelled.
3 May – The national state of emergency is lifted after six weeks, with the country downgraded to the lesser state of "calamity".
4 May – A three-phase re-opening plan for the country begins, with small retail businesses allowed to open and the Lisbon and Porto Metro systems resuming at a reduced capacity.
The use of face masks is made compulsory for those using public transport and visiting enclosed public premises such as supermarkets.
9 May – Organisers of the Vuelta a Espana announce that the two stages of the 2020 bicycle race set to take place in Portugal will not go ahead.
May 18: Portugal entered the second phase in easing restrictions.
Nurseries and the last two years of the secondary school reopened, along with restaurants, cafés, medium-sized street stores and some museums, all with mandatory usage of mask and distance rules.
20 May – Data from the Institute for Employment and Vocational Training reveals that the number of people registering as unemployed across the country increased by 48,500 in April, a rise of 22% compared to April 2019.
The total number of people out of work now stands at approximately 392,000.
1 June – The government reveals a four-fold increase to €108 million to the total funds made available to companies shifting production towards tackling the COVID-19 pandemic.
Above: Portuguese €1.00 coin
As of this date there have been 32,700 cases and 1,424 deaths from COVID-19 recorded in the country.
3 June – The Primeira Liga resumes competition with all remaining matches of the 2019–20 season set to take place without spectators.
6 June – Thousands attend anti-racism protests in Lisbon and Porto in response to the death of George Floyd in the United States on 25 May.
As of 6 June 2020, there have been:
43,156 confirmed Covid-19 cases
20,475 active cases
386,926 suspected cases
6,500 critical cases
39,500 hospitalized cases
28,424 recovered cases
1,598 deaths
9 June – Finance Minister Mario Centeno announces his resignation from the government for reasons undisclosed.
Joao Leao, the current Budget Minister, is confirmed by Prime Minister António Costa as Centeno's replacement beginning on 15 June.
The Assembly officially recognises diplomat Aristides de Sousa Mendes (1885 – 1954), who in his capacity as consul to France in June 1940 issued thousands of visas to Jewish refugees in Bordeaux, allowing them to escape the advancing German army by crossing south into neutral Spain.
In recognition of his actions, a monument dedicated to him within the National Pantheon is also planned.
Above: Aristides de Sousa Mendes
10 June – The European Commission approves a €1.2 billion loan from the government to TAP Air, the nation's flag carrier airline, whose debt at the end of 2019 amounted to €800 million.
25 June – A rise in the recorded number of cases of COVID-19 in Lisbon prompts the government to re-impose certain restrictions in 19 of the capital's parishes to stem transmissions.
From 1 July, measures such as restrictions on travel, an 8 pm curfew for businesses, and limiting the size of social gatherings to five people will be enforced.
1 July – After being shut for more than three months due to the COVID-19 pandemic, the Spanish-Portuguese border is formally re-opened in a ceremony attended by President Marcelo Rebelo de Sousa, Prime Minister António Costa, King Felipe VI, and the Spanish Prime Minister Pedro Sánchez.)
I find myself wondering if I will ever return to Portugal, ever return to Porto.
Perhaps I don't need to, for in the attempt to capture what they mean to me, within me they live.
"Do I contradict myself?
Very well, then I contradict myself.
I am large.
I contain multitudes." (Walt Whitman)
Sources: Wikipedia / Google / Susana Fonseca, Porto and Northern Portugal: Journeys and Stories / Matthew Hancock and Amanda Tomlin, Pocket Rough Guide Porto / Lonely Planet Portugal / Rough Guide Portugal / Jürgen Strohmeyer, Nordportugal (Müller Verlag) / Matthew Hancock, Xenophobe's Guide to the Portuguese / Fernando Pessoa, Message / Fernando Pessoa, The Book of Disquiet