Landschlacht, Switzerland, Tuesday 27 August 2019
Sometimes a place defines a person.
Sometimes a person defines a place.
Take the eminent Canarian author Alberto Vásquez-Figueroa as an example of the first.
Alberto's grandfather was an architect.
Alberto's father was born in Guadalajara while Alberto's grandmother was there.
Alberto's mother, the daughter of a local farmer, was born on Isla de Lobos, one of the Canary Islands.
Alberto himself was born on 11 October 1936 in Santa Cruz de Tenerife, although he had not yet reached one year old when his family was exiled for political reasons to Spanish Africa, since his father was a Socialist Republican during the Spanish Civil War.
There Alberto spent his childhood.
His father was released, but he was admitted to hospital for several years because of tuberculosis.
While Alberto was in Africa, his mother died.
Alberto's care was picked up by his uncle, the civil administrator of the military fort in the Spanish Sahara where they lived.
His uncle provided Alberto books to read, especially beloved adventure novels, by authors such as Joseph Conrad (Heart of Darkness), Herman Melville (Moby Dick) and Jules Verne (Around the World in 80 Days), which would later become Alberto's preferred genre.
Since his youth, Alberto visited the Sahara and would later describe the culture of the desert region in his writing.
At 16 Alberto returned to Tenerife to study, working as a scuba instructor in the Cruz del Sur Diving School, along with Jacques Cousteau, where he would remain for two years.
Alberto worked on the rescue of bodies in Lake Sanabria after the Vega de Tera Dam burst, destroying the town of Ribadelago.
Above: Monument to the victims of Ribadelago
He attended the studios of the Escuela Oficial de Periodismo de Madrid in a 1962 and worked in the Destino specials.
He was a war correspondent in La Vanguardia, for TVE (Televisión Española) and for the program A toda plana with de la Cuadra Salcedo and Silva.
As a correspondent, he documented revolutionary wars in countries such as Bolivia, the Dominican Republic and Guatemala.
He later wrote his first novel, Arena y viento (Sand and Wind) and in 1975, he published as many as 14 to 15 novellas such as Ébano.
His other works include Tuareg and El perro as well as the sagas Cienfuegos, Bora Bora, Manaos and Piratas.
Ébano was cinematized in 1979 by director Richard Fleischer and renamed Ashanti.
Ashanti (also called Ashanti, Land of No Mercy) is a 1979 action adventure film.
Despite its impressive cast and setting (on location in the Sahara and in Kenya, Israel and Sicily), it was widely panned by critics upon release.
Michael Caine was reportedly very disappointed with the project and claims it was his third worst film.
Ashanti is an action adventure film, set against the background of modern-day slave trading, with a man who determinedly takes on a perilous journey in order to find his beautiful wife, who has been kidnapped by brutal slave traders.
David and Anansa Linderby (Caine and supermodel Beverley Johnson respectively) are doctors with the World Health Organization (WHO).
On a medical mission carrying out an inoculation programme, they visit a West African village.
While David takes photographs of tribal dancers, Anansa goes swimming alone.
She is attacked and abducted by slave traders led by Suleiman (Peter Ustinov), who mistake her for an Ashanti tribeswoman.
The police can do nothing to find her and David has almost given up hope when he hears rumours that Anansa has been kidnapped by Suleiman to be sold to Arab Prince Hassan (Omar Sharif).
The African authorities deny that the slave trade even exists.
So David must find help in a shadowy world where the rescuers of slaves are just as ruthless as the traders themselves.
As David tracks her across Africa and the Sahara desert, he is helped by a member of the Anti-Slavery League (Rex Harrison), a mercenary helicopter pilot (William Holden) and Malik (Kabir Bedi) a tribesman who is seeking revenge on Suleiman.
Alberto's novel Tuareg was cinematized in 1984 by director Enzo G. Castellari.
Tuareg is a thriller novel that was his most critically and commercially successful, with global sales in excess of 5,000,000 copies.
It was adapted into a 1984 movie starring Mark Harmon, Tuareg – The Desert Warrior.
This is the first book in the Tuareg trilogy, followed by Los Ojos del Tuareg and El Último Tuareg.
One day, two old men and a boy appear in Gacel Shayah's camp in the Sahara.
He, a noble inmouchar observing the millennial tradition of the desert, shelters travelers.
But he fails to protect them.
People in dusty military uniforms violate the ancient hospitality law.
They kill the boy and take one old man away.
Gasel Shayah remembers the great commandment of the Tuareg people:
Your guest is under your protection.
Therefore, he must seek vengeance.
Alberto's novel Iguana was cinematized in 1988 by Monte Hellman.
Iguana is a 1988 American adventure drama/thriller film starring Everett McGill in the main role.
The movie is based on the life of a real Irish sailor called Patrick Watkins.
The movie was mainly shot on location in Lanzarote.
The film takes place at the beginning of the 19th century.
Oberlus (Everett McGill), a harpooner on a whaling ship, is regularly subjected to ridicule and abuse by other sailors.
The right half of his face is bizarrely disfigured and covered with hummocky outgrowths, which leads him to being nicknamed Iguana.
One night, after a brutal beating, Oberlus escapes to the uninhabited Hood Island.
He is soon discovered by a team led by Captain Gamboa (Fabio Testi).
Gamboa brutally tortures Oberlus and ties him up for further punishment, but Iguana manages to escape and hides himself in a cave.
The ship leaves the island and Gamboa orders that sailor Sebastian (Michael Madsen) be tied to a post on the coast as punishment for letting Iguana escape.
Oberlus finds Sebastian and proclaims himself "King of Hood Island" and Sebastian his first slave, forcing him to cook his food.
Declaring revenge upon the world, Oberlus enslaves two other sailors thrown ashore after the shipwreck.
He keeps his captives in a cave with a disguised entrance.
After some time, a ship holding Carmen (Maru Valdivieso) and her fiancé Diego (Fernando De Huang), is moored near the island.
Oberlus takes them prisoner.
Oberlus kills Diego and makes Carmen his concubine.
The captain of the ship, assuming Carmen and Diego to have died in the storm, does not look for them, but sails away.
One day, Oberlus notices the arrival of his former whaling ship.
At night, he climbs on board, kills two sailors on the deck, takes Gamboa prisoner, and sets the ship alight, having previously locked the hull.
Gamboa fights Oberlus, but is killed by him.
Resigned to her fate, Carmen tells Oberlus that she is pregnant with his child.
Months later, the captain of the ship Carmen and Diego arrived on, returns with a group of armed sailors.
They begin their search and Oberlus has to flee to the other end of the island with pregnant Carmen and his surviving prisoners.
Oberlus plans to sail away with Carmen on the boat.
Carmen gives birth, but Oberlus takes the child, claiming that he will allow him to suffer.
With the child in his arms, he enters the sea, intending to drown himself and the child.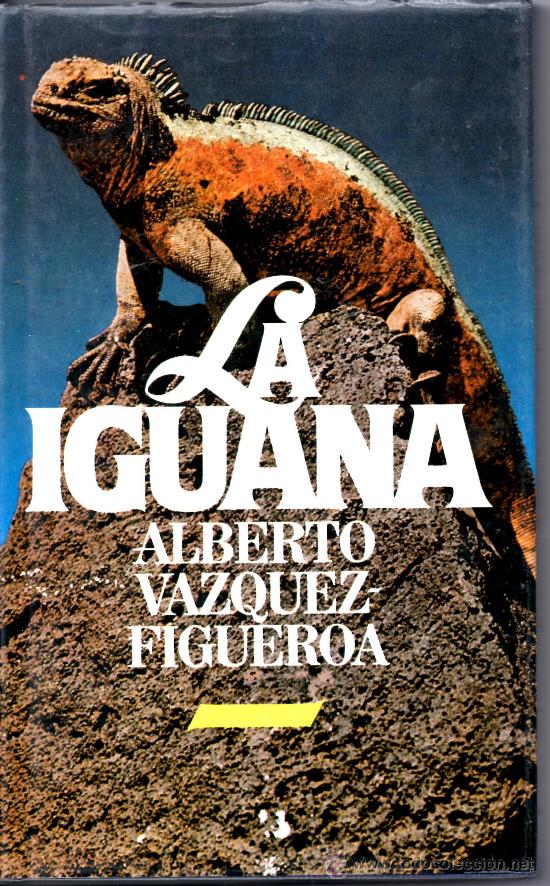 Alberto's novel Garoé (the name of a sacred tree in the Canary Islands) won the 2010 Historical Novel Prize Alfonso X El Sabio, valued at €100,000.
He has also published an autobiography entitled Anaconda.
He is also a screenwriter and film director and has made such films as Oro rojo (Red Gold).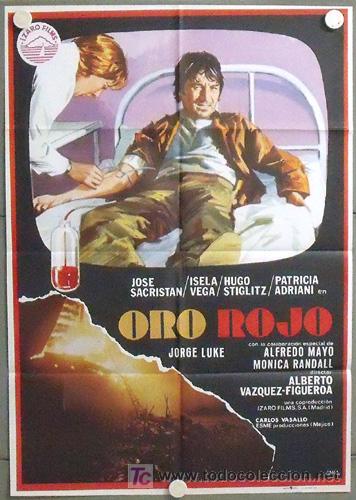 Alberto currently resides between an attic apartment in the Madrid neighbourhood of Argüelles and a home on Lanzarote.
I am not sure if that home is in the village of Haría in the north of the island of Lanzarote, but I suspect it might be, for Alberto once described Haría as the most beautiful village in the world.
Although this description is a tad exaggerated, Haría really does have a pretty bucolic setting, in a palm-filled valley punctuated by splashes of brilliant colour from bougainvillea and poinsetta plants.
But we were not searching for Alberto and had we passed him on the streets we would not have recognized him.
Instead we were looking for a local legend, Lanzarote's favourite son, César Manrique.
My wife and I spent our mini-vacation tracking down buildings across the Island of Lanzarote that César designed.
We hoped to understand why this place and this man remain inseparably intertwined in the hearts and minds of those who come here and those who knew him.
César Manrique defined Lanzarote.
To understand César Manrique is to understand Lanzarote.
We came to learn.
We began in Haría where his story ends.
Lanzarote, Canary Islands, Spain,  Monday 3 December 2018
Much like César, our first discovery of Lanzarote was Arrecife.
For us it was the international airport north of Arrecife the day previously.
On this day we drove our rented car, from our hotel in Costa Teguise (See Canada Slim and the Royal Retreat of this blog.), past an aquapark and golf grounds, through the town of Tahiche (more on this town in a future post), through Nazaret and Teguise (See Canada Slim and the Pirates of Teguise of this blog.), through Los Valles and past a windpark to arrive at Haría.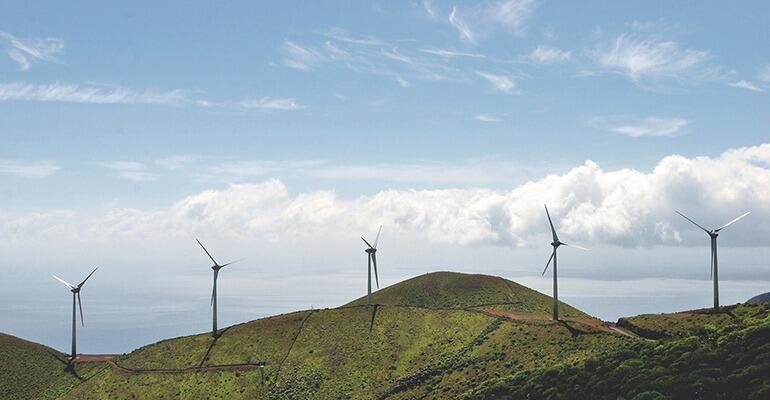 (Los Valles, a quiet agricultural hamlet between Teguise and Haría, is situated in a valley at the foot of the Famara Massif.
Los Valles was founded by refugees from the village of Santa Catalina, which has been destroyed during the eruptions of 1730 – 1736 of Mount Timanfaya.
The pretty, white village church of Ermita de Santa Cantalina stands at the bottom of the valley on the side of the highway.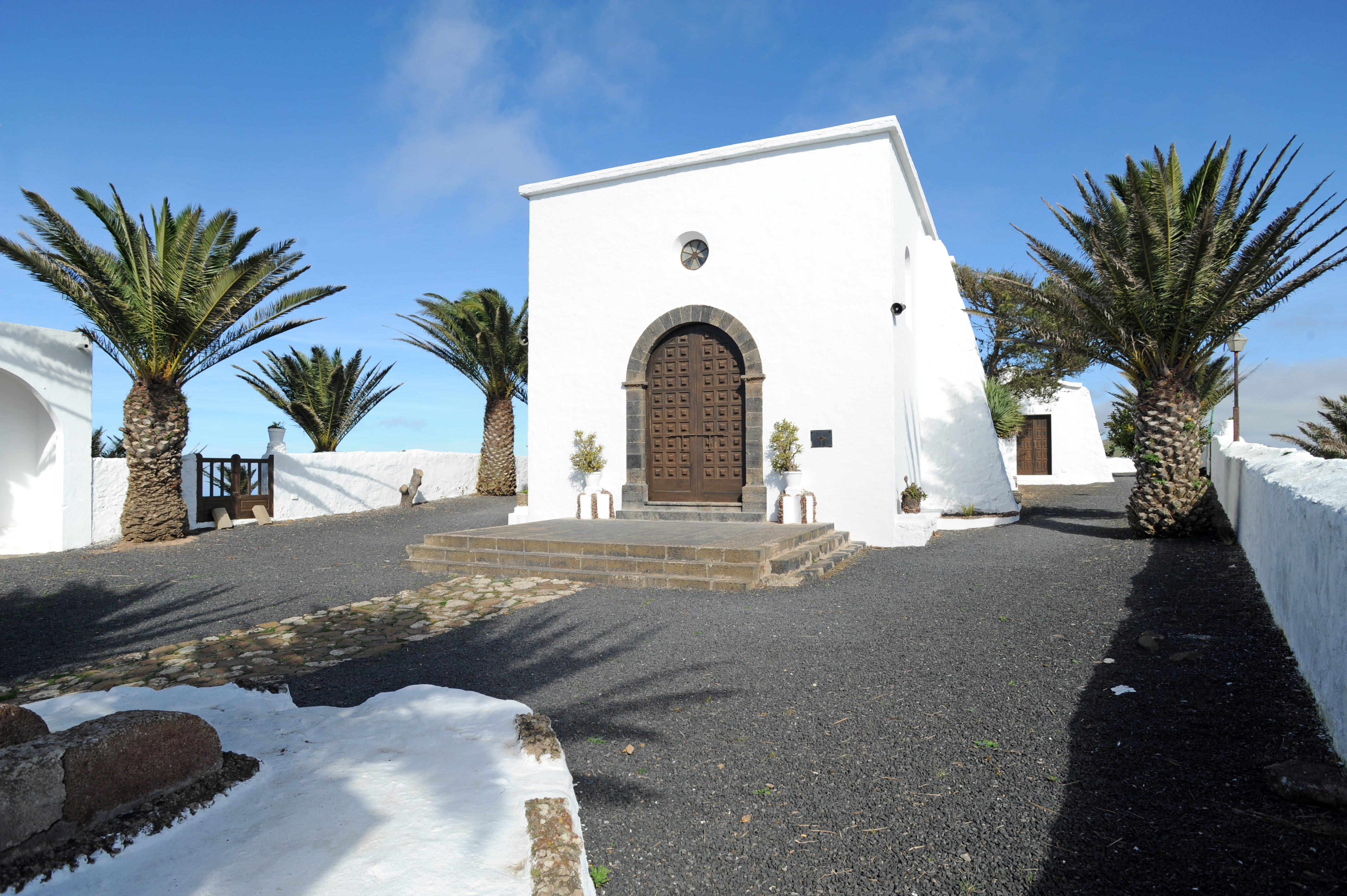 Immediately after you pass the restored Casa de los Perazas, one of the oldest buildings on Lanzarote.
The road begins to climb steeply passing the Mirador Los Valles.)
César Manrique Cabrera was born in Arrecife on 24 April 1919, the son of Francisca and Gumersindo Manrique.
César's father was a food merchant and his grandfather a notary public.
César preceded his twin sister Ampara by just a few minutes.
He had another sister and a brother.
Gumersindo came from Fuerteventura and emigrated to Lanzarote.
The Manriques were a typical middle class family, without financial burdens.
In 1934, Gumersindo bought property in Caleta de Famara and built a house next to the ocean.
This house left a visible impression on César that lasted his lifetime.
Ute and I on our first day spent a few hours on Famara Beach and like César did we remember it with joy:
"My greatest happiness is to recall a happy childhood, five-month summer vacations in Caleta and Famara Beach with its eight kilometres of clean and fine sand framed by cliffs of more than 400 metres high that reflected on the beach like a mirror.
That image has been engraved in my soul as something of extraordinary beauty that I will never forget in all of my life."
César would fight in the Spanish Civil War as a volunteer on dictator Franco's side.
His experience of the War was atrocious and he refused to talk about it.
In the summer of 1939, once the War was over, César returned to Arrecife, still wearing his military uniform.
After greeting his family, he went up on the flat roof, took off his clothes, angrily stepped over them, sprayed them with petroleum and burned them.
César attended the University of La Laguna to study technical architecture, which he would abandon after two years.
In 1945 he moved to Madrid and studied art at the Academia de Bellas Artas de San Fernando where he graduated as a teacher of art.
In 1953, César began painting abstracts, which in Franco's Spain was tantamount to treason, and one year later he exhibited his works alongside those of his friends Manuel Manpaso and Luis Féito.
By the late fifties César had made a name for himself in Madrid.
There followed exhibitions in major cities of Europe, Japan and America, which gave him international renown.
In the fall of 1964, following the advice of his cousin Manuel Manrique, a New York psychoanalyst and writer, César lived in New York City until 1966.
He was the guest of Waldo Diaz-Balart, a Cuban painter, who lived in the Lower East Side, at a time when this was a neighbourhood of artists, journalists and bohemians.
Through César's cousin Manuel's friendship with the Director of the Institute of International Education, which was sponsored by Nelson Rockefeller, a generous grant allowed César to rent his own studio and produce a number of paintings which he exhibited with success in the prestigious New York gallery of Catherine Viviano.
While in New York, he wrote his friend Pepe Dámaso:
"More than ever I feel true nostalgia for the real meaning of things.
For the pureness of the people.
For the bareness of my landscape and for my friends.
My last conclusion is that Man in New York is like a rat.
Man was not created for this artificiality.
There is an imperative need to go back to the soil.
Feel it.
Smell it.
That's what I feel."
In his unpublished diary, César wrote of his homesickness for Lanzarote.
At the time he was still undecided as to where to set up his permanent studio.
In 1968, César travelled straight from New York City to Lanzarote, which he found exactly as he had left it in 1945.
He felt Lanzarote needed him.
He made himself the Island's champion.
"When I returned from New York, I came with the intention of turning my native island into one of the most beautiful places on the planet, due to the endless possibilities that Lanzarote had to offer."
The Canarian Island was then just beginning to develop a tourism industry, but César promoted a model of sustainability in an attempt to protect Lanzarote's natural and cultural heritage.
This Manrique model was a determining factor in Lanzarote being declared a Biosphere Reserve by UNESCO in 1993.
In parallel with his commitment to the Island, César opened his creative work up to other forms of artistic expression.
He developed a new aesthetic ideology, dominated by art-nature / nature-art.
He began a dialogue of respect for the natural surroundings in which  values of local traditions blended harmoniously with modern designs.
Well versed in many forms of creative expression, a very real desire for integration with the surrounding natural landscape underlies César's body of artistic work as a whole.
"One of the fundamental preoccupations which has guided my artistic work has been to try to achieve harmonious integration of the forms and ideas of painting, sculpture and spaces into nature.
I believe that this way, of integrating the greatest possible number of artistic elements – colour, texture, dimension, ambience, proportion – leads to a greater aesthetic enjoyment and quality of life.
It is necessary to create and act in freedom, to break with formulae and extend the concept of art to everyday human life, to create non-hostile spaces modelled on the integration of art into nature and nature into art."
That César's ideas were carried out on Lanzarote is all thanks to the man's tireless energy, persistence, immense abilities and international fame.
Without César Manrique, Lanzarote would scarcely be what it is today.
It is his influence and his work that have shaped the Island.
César shaped planning policy on the whole island and his influence can be seen everywhere.
He began with a campaign to preserve traditional building methods and a ban on roadside hoardings.
He convinced the authorities to impose a universal ban on advertising and ensure that telephone and high voltage cables were laid underground.
A multifaceted artist, César turned his flair and vision to a broad range of projects, with the whole of Lanzarote becoming his canvas.
César was a painter, sculptor, architect, ecologist, monument preserver, construction advisor, urban development planner, landscape and garden designer.
César's work is full of vitality, colour and light.
There is nothing gloomy in either his paintings or sculptures or in the buildings he designed.
Together with his friend from his youth, José Ramirez Cerdá, who was president of the Cabildo Insular (island government), César skillfully put his architectural projects into operation.
Luis Morales, an employee of the Cabildo, was a sympathetic partner in all this.
As a practical builder, Morales had the skills to execute Manrique's plans.
Above: Flag of Lanzarote
César encouraged the traditional cubic form of architecture.
A house is capable of growth.
The Lanzarotenos start with one or two rooms.
As a family grows, they add cubes of one or two storeys, arranged around a central courtyard and the water tank.
César's idea was harmony with nature and the continuation of natural processes.
He wanted to preserve Lanzarote tradition and achieve a landscape-related architecture in proportion to the natural surroundings.
He believed in a humane architecture where nature should be spared and not choked with buildings.
Tourism threatened to sweep away everything before it, but César's ceaseless opposition to such unchecked urban sprawl touched a nerve with Lanzarote locals and led to the creation of an environmental group known as El Guincho, which has had some success in revealing – and at times reversing – abuses by developers.
As we drove through villages across the Island, we could see how traditional stylistic features still remain.
The standard whitewashed houses are adorned with green-painted doors, window shutters and strange onion-shaped chimney pots.
The entire Island is a testimony to César's influence and ever-enduring spirit.
"The awareness of the miracle of life and its brevity have made me see clearly that we are impoverished by the tragic sentiment of our existence.
The only important reality is the great mystery of life and of man with his inexhaustible imagination and his infinite ways of acting.
We must observe and learn from the energies of life."
Those who knew César only superficially ignored the streak of puritanism that ruled his conduct.
He was a frugal man.
He didn't drink or smoke or allow others to smoke next to him.
He regularly went to bed very early and got up at dawn and began work in his studio very early.
In all César carried out seven major projects on the Island and numerous others elsewhere in the archipelago and beyond.
At the time of his death, he had several more in the works.
It was the buildings that my wife and I were determined to visit on our five-day sojourn on Lanzarote.
We wanted to see how César's life-affirming architecture relates to the Lanzarote landscape.
We were confused by descriptions that suggested that César's buildings were generous but at the same time deeply modest.
Guidebooks wrote that César, with great aesthetic powers and unerring taste, had created places for the muses, of contemplation, of meditation, which radiate joy and tranquillity, places endowed with humanity.
It was written that César had striven to discover the beautiful and make it visible to everyone, but not simply beauty for beauty's sake, but a unity of truth and intrinsic originality.
We wanted to see this for ourselves.
To speak of harmony with nature we need to speak of the landscape of Lanzarote.
On arriving in Lanzarote one feels transported in time, whisked back to the beginnings of the world, a fresh, clean world, in which the Traveller himself is the hero of discovery.
Here are seas of lava, enchanted grottos, columns of steam seeping from the bowels of the planet, magnificent multicoloured stone walls, threatening volcanoes, waves that furiously smash upon tortured cliffs that loom like giants frozen for all time in their march to the sea and eternally punished for such audacity, lurking lagoons that appear suddenly among the rocks, pockets scooped from deadly lava where livelihood-sustaining vines thrive to produce unsurpassable wine, golden beaches of skin-caressing sands, transparent blue waters….
Another world, another time, a unique place.
Here are peaceful, flower-bedecked whitewashed villages and a heritage of hardy people who overcame, will always overcome, the desolation that civilization commits and the fury of nature defied.
From lava and ash, drops of dew defiantly defended have been clawed from nature's clutches and cultivated.
Yet these sturdy island warriors are kind, hospitable people who shelter guests in comfort and compassion.
Civilization's constants are also found on Lanzarote, but they blend rather than blind the visitor to the natural delights of the Island.
By far the most beautiful place in the archipelago, Haíra lies within a sea of palm trees and has the charm of a small sheltered oasis.
Haría is a place to relax, a Utopia where the locals set the tone.
In the 17th and 18th centuries, locals traditionally planted a palm tree to celebrate a birth (two for a boy, one for a girl), thus resulting in today's tourist viewing a palm-filled valley upon a barren Island.
Haría has many positive qualities: magnificent flora, an abundance of trees.
The mind can manage this place so peaceful, so tranquil, as the body sits comfortably under wide spreading canopies of leaves.
No one, except children in haste, runs in Haría.
One strolls here.
The soul quietly smiles at the serenity.
The central pedestrian avenue, Plaza León y Castillo, is shaded by lush leafy laurel and eucalyptus trees and cast-iron lanterns above benches where children play and seniors meet watching tourists gorge themselves at the Plaza's open-air restaurant.
This is also the site of a superb Satuday morning craft and produce market.
From the town hall up the street about 100 metres, the Traveller comes to the municipal arts and crafts centre, the Taller de Artesania Municipal.
Handicrafts are available throughout the week at the Taller de Artesania Reinaldo Dorta Déniz (to give its full name) on Calle Barranco de Tenesia, a town hall-backed craft workshop where local artists produce macramé, silverware, ceramics, dollmaking, embroidery and some charming pieces made of palm leaves and reeds, where one can watch the crafters at work before buying.
It is open Tuesday to Sunday 1000 – 1330 and 1600 – 1900, Monday only 1000 to 1330.
The Mercado Municipal de Abastos, adjacent to the arts and crafts centre, is a small market here with a health-conscious attitude, with fruit, vegetable, meat and fish counters.
There is also a food stall here where the locals are tempted with tapas.
It is open Monday to Saturday 0900 – 1400.
Haría does not boast any monuments of particular historical or architectural importance, for the history of this municipality is of little relevance.
Theirs is a past marked by poverty, foreign invasions and mass emigrations.
A 1587 account of the neighbourhood mentions a fountain and 100 people, a time when it was the only village on the Island besides the capital of Teguise.
In 1590, there were no more than 1,000 people on the Island, of which 250 were military, as well as 40 horses.
Population scarcity was due to three raids carried out for 16 years by Moorish and Turkish pirates.
One of the most devasting pirate attacks was that of the troops of Morato Arráez, who, in August 1586, burned down all the palm trees.
Fortunately they grew back again.
What is immediately outstanding is the good taste of the town's buildings and the way they blend into the landscape.
Some stately Andalusian-style houses date back to the 19th century when Haría at times played an important role in island politics.
At the far end of the Plaza Leon y Castillo stands the modern parish church of Our Lady of the Incarnation.
The church was built in 1619 although it has suffered numerous setbacks over time.
The most significant was the storm of 1956, which left only the tower standing.
Inside the church five fine lovingly-carved arches support the ceiling.
In front of the church is the La Tegala Cultural Centre, a more than 100-year-old house which has already served as a barracks, a shop and a workshop.
A visit to the Diocese of the Canaries' Museum of Popular Sacred Art in Plaza León y Castillo is recommended for the abundance of wonderful works springing from the imagination of the people of Lanzarote.
At the Plaza de la Constitución, the small square next to the Plaza Leon y Castillo, stands the classical town hall also containing the local police station.
Around the corner is the beautiful city library with its rich selection of Canarian historical and cultural materials.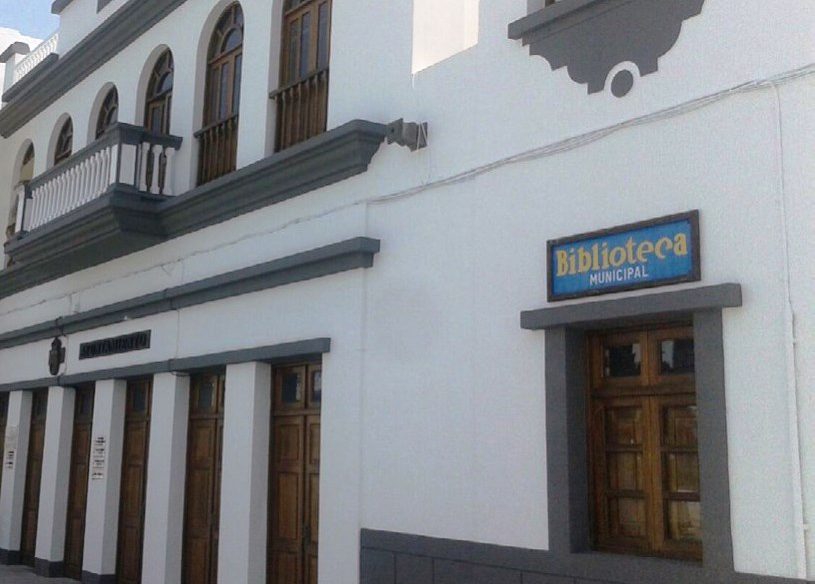 On the square there is a small rest area with benches, above the large cistern Aljibe which has been converted into a meeting and exhibition hall.
Since the advent of tourism in the early 1980s Haría has flourished, but the tourists come not  only for the celebrated beauty of the town or for the Sacred Art Museum or for the handicraft workshops, but they come to see the Casa Museo César Manrique on Calle Elvira Sanchez.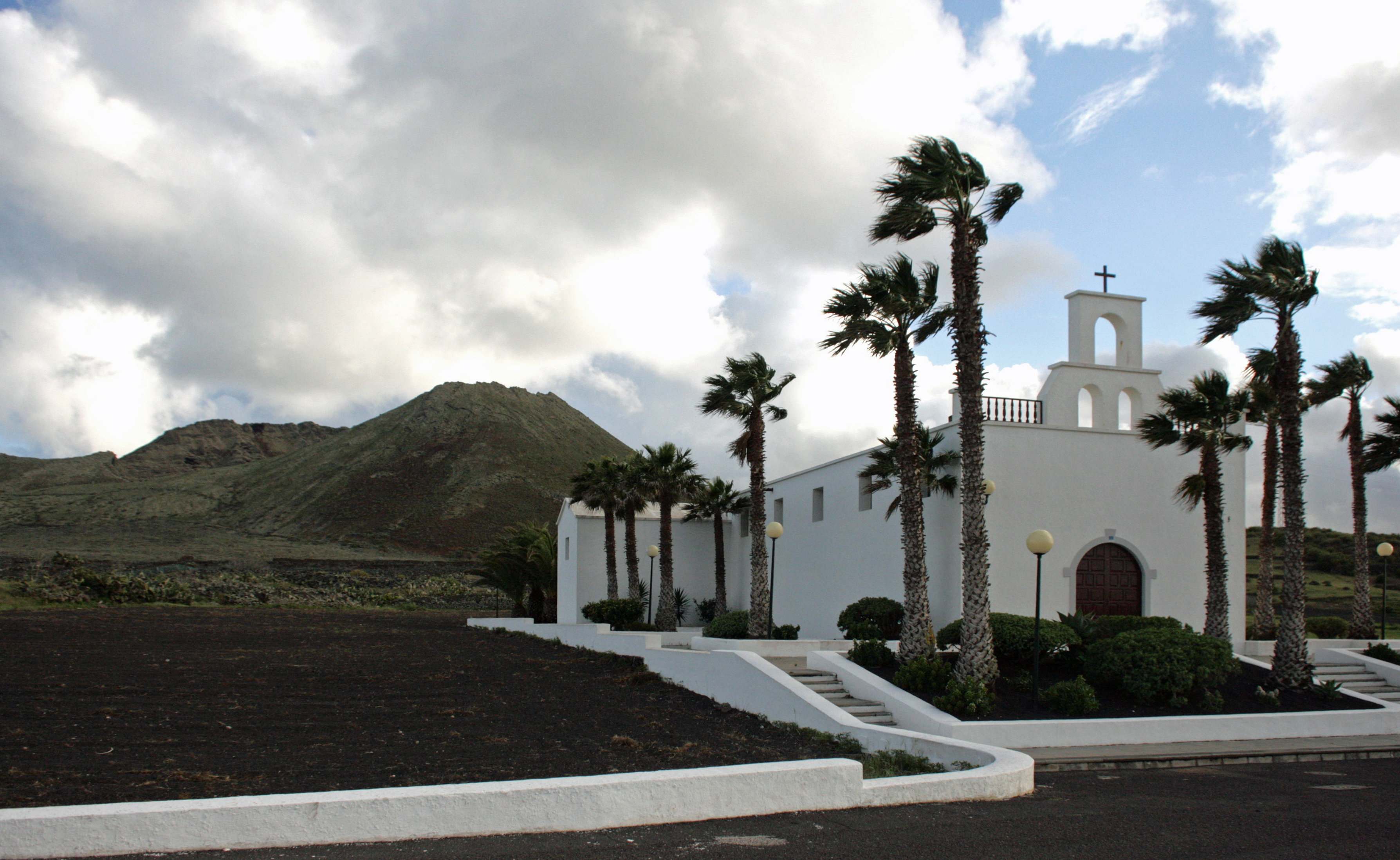 But before we remember the dead, let us honour the living while we can.
Behind the Museum one can, if lucky, witness an artist at work in a garage.
That craftsman is Don Eulogio Concepción Perdomo, signposted as "Cesteria".
This man, the only and last basket weaver on the Island, is now over 80.
In patient manual labour Perdomo makes, from the strong fronds of Canarian date palms, stable baskets of various sizes and the famous Lanzarote conical-shaped hats.
We witness him making a small fruit basket, which takes more than an hour to produce, costs about €20.
I call his name and shake his hand.
Does he know of his fame?
Does he understand just how important he is?
A palm-fringed property was the final home of Lanzarote's favourite son and has been opened as a shrine to his memory.
This is a house frozen in time, complete with César's clothes in the closet and personal art collection adorning the walls.
It is an intimate and personal view of César in his domestic surroundings.
It is a strikingly beautiful home situated in a lush palm grove in a charming village that is itself a showcase of Lanzarote's traditional lifestyle.
This relatively new attraction of Haría, César's last home, was opened in the summer of 2013.
Surrounded by date palms and tucked away and back from the street, César's home is a pleasure to stroll through.
The entrance fee is steep but the Museum is well laid out.
Rarely does one experience such harmonious living space with such a feel-good factor.
Within this spacious property, within the context of the comfortable and tasteful decor are many personal items, including painting items and incomplete works.
The living room with a large fireplace and heavy wooden ceiling, the light-flooded dining room, the bedroom with high panelled ceiling, and, as always with César, an extravagant bathroom that opens with glass fronts to the outside, César designed his home with much love, a house that was far from completion when he died.
The Casa Museo César Manrique is open every day from 1030 to 1800 (last entry 1730).
It is in Haría where César was lain to rest, when at the age of 73, still in good health and full of vitality and the joy of living, he was killed in an automobile accident on 25 September 1992, next to the present site of his Fundacion.
The irony of fate that he would meet his death in a car accident is rich as he loathed the massive amount of vehicles.
Above: Painted BMW from 1990 Art Basel exhibition, Casa Museo César Manrique, Haría, Lanzarote
César's final resting place in Haría's cemetery is located at the exit to Arrieta atop a low hill.
His simple grave is located on the left in front of the small chapel.
César's differs fundamentally from the other graves which are made of stone slabs and crosses.
His is a flat oval bordered by lava stones under a palm tree and adorned with succulents and cacti.
The carving "C. Manrique 1919 – 92" testifies that here lies Lanzarote's loyal son.
From the forecourt of the cemetery there is a beautiful view of the valley below.
In retracing his life in reverse chronology, I am reminded of a text he wrote to describe himself and his view of life:
"I have never followed the signs indicating the road to Utopia.
Utopia, I do presently believe, is an inner path.
My enthusiasm, in any case, is the sole force that can guide me approximately."
Starting from César's endpoint is appropriate.
For it is in Haría we view not the celebrity César, not the artist César, but the man César, a man as common as we all are, mortal and preoccupied with all the minutae that comprise a life lived daily.
To fully appreciate César's impact on the Island one must journey out of Haría, away from a traditional Lanzarote, to a Lanzarote of the future built upon five volcanic bubbles of a lava flow 6km north of Arrecife, César's birthplace.
The Taro de Tahíche is a dormant remnant of the 1730 eruption of the volcano Timanfaya on the northwest corner of the Island, and it is upon this that the Fundación César Manrique sits.
From the Fundación and the overview of all that César Manrique was and did, the Traveller is encouraged to explore Lanzarote through César's eyes and creations:
the Monumento al Campesino
the Restaurante El Diablo
It is at the Fundación and at the aforementioned half-dozen Manrique creations that the Traveller senses how César's life-affirming architecture relates to the Lanzarote landscape:
Generous and yet deeply modest.
With great aesthic imagination and impeccable taste César created monuments for muses, cathedrals of contemplation, monoliths of meditation, jubilees of joy, temples of tranquillity, havens of humanity.
He sought what was beautiful and brought to this beauty his strength of purpose and crystalline originality.
In Lanzarote posts to come his creations and the Island that inspired them will be patiently revealed.
I hope that you will enjoy learning of them as I shall enjoy the experience of sharing them with you.
Above: Undiscovered Planets, César Manrique
Sources: Wikipedia / Google / Fernando Gómez Aguilera, César Manrique in His Own Words / Wolfgang Borsich, Lanzarote and César Manrique: Seven Buildings / Lucy Corne and Josephine Quintero, Lonely Planet Canary Islands / Jorge Echenique and Andrés Murillo, Lanzarote / Eberhard Fohrer, Müller Lanzarote / Raimundo Rodriguez, Lanzarote