Landschlacht, Switzerland, 13 December 2017
There are moments in life – and isn´t travel truly a microcosm of life? – when a person realizes that his internal indecisiveness on certain issues will always remain.
"Do I contradict myself? 
Very well, then I contradict myself. 
I am large. 
I contain multitudes."
Walt Whitman, "Song of Myself", Leaves of Grass
Above: Walt Whitman (1819 – 1892)
I find myself particularly contradictory when I visit places that remain ruled as monarchies, duchies or principalities.
Do people actually need a monarchy?
To maintain the life and lifestyle of someone such as Queen Elizabeth II of Britain and the British Commonwealth is horrendously expensive.
Above: Her Majesty Queen Elizabeth II (born 1926, reigning since 1952)
For example, a seven-day visit to Canada by Her Majesty will cost both British and Canadian taxpayers undisclosed millions of British pounds and Canadian dollars to ensure that Her Person is protected, that strict protocols are followed and that She will appear regal and majestic wherever She goes.
To the average Joe like me, all that is seen seems to be naught but pomp and ceremony, and if hard pressed to define exactly what it is a monarch, especially one in a constitutional democracy, actually does with his/her working day I would be at a loss to explain it.
As Head of State, we are told that Her Majesty is meant to be the last bastion of sober second thought before a bill can be approved as law.
As Head of State, the Queen´s very presence commands reverance and respect as it is presumed that She has spent Her entire life preparing Herself for Her role, while Prime Ministers generally only learn how to do their jobs once they have acquired them.
As an English Canadian I have often defended the Queen as a sign of tradition, if for no other reason than to annoy French Canadians who lean more towards France´s republican system of government simply because they are French.
I dare say that Her Majesty may brave a cold Ottawa winter´s day, but She would be most foolish to attempt a warm summer´s night in Chicoutimi, Québec!
If the mosquitoes didn´t get Her, the mobs of disgruntled Francophones would!
In my lifetime, Her Majesty has visited Canada at least ten times.
Since 2000, members of the Royal Family other than Her Majesty have visited Canada at least 50 times.
Somehow I never seem to get an invitation to these events.
And the only correspondence I might expect from the House of Windsor might be a card of congratulations for reaching my 100th birthday if I am resident in a Commonwealth country at the time.
Above: Member states of the British Commonwealth (green)
My wife, my own personal Queen, She Who Must Be Obeyed, remains extremely unsupportive as to my chances.
I have resigned myself to never meeting Her Majesty for I lack, and – short of events I cannot foresee – will continue to lack, both fame and power meriting time with Her Majesty.
I am a commoner.
My eating habits find wild animals gathering to watch the spectacle.
My clothing choices would hurt the eyes of the blind.
My education enables me to tie my shoes without consulting a manual.
My salary and bank account are envied only by the homeless.
My voice would stop traffic and I have a face perfect for radio.
Still I am sure that the invitations simply got lost in the mail.
Yet there´s a part of me that would be absolutely thrilled if I ever did have a chance to spend time with royalty, for though I know rationally that their consumption of Ricola cough drops would cause them to fart as they cause me to do, and that they are mortals such as I am, they exist in a stratosphere far elevated and far removed from my own.
Sometimes I think that Americans are so obsessed with their movie and music stars to the degree that they are, because in their heart of hearts there remains a regret that the Revolution cost them the right to have regents.
Say what you will about this collection of interbreeding overprivileged misfits, the Royal Family captures our hearts and imagination simply because they are the Royal Family.
Yet the socialist within, the wee anarchist beneath, wonders how truly deserving they are of such attention and admiration.
This conflict, this whirling dervish of devilish contradiction, was quite strong during our London visit….
London, England, 24 October 2017
To visit London is to be bombarded and blitzed by reminders royal.
From the National Portrait Gallery – a sort of two dimensional, high browed Madame Tussaud´s – with propaganda pictures of kings and Queens since Tudor and Stuart times, to the parade of palaces that seem to be found everywhere one goes, London is a royal place.
Palaces, though I will visit them out of obligation to seeing them where I happen to be, generally leave me cold, for I simply cannot imagine living in such decadent luxury while there exists so many others less fortunate.
I did not visit Buckingham Palace.
Above: Buckingham Palace
I did not join the throngs of tourists watching one of the two Changing of the Guard ceremonies outside this Palace.
To be fair, I had seen the Changing of the Guard both in Quebec City´s Citadel and on Ottawa´s Parliament Hill, so I honestly don´t expect there to be any significant differences between these and London´s.
Above: Centennial Flame / Centre Block, Parliament Hill, Ottawa
Avoiding things royal in London actually takes a concerted effort.
We started the day with good intentions.
We began our tourist day, after breakfast at our Paddington B & B and the Tube to Charing Cross, by walking from Trafalgar Square to St. James´s Park and the Churchill War Rooms (which I highly recommend).
(For more on the Churchill War Rooms, please see Canada Slim and the Right Man of this blog.)
Trafalgar Square is London´s finest architectural set piece and one of the easiest parts of London to reach most of London´s major sights within a half-mile of each other.
Above: Trafalgar Square
So, yes, this is a well-trodden tourist centre.
As one of the few large public squares in London, Trafalgar Square has not only been a tourist attraction but as well it has often been the focus for political demonstrations for over a century and a half.
The Square has seen Bloody Sunday (13 November 1887) when hundreds of demonstrators were injured, and three killed, by police.
It has seen anti-apartheid demonstrations and Poll Tax riots, but on this day the only mob is that of tourists seeking to see Nelson´s Column, which commemorates the one-armed, one-eyed Admiral who defeated the French at the Battle of Trafalgar on 21 October 1805 but paid for it with his life.
Above: Battle of Trafalgar
Even though his sandstone statue atop the Column is three times lifesize, it appears miniscule when compared to the massive height (151 feet) of the Column itself.
Above: Nelson´s Column, Trafalgar Square
Above: Nelson´s statue atop his Column
Everyone knows the four bronze lions that guard the base of Nelson´s Column, but few people realise that the lions appeared 25 years after the Column was built.
The Column itself was completed in 1843 and William Railton´s design included four lions to set it off, but a lack of funds and arguments over the choice of sculptor delayed the project.
The Board of Works in charge of the whole monument finally chose Sir Edwin Landseer – a controversial choice.
Above: Sir Edwin Landseer (1802 – 1873)
Even though Landseer was Queen Victoria´s favourite painter with an unrivalled reputation for painting animals, he had never sculpted anything.
The project was further delayed by Landseer´s health problems so that four years after accepting the commission he was still drafting sketches.
He asked to be supplied with copies of casts of a real lion made by the Art Academy in Turin.
He spent hours studying lions in the London Zoo.
Finally he asked the Zoo for a dead lion as a studio model, but had to wait two years for one to die.
Unfortunately the lion started to rot before Landseer could finish the work, so he had to improvise, using a domestic cat as a model for the paws and a dog for the tongue.
These hybrid lions were finally installed in 1868.
On the southeast corner of Trafalgar Square is Britain´s smallest police station, unseen by the hordes of tourists posing before Nelson´s Column, a one-man sentry box fashioned from a hollowed-out granite lamp post.
The secret police box was installed by Scotland Yard in 1926 so that the cops could keep an eye on the demonstrators and agitators who routinely gathered in the Square.
With narrow slits for windows and claustrophobic proportions, this human CCTV camera was equipped with a telephone with a direct line to Canon Row Police Station in case things got out of hand.
Originally installed in 1826, the ornamental light on the top would flash whenever the police officer trapped inside picked up the telephone, alerting his fellow officers in the vicinity to come to his rescue.
Today, the lookout post is used to store street cleaning equipment.
The only clue that links this post to the police is a faded list of bylaws hanging outside.
For the record, offences in Trafalgar Square included feeding the birds, camping, parking a caravan, public speaking, playing music, washing or drying clothes, exercising, bathing, boating or canoeing in the fountains, flying a kite or using any foot-propelled device – unless you have written permission from the Mayor.
(The devil in me would love that challenge!)
(As previously mentioned Trafalgar Square is named after the Battle of Trafalgar when 33 English ships defeated a combined French and Spanish fleet of 41 ships.)
We followed The Mall – London´s nearest equivalent to a Parisian boulevard – through the Admirality Arch….
(The Admirality Arch, once the official residence of the First Sea Lord overseeing all maritime operations, then an extension building of the Cabinet Office (2000 – 2002), and finally Prime Minister Tony Blair´s Strategy Unit (2002 – 2010), is now a property of real estate developer Rafael Serrano who is presently converting the building into a luxury Hotel slated to open in 2020.
The Arch has often been used for ceremonial affairs such as royal weddings and coronations, state funerals and Olympic Games processions.)
….to the Victoria Memorial – King Edward VII´s 2,300 ton marble tribute to his Mama, at 25 metres/82 feet the tallest monument to a monarch in England….
Above: The Victoria Memorial, London
…..to St. James´s Park.
The 23 hectare / 57 acre St. James´s Park is the oldest of London´s parks, having been puchased by Henry VIII in 1532, and drained and turned into a deer park by James I in 1603.
Above: St. James´ Park Lake, looking toward Buckingham Palace
It was redesigned and opened to the public by Charles II, who used to stroll through the grounds with his mistresses and courtiers, feed the ducks and even take a dip in the canal.
By the 18th century, when some 6,500 people had access to night keys for the gates, the Park had become a byword for robbery and prostitution.
Diarist James Boswell was among those who went there specifically to be solicited "by several ladies of the town".
Above: James Boswell (1740 – 1795)
From the diary of James Boswell:
25 March 1763: 
As I was coming home this night, I felt carnal inclinations raging through my Frame.  I determined to gratify them.  I went to St. James´s Park and like a brute I picked up a whore.  For the first time did I engage in Amour which I found but a dull satisfaction.  She who submitted to my lusty embraces was a young Shropshire girl, very good-looking.
The Park was a busy place in the 18th century.
Travelling condom salesmen did a roaring trade.
The condoms were made of animal gut, intended to protect men from venereal disease rather than to prevent pregnancy.
Giacomo Casanova frequented the Park in the same year as Boswell.
Above: Giacomo Casanova (1725 – 1798)
Casanova went to the Park "to watch the great beauties parading", but was disconcerted to see People defecating in the bushes instead.
Today the banks of the tree-lined lake are a favourite picnic spot for the civil servants of Whitehall and an inner-city reserve for wildfowl, which flock to West Island and Duck Island.
James I´s two crocodiles left no descendants, but the pelicans (which have resided here since a pair was presented to Charles II by the Russian ambassador in 1664) can still be seen at the eastern end of the lake.
Here there are exotic ducks of every variation imaginable.
Just in time for the twelve days of Christmas (26 December – 6 January), the visitor can find many more than two calling birds, six geese a-laying and seven swans a-swimming, but, alas, no turtledoves, no pear trees for partridges, and no French hens, as far as fowl and feathered life goes in the Park.
The Canadian in me was thrilled to see Canada geese in the Park.
Surprisingly some writers have seen fit to use the Park as the setting for battles:
In Charlie Higson´s post apocalptic young adult horror novel The Enemy, two groups of children battle for control of the Park after a worldwide sickness has infected adults and turned them into zombies.
In Neil Gaiman and Terry Prachett´s Good Omens, the angel Aziraphale and the demon Crawley frequent the Park and feed the ducks.
Our walk led us to the abovementioned Churchill War Rooms, but after leaving this excellent Museum we quickly became disoriented – fresh air smells funny! – and somehow found ourselves at the Household Cavalry Museum.
Above: The Household Cavalry Regiment building
Thus my internal conflict regarding the Monarchy began….
During the day two mounted sentries and two horseless colleagues are posted at the Horse Guards Building.
The sentries are part of the Queen´s Life Guard, provided by the Household Cavalry Regiments, who are more than just the Changing the Guard´s ceremonies (for 350 years) but are actual fighting soldiers who have served and fought for England since the Restoration (1660), in the Third Anglo-Dutch War (1672-1674) , the Glorious Revolution (1688), the War of the Austrian Succession (1740-1748), the Seven Years War (the world´s first global conflict)(1756-1763), the Napoleonic Wars (1803-1815), the Crimean War (1853-1856), the Anglo-Egyptian War (1882), the Second Boer War (1899-1902), both world wars (1914-1918/1939-1945), the Falklands War (1982), the Yugoslav Wars (1991-2001), the Gulf War (1990-1991), the 2003 invasion of Iraq and various operations in Afghanistan, Cyprus and Northern Ireland.
The years after the English Civil War (1642-1651) saw King Charles I (1600-1649, King: 1625-1649) executed….
(The black dot over the number 2 on the Building´s clock face denotes the hour at which he was executed in 1649.)
….and Oliver Cromwell replace him as Lord Protector of a republican Commonwealth (1653-1659).
Above: Oliver Cromwell (1599-1658, Lord Protector: 1653-1658)
Upon Cromwell´s death, his Commonwealth failed and in 1660, King Charles II returned to England in triumph.
Above: Charles II (1630-1685), King: 1660- 1685
Just before his Restoration, the King created a mounted bodyguard which would expand and incorporate other regiments to form what we recognise today as the Household Cavalry Guards.
Back in Charles II´s day, the King insisted that he be regularly accompanied by one of the Guards wherever he went.
While Her Majesty Queen Elizabeth II remains as the Household Cavalry´s Colonel-in-Chief, I am not privy to whom guards Her security these days.
Back of the Horse Guards Building, which remains a military headquarters commanding army units in London, is the Household Cavalry Museum.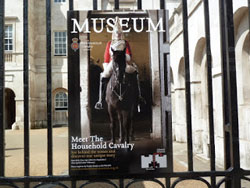 Here you can try a trooper´s elaborate uniform, complete a horse quiz and learn about the regiments´ history.
See swords and walking sticks, playing cards, paintings and uniforms, skulls and prosthetic legs, cuirasses and chocolate boxes, trophies and medals, trumpets and drums.
Learn of men of legendary status:
Colonel John Manners, the Marquess of Granby: He carried passionately about the welfare of his soldiers and was compulsively generous.  In 1760, in the Battle of Warburg, he led 8,000 men to victory over a French army three times larger.  His headress lost in the Battle, he saluted his commander bare headed, highly unusual at the time.  The Household Cavalry have the unique privilege in the British Army of saluting without headdress.
Above: John Manners (1721 – 1770)
Colonel John Shaw: At over 6 feet, 3 inches / 1.9 metres and weighing 95 kg / 210 lbs, he earned money as a prizefighter.  At the Battle of Waterloo, he smashed at the enemy´s faces using the hilt of his sword as English swords were shorter than the French´s.  Then he killed more of the enemy before his sword broke and valiantly fought on with only his helmet as a weapon until he fell in battle.  His skull is on display at the Museum.
Above: The Battle of Waterloo, 18 June 1815
Colonel Fred Burnaby: An enormous and very strong man, he once carried two ponies down the stairs of the officers´ mess in Windsor, a pony under each arm.  He travelled to Khiva, deep in the Tsar´s troubled Asian territories, because the Russians had forbidden foreigners from going there. The book he wrote became a best seller.  He campaigned in Bulgaria, joined a revolt in Spain, crossed the English Channel by balloon, and was both a journalist and politician. Lionised by his soldiers, he was not meant to have been in the Sudan when he was killed at Abu Klea in January 1885.  He met his end in a manner in which he would have approved, facing overwhelming odds in hand to hand fighting.
Above: Fred Burnaby (1842 – 1885)
Colonel David Smiley: He was parachuted behind enemy lines many times in eastern Europe and Asia.  It is suggested that both Ian Fleming´s James Bond and John le Carré´s George Smiley were modelled after the Colonel.
Above: David Smiley (centre)(1917 – 2009)
These stories are just a sampling of the courage, professionalism and distinction shown by soldiers in all military services in all nations, but of course this Museum focuses on the men (and women?) of the Household Cavalry.
Above: Logo of the Household Cavalry Regiment
With the stables immediately adjacent, it´s a sweet-smelling place(!) and you can see these beasts of burden in their stalls through a glass screen.
The horses are big: a minimum height of 5 feet, 4 inches / 1.65 metres high at the shoulder.
Bought as four or five year olds, most of them are black.
Only the trumpeters ride white steeds.
From arrival to taking part in ceremonial occasions, the training of a horse takes six months.
The horses are exercised each morning, compete in annual competitions and are given holidays ("sent out to grass") twice a year.
Horses generally retire at around 18, though some serve into their 20s.
As fascinating as the history of the Cavalry is and as much as a spectacle of colour and pagentry that the Changing the Guard ceremony is, I could not stop thinking about the endless amount of money and effort that goes into maintaining the mounted tradition: 280 horses, an army of riding instructors, farriers (horseshoe blacksmiths), vets, saddlers, tailors, musicians (kettle drummers and trumpeters) and cavalry men.
I thought of the many countless hours of preparation that are needed for a Parade: the polishing of breastplates, helmets and swords; the scrubbing and whitening of buckskins, gauntlets, belts and slings; the cleaning and polishing of jackboots; the grooming of the horses; the polishing of saddles; then inspection of the troop with obsessive-compulsive attention to detail adhering to the highest possible standards of perfection.
The combined weight of the horse´s equipment and the mounted rider´s gear is 62 lbs / 28 kg, an unforgiving and punishing practice for both man and beast.
It makes me question the sanity of a man who chooses to join the Household Cavalry.
How cruel it is to have the sentry boxmen remain motionless and emotionless for an hour at a time!
Where is the logic, the sanity, the humanity in this activity?
All in the name of honour and tradition or simply base entertainment for tourists?
It makes me question the assumption of privilege and pomp of individuals whose only claim to honour and respect was the accident of being born into the right family.
How deserving is a person of a palace or crown, of the sacrifice of young persons´ lives and vitality to ensure that the royal is treated better than a commoner?
Are the lives of the common people improved by the gleam of metal spokes on royal carriages, the sheen of horse flesh, the precision of military movement and spectacle?
As much of a show that the mounted ceremonies offer the throngs of tourists, is it worth all the work and expense that these ceremonies cost?
I do understand and sympathise with the need for military forces.
I do understand the need to protect both heads of government and heads of state.
But I must admit I remain dissatisfied at the alarming discrepancy the royal lifestyle has when compared to the average commoner.
I can appreciate that royals are trained to serve, but excess displays of wealth and privilege make it seem that the world exists to serve them instead.
I can accept that there will always be people better than me, but by the same token there are some things I am better at than others.
I can learn from others and others can learn from me.
I can appreciate that the recognition of quality and talent should exist, but I rally against the idea that these fortunate few are thus somehow superior to everyone else, that we are somehow less worthy of our existence than they are of theirs.
As a Canadian I can appreciate when talented Canadians are recognised for their contributions to society, but singers, for example, insult their public admirers when they have ostentatious homes and weddings or act as if the laws and mores of society somehow do not apply to them, as in the case of Celine Dion or Justin Bieber.
I respect Her Majesty Elizabeth II and her wisdom in her role as the world´s longest serving monarch, but the price tag is too damn high.
I felt nothing but sadness for the sacrifice of the Household Cavalry – a sacrifice unceasing since 1660 and one ongoing unceasingly.
The horses are beautiful, the soldiers proud, the gestures meaningless.
I guess tourists shouldn´t think too much.
Sources: Wikipedia / Google / The Rough Guide to London / Nicholas Best, London: In the Footsteps of the Famous / Rachel Howard and Bill Nash, Secret London: An Unusual Guide / Simon Leyland, A Curious Guide to London / http://www.householdcavalrymuseum.co.uk