Landschlacht, Switzerland, Saturday 6 July 2019
In previous posts in both my blogs I have written about the quiet majesty and remarkable beauty of the French region known as Alsace.
As evidenced by the post you are reading, I continue to wax poetically about this region, simply because I find myself consistently drawn to exploring it every opportunity I have, even though I no longer live as close to the French border as I once did in the days when I lived in Freiburg im Briesgau, in southwestern Germany's Black Forest, with my wife.
The easiest, and perhaps inevitable, introduction to Alsace is to first begin your explorations with the departmental capital, Strasbourg, for it is here that not only does the explorer develop a sense of what it means to be Alsatian, French and European, but as well it is here where the visitor finds a sense of what it means to be human, for better and for worse.
This particular travel description will differ from others in that I will not be prefacing it with datelines as I usually have done with other places I have visited, because I have visited Strasbourg on so many occasions that my actual moments stand out less significantly than the overall impression that the city has given me.
This city is one of those places where each visitor must discover and claim Strasbourg as their own in their own personal way.
I have visited Strasbourg on my own without any financial resources.
I have visited Strasbourg alone, with friends, and with my wife, flush with funding.
Each experience was entirely unique and original in itself.
I doubt there will ever be a time when I will ever say that I know Strasbourg, for Strasbourg is like the nearby Rhine….
You can never step into it the same way twice, for that what was of yesterday is a world alien to that of today and what will be tomorrow is unimaginable today.
Strasbourg is situated at the eastern border of France with Germany.
This border is formed by the Rhine, which also forms the eastern border of the modern city, facing across the river to the German town Kehl.
The historic core of Strasbourg however lies on the Grande Île in the river Ill, which here flows parallel to, and roughly 4 kilometres (2.5 miles) from, the Rhine.
The natural courses of the two rivers eventually join some distance downstream of Strasbourg, although several artificial waterways now connect them within the city.
Above: Gare de Strasbourg (rail station)
The city lies in the Upper Rhine Plain, at between 132 metres (433 ft) and 151 metres (495 ft) above sea level, with the upland areas of the Vosges Mountains some 20 km (12 mi) to the west and the Black Forest 25 km (16 mi) to the east.
This section of the Rhine valley is a major axis of north–south travel, with river traffic on the Rhine itself, and major roads and railways paralleling it on both banks.
Above: Notre Dame Cathedral, Strasbourg
The city is some 397 kilometres (247 mi) east of Paris.
The mouth of the Rhine lies approximately 450 kilometres (280 mi) to the north, or 650 kilometres (400 mi) as the river flows, whilst the head of navigation in Basel, Switzerland, is some 100 kilometres (62 mi) to the south, or 150 kilometres (93 mi) by river.
The city has warm, relatively sunny summers and cool, overcast winters.
Precipitation is elevated from mid-spring to the end of summer, but remains largely constant throughout the year, totaling 631.4 mm (24.9 in) annually.
On average, snow falls 30 days per year.
Above: Palais Rohan, Strasbourg
The 2nd highest temperature ever recorded was 38.5 °C (101.3 °F) in August 2003, during the 2003 European heat wave.
This record was recently broken, on 30 June 2019, when it was registered 38.8 °C (101.8 °F).
The lowest temperature ever recorded was −23.4 °C (−10.1 °F) in December 1938.
Strasbourg's location in the Rhine valley, sheltered from the dominant winds by the Vosges and Black Forest mountains, results in poor natural ventilation, making Strasbourg one of the most atmospherically polluted cities of France.
Nonetheless, the progressive disappearance of heavy industry on both banks of the Rhine, as well as effective measures of traffic regulation in and around the city have reduced air pollution.
Above: Palais du Rhin, Strasbourg
Strasbourg is the capital and largest city of the Grand Est region of France and is the official seat of the European Parliament.
Located at the border with Germany in the historic region of Alsace, it is the capital of the Bas-Rhin department.
Strasbourg is the 9th largest metro area in France and home to 13% of the Grand Est region's inhabitants.
Strasbourg is the seat of over twenty international institutions, most famously of the Council of Europe and of the European Parliament, of which it is the official seat.
Strasbourg is considered the legislative and democratic capital of the European Union, while Brussels is considered the executive and administrative capital and Luxembourg the judiciary and financial capital.
Strasbourg is the seat of the following organisations, among others:
Central Commission for Navigation on the Rhine (since 1920)
Council of Europe, with all the bodies and organisations affiliated to this institution (since 1949)
European Parliament (since 1952)
European Ombudsman
Eurocorps headquarters,
Franco-German television channel Arte
European Science Foundation
International Institute of Human Rights
Human Frontier Science Program
International Commission on Civil Status
Assembly of European Regions
Centre for European Studies (French: Centre d'études européennes de Strasbourg)
Sakharov Prize
Above: Hemisphere, European Parliament, Strasbourg
It is the second city in France in terms of international congress and symposia, after Paris.
Success did not come at the head of a city that had passed almost without transition from a quiet regional capital to a European city.
It has not frantically thrown itself into the hands of promoters for a 21st century concrete facelift, even if its new status as a metropolis in a wider region is now pushing it to develop new neighborhoods, along the Rhine or at the gates of the old city.
It is no coincidence that its historic center, a real big island restored to life by a well-studied traffic plan, from which the car was largely driven out, was the first urban center in France in to be listed by UNESCO as World Heritage.
The former imperial German district Neustadt is also UNESCO-honoured since July 2017.
Strasbourg is immersed in Franco-German culture and although violently disputed throughout history, has been a cultural bridge between France and Germany for centuries, especially through the University of Strasbourg, currently the second largest in France, and the co-existence of Catholic and Protestant culture.
It is also home to the largest Islamic place of worship in France, the Strasbourg Grand Mosque.
Above: Strasbourg Grand Mosque
But do not believe, discovering the impressive number of monuments and neighborhoods waiting for your visit, that it is a city frozen in history that welcomes you.
Strasbourg, which has managed to put at its head women of character as well as skilled men, sailing skillfully between right and left, is a city that has also demonstrated its industrial and commercial dynamism.
Strasbourg proved that it knew how to win:
The TGV Est Europe is there, putting Paris at 1h50 from the Alsatian capital
The tram has reorganized the entire city center and brought some places to life:
All old Strasbourg is largely pedestrian now, and cyclists reign there as masters.
In short, in addition to its rich architectural heritage, you will discover a city with exceptional quality of life, which has found a rare commodity: silence and singing birds!
And if the sacrosanct winstubs, believed to be eternal, have disappeared for the most part after the retirement of those who made their reputation (they have kept their name but have become tourist restaurants essentially), tea rooms, terraces, trendy places, and even today's trendy winstubs are opening up neighborhoods that have not been seen before.
Economically, Strasbourg is an important centre of manufacturing and engineering, as well as a hub of road, rail, and river transportation.
The port of Strasbourg is the 2nd largest on the Rhine after Duisburg in Germany, and the 4th largest river port in France after Nantes, Rouen and Bordeaux.
Above: The port of Strasbourg
Yet despite all of this, Strasbourg rarely receives the admiration and attention that greater-sized metropolises do, especially in popular culture.
Musically, Strasbourg is a sidenote.
Several compositions have specifically been dedicated to Strasbourg Cathedral by church componists Franz Xaver Richter, Ignaz Pleyel and John Tavener.
Above: Notre Dame Cathedral, Strasbourg
Strasbourg pie, a dish containing foie gras, is mentioned in the finale of Andrew Lloyd Webber's musical Cats.
On their 1974 album Hamburger Concerto, Dutch progressive band Focus included a track called "La Cathédrale de Strasbourg", which included chimes from a cathedral bell.
British punk band The Rakes had a minor hit in 2005 with their song "Strasbourg", featuring witty lyrics with themes of espionage and vodka and a cleverly inserted count of "eins, zwei, drei, vier" even though Strasbourg's spoken language is French.
Havergal Brian's Symphony #7 was inspired by passages in Goethe's memoirs recalling his time at Strasbourg University.
Brian's work ends with an orchestral bell sounding the note E, the strike note of the bell of Strasbourg Cathedral.
Wolfgang Amadeus Mozart called his 3rd Violin Concerto (1775) the Straßburger Konzert because one of its most prominent motives, is based on a Strasbourg minuet dance that had already appeared as a tune in a symphony by Carl Ditters von Dittersdorf.
Above: Carl Ditters von Dittersdorf (1739 – 1799)
In literature, Strasbourg is a footnote.
A sole chapter, albeit a long one, of Laurence Sterne's 1767 novel Tristram Shandy, "Slawkenbergius' Tale" takes place in Strasbourg.
Above: Laurence Sterne (1713 – 1768)
(Hafen Slawkenbergius is a fictional writer referenced in Laurence Sterne's novel Tristram Shandy.
Slawkenbergius was "distinguished by the length of his nose, and a great authority on the subject of noses".
Sterne gives few biographical details relating to Slawkenbergius, but states that he was German and that he had died over 90 years prior to the writing and publication (in 1761) of the books of Tristram Shandy in which he appears — i.e., circa 1670, although Slawkenbergius' tale includes a reference to the French annexation of Strasbourg in 1681.
Slawkenbergius is primarily known for his scholarly writings in Neo-Latin, particularly his lengthy monograph De Nasis ("On Noses"), purporting to explain different types of noses and their corresponding significance to human character.
The second book of De Nasis is said to be filled with a large number of short stories illustrative of Slawkenbergius' characterizations of noses.
Only one of these stories is reproduced in Tristram Shandy.
Slawkenbergius is first referred to in Volume III, Chapter XXXV.
Volume IV opens with the relatively lengthy "Slawkenbergius's Tale."
This tale recounts the journey of a courteous gentleman, Diego, who was endowed with a massive nose.
Diego attempts to pass inconspicuously through Strasbourg on his way from the "Promontory of Noses", but the sight of his giant nose sends the Strassburgers, especially the nuns, into a restless frenzy.
The tale relays the results of the upset in Strassburg and the travels of Diego to his admirer Julia.)
A solitary episode of Matthew Gregory Lewis' 1796 novel The Monk takes place in the forests that once surrounded Strasbourg.
(Baptiste is a robber living outside of Strasbourg.
He lets travellers stay in his house so that he may rob and murder them.
His two sons by a previous wife, Jacques and Robert, assist him to this end.
He then forced Marguerite to marry him.
Marguerite, however, is disgusted by his life of crime.
Marguerite is first introduced as a short and unwilling hostess and wife of Baptiste.
Her first husband dies after receiving wounds from an English traveller.
The group of banditti do not trust Marguerite to keep their secret and she becomes the property of Baptiste.
She has two sons, Theodore and a younger unnamed boy.
She saves Don Raymond's life by revealing Baptiste's true intentions through mysterious bloody sheets and significant glances.
She stabs and kills Baptiste as Don Raymond tries to strangle him, allowing them both to escape.
Don Raymond is the son of the Marquis and is also known as Alphonso d'Alvarada.
He takes the name Alphonso when his friend, the Duke of Villa Hermosa, advises him that taking a new name will allow him to be known for his merits rather than his rank.
He travels to Paris, but finds the Parisians "frivolous, unfeeling and insincere" and sets out for Germany.
Near Strasbourg he is forced to seek accommodations in a cottage after his chaise supposedly breaks down.
He is the target of the robber Baptiste but with help from Marguerite, he is able to save himself and the Baroness Lindenberg.
Grateful, the Baroness invites Don Raymond to stay with her and her husband at their castle in Bavaria.)
Above: The Monk (2011 French film)
Sadly, these are books rarely read today by our generation of techno tots.
In film, Strasbourg is merely backdrop.
The opening scences of the 1977 Ridley Scott film The Duellists take place in Strasbourg in 1800.
(Fervent Bonapartist and obsessive duellist Lieutenant Gabriel Feraud (Harvey Keitel) of the French 7th Hussars, nearly kills the nephew of the city's mayor in a sword duel.
Under pressure from the mayor, Brigadier-General Treillard (Robert Stephens) sends a member of his staff, Lieutenant Armand d'Hubert (Keith Carradine) of the 3rd Hussars, to put Feraud under house arrest.
As the arrest takes place in the house of Madame de Lionne (Jenny Runacre), a prominent local lady, Feraud takes it as a personal insult from d'Hubert.
Matters are made worse when Feraud asks d'Hubert if he would "let them spit on Napoleon" and d'Hubert doesn't immediately reply.
Upon reaching his quarters, Feraud challenges d'Hubert to a duel.
The duel is inconclusive.
d'Hubert slashes Feraud's forearm but is unable to finish him off, because he is attacked by Feraud's mistress.
As a result of his part in the duel, d'Hubert is dismissed from the General's staff and returned to active duty with his unit.
The war interrupts the men's quarrel and they do not meet again until six months later in Augsburg in 1801.)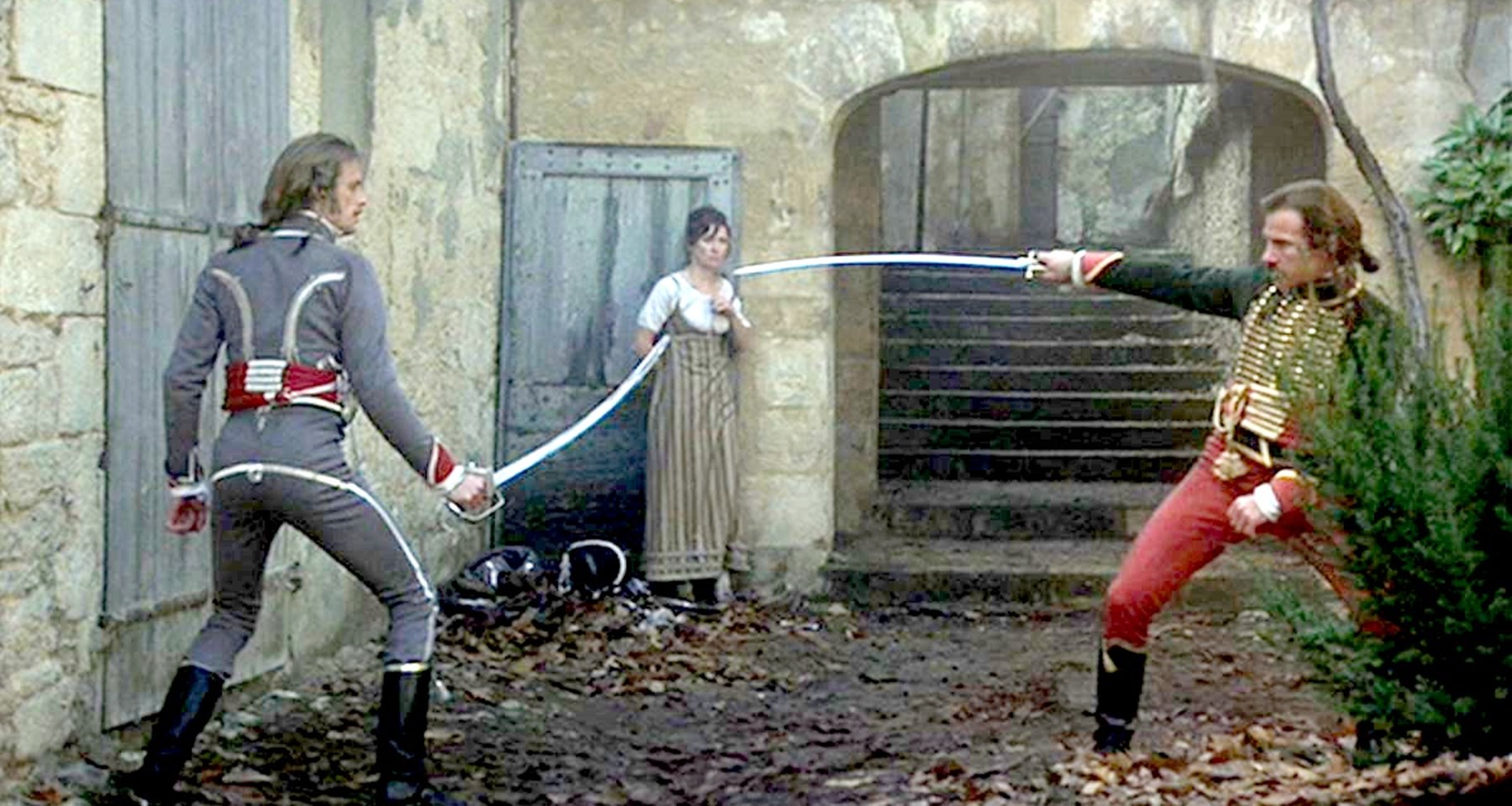 The 2007 Spanish film In the City of Sylvia is set in Strasbourg.
(In the City of Sylvia (Spanish: En la Ciudad de Sylvia) is a 2007 film directed by José Luis Guerín.
The film follows a young man credited only as 'Él' (English:'Him') as he wanders central Strasbourg in search of Sylvia, a woman he asked for directions in a bar six years earlier.
Guerín, born in Barcelona, is a prolific and original documentary filmmaker who has made only a handful of fiction features, averaging one per decade.
He is often characterized as "inquisitive", is never seen without a flat cap tucked over his forehead, and is fascinated with silent film, meta-fictional conceits, journals, and the relationship between person, place, and memory.
Sylvia may represent a real person from Guerín's past (like his experimental companion piece, Some Photos In The City Of Sylvia) or she could be someone he made up, a purely rhetorical figure.
She is the girl with the white parasol remembered by Bernstein in Citizen Kane, a movie that's all about the way fleeting moments stick like splinters in memory.
("Rosebud")
Or she is Madeleine, Vertigo's woman that never was.
José Luis Guerín's 2007 film In The City Of Sylvia doesn't have much plot beyond what's implied in the title.
An unnamed young man (French actor Xavier Lafitte) is visiting Strasbourg, a picturesque city just off the border between France and Germany.
He remembers a woman named Sylvia or Sylvie, whom he met very briefly at a bar called Les Aviateurs while visiting Strasbourg six years earlier.
She drew him a map on a beer coaster.
Perhaps he hopes to run into her again.
The movie is broken up into chapters (identified as "1st night", "2nd night" and so on), which presumably correspond to the length of the young man's stay in Strasbourg, during which he doesn't appear to do anything except look, draw, and – in a series of scenes that takes up a third of the film – follow a woman that he may think is Sylvia or Sylvie.
It's something of a masterpiece, filled with beguiling intangibles and apparent contradictions.
Part of what makes the film so elemental is the way it uses elementary techniques, be it close-ups, reverse angles or natural light.
There is nothing fancy about it, but, as is often the case, the simplest steps lead to the most sophisticated results, building to the crescendo of the final sequence, in which glimpses of strangers at a Strasbourg tram stop – alone or in groups – suggest a world of mystery, possibility and unacknowledged beauty.
Guérin romanticizes looking, by taking something completely mundane and, by breaking it down on film, makes it seem extraordinary.)
The opening scene of the 2011 movie Sherlock Holmes: A Game of Shadows covers an assassination bombing inside Strasbourg Cathedral.
("The year was 1891.
Storm clouds were brewing over Europe.
France and Germany were at each other's throats, the result of a series of bombings.
Some said it was nationalists, others the anarchists, but as usual my friend Sherlock Holmes had a different theory altogether."
"Strasbourg bombing.  Read all about it.  Anarchists suspected in Strasbourg bombing.")
Before the 5th century, the city was known as the Roman camp of Argantorati, first mentioned in 12 BC.
That Gaulish name is a compound of -rati, the Gaulish word for fortified enclosures, and arganto(n)-  the Gaulish word for silver, but also any precious metal, particularly gold, suggesting either a fortified enclosure located by a river gold mining site, or hoarding gold mined in the nearby rivers.
After the 5th century, the city became known by a completely different name Gallicized as Strasbourg (Lower Alsatian: Strossburi; German: Straßburg).
That name is of Germanic origin and means "town at the crossing of roads".
Gregory of Tours was the first to mention the name change:
In the 10th book of his History of the Franks, written shortly after 590, he said that Egidius, Bishop of Reims, accused of plotting against King Childebert II of Austrasia in favor of his uncle King Chilperic I of Neustria, was tried by a synod of Austrasian bishops in Metz in November 590, found guilty and removed from the priesthood, then taken "ad Argentoratensem urbem, quam nunc Strateburgum vocant" ("to the city of Argentoratum, which they now call Strateburgus"), where he was exiled.
Above: Statue of Gregory of Tours (538 – 594), Louvre Museum, Paris
Strasbourg celebrated its 2,000th anniversary in 1988.
Between 362 and 1262, Strasbourg was governed by the bishops of Strasbourg.
Their rule was reinforced in 873 and then more in 982.
In 1262, the citizens violently rebelled against the bishop's rule (Battle of Hausbergen) and Strasbourg became a free imperial city.
Above: Battle of Hausbergen, 8 March 1262
It became a French city in 1681, after the conquest of Alsace by the armies of Louis XIV.
Above: King Louis XIV of France (1638 – 1715)
(Marguerite LePaistour was born in 1720 in Cancale.
Hated by her stepmother, she rebels against her family, runs away, and to go unnoticed, dresses as a man.
Under the name of Henri, she became a servant, soldier, and executioner in Strasbourg and Lyon.
Unmasked, she ends up behind bars, gets married on leaving prison.
And everything returns to normal!)
In 1871, after the Franco-Prussian War, the city became German again, until 1918 (end of World War I), when it reverted to France.
After the defeat of France in 1940 (World War II), Strasbourg came under German control again.
Since the end of 1944, it is again a French city.
In 2016, Strasbourg was promoted from capital of Alsace to capital of Grand Est.
Strasbourg played an important part in Protestant Reformation, but also in other aspects of Christianity, such as German mysticism, Pietism, and Reverence for Life.
Delegates from the city took part in the Protestation at Speyer.
Above: Martin Luther's Ninety-five Theses that sparked the Reformation
It was also one of the first centres of the printing industry.
(Johannes Gutenberg, fleeing Mainz for political reasons, took refuge in Strasbourg and there developed his brilliant invention, but in developing the printing press, he went bankrupt.
And yet it was the most important invention of the time.
It must be said that Bibles of 1,200 pages were complex to manufacture and complicated to sell.
And yet, today, they are worth more than $30 million each!
He must be spinning in his grave.)
Above: Place Gutenberg, Strasbourg
Among the darkest periods in the city's long history were the years 1349 (Strasbourg massacre), 1793 (Reign of Terror), 1870 (Siege of Strasbourg) and the years 1940–1944 with the Nazi occupation (atrocities such as the Jewish skeleton collection) and the British and American bombing raids.
Above: The Strasbourg Massacre
The Strasbourg massacre occurred on 14 February 1349, when several hundred Jews were publicly burnt to death, and the rest of them expelled from the city as part of the Black Death persecutions.
It was one of the first and worst pogroms in pre-modern history.
The Reign of Terror, or The Terror (French: la Terreur), refers to a period during the French Revolution after the First French Republic was established.
Several historians consider the "reign of terror" to have begun in 1793, placing the starting date at either 5 September, June or March (birth of the Revolutionary Tribunal), while some consider it to have begun in September 1792 (September Massacres), or even July 1789 (when the first lynchings took place), but there is a consensus that it ended with the fall of Maximilien Robespierre in July 1794.
Between June 1793 and the end of July 1794, there were 16,594 official death sentences in France, of which 2,639 were in Paris.
Above: Siege of Strasbourg (14 August to 28 September 1870), Franco-Prussian War
(During the siege of Strasbourg in 1870, the Prussian authorities allowed the wounded to communicate with their family, provided that the writings were readable by censorship, therefore without envelope.
Thus, no military secret could be disclosed.
The postcard was born.)
Above: Bombardment of Notre Dame, Siege of Strasbourg
Above: Plaque in memorium of the 86 victims of the Jewish Skeleton Collection, Université de Strasbourg
Some other notable dates were the years 357 (Battle of Argentoratum), 842 (Oaths of Strasbourg), 1538 (establishment of the university), 1605 (world's first newspaper), 1792 (La Marseillaise), and 1889 (the discovery of the pancreatic origin of diabetes).
Above: The Oaths of Strasbourg
Above: The world's first newspaper, Relation aller Fürnemmen und gedenkwürdigen Historien (Account of all distinguished and commendable news), published by Johann Carolus (1575 – 1634), Strasbourg
Above: Rouget de Lisle sings "La Marseillaise" for the first time at the home of Strasbourg Mayor Philippe-Frédéric de Dietrich, 25 April 1792
(It is said that Rouget de Lisle imagined the national anthem in a single night in Strasbourg.
Not so complicated, when we see strange similarities with "Esther", an oratorio of a certain Grisons, composer in Saint Omer.
Note for note.
To listen on the Internet is edifying.
It must be said that Rouget de Lisle was captain of the garrison at Saint Omer.
Well, well.
No wonder he composed "La Marseillaise" in one night!)
Above: Marseillaise volunteers, Arc de Triomphe, Paris
Strasbourg was also the home of a bizarre epidemic, the Dancing Plague of 1518, where hundreds of citizens danced for several days, some even dying of exhaustion.
Above: The Dancing Plague of 1518
The dancing plague (or dance epidemic) of 1518 was a case of dancing mania that occurred in Strasbourg in July 1518.
Around 400 people took to dancing for days without rest and, over the period of about one month, some of those affected collapsed or even died of heart attack, stroke, or exhaustion.
Strasbourg has been the seat of European institutions since 1949: first of the International Commission on Civil Status and of the Council of Europe, later of the European Parliament, of the European Science Foundation, of Eurocorps, and others as well.
Those are the facts.
They speak little of beguiling intangibles and apparent contradictions.
They do not offer glimpses of this strange world of mystery, possibility and unacknowledged beauty.
They offer no romance and no hint of the extraordinary connection between people, places and memories.
City with many faces – the often strained phrase really hits the spot here.
In the center of the Alsatian capital, the majestic Gothic cathedral towers like a memorial of permanence in the sky, surrounded by medieval romantic slices, and not far away, ultramodern glass palaces testify to the spirit of the 21st century.
In the vibrant economic center with a cozy Winstub flair – a bit of a metropolis, a bit of a small town – enjoyable Alsatian ways of life complement well with cosmopolitan European government institutions and German neatness with French esprit.
If you walk through the streets of the old town, it seems hard to imagine that in the Greater Strasbourg area live about 470,000 people.
In addition, there are numerous guests, such as the MEPs, who come to town once a month, like locusts, and disappear just as quickly after a week.
During the parliamentary sessions, many hotels are fully booked, taxis are constantly on the move, and there is hardly any free space in the better restaurants.
The presence of these institutions, rich with well-off elected officials and their collaborators who are not less, represents a sacred manna for the city.
In some sectors, real estate prices rival those of the beautiful Parisian or Nicois neighborhoods.
The economic difficulties that the new Europe is experiencing daily have brought the city to more humility in recent years.
Even if it is more than difficult to stay here during the parliamentary sessions (it is then necessary to push up to Kochersberg), one can find accommodation at reasonable prices, especially if one knows how to play specials at certain periods.
Above: Logo of the European Parliament
As a long-term guest one can designate the overwhelming majority of nearly 50,000 students enrolled at the various colleges of the city.
In the cafés and pubs they prefer, there is the typical atmosphere of a university town.
Important guests for Strasbourg are, of course, the tourists who visit the city in large numbers – far more than four million a year.
To seduce a public who, more and more numerous, come here for a weekend in love or a few days with family, Strasbourg has no shortage of assets, winter and summer, by the way.
From traditional markets to the ever-popular Christmas market through the Musica festival, Strasbourg knows how to charm you.
And they are offered something truly extraordinary:
The picturesque Old Town island enclosed by the Ill, a unique district of Wilhelmine monumental buildings, the European Mile, a large number of important museums, just to name a few worth mentioning.
All sights are comparatively close to each other and are within walking distance.
In addition, there are some other ways of exploring the city by boat, a ticket, even by taxi or – very sporty – by bike.
And of course you can take a pleasant break: romantic on the banks of the Ill, in beautiful squares, in lively street cafes, quaint Winstubs or fine gourmet restaurants.
They are places of rest welcome between two visits of museums or churches, a walk on the quays or in the parks.
Strasbourg can be visited, it will never be said enough, first on foot, nose in the air, at one's own pace.
Even in the evening, there is no boredom.
Various theaters, the opera, bars full of variety, music bars and discos provide entertainment.
Strasbourg also includes tens of thousands of people from the former French colonies in Africa.
Only a few of them are guests, most of them now own a French passport, their descendants have already been born in Strasbourg.
The visitor will usually encounter only a few of them as dealers near the tourist attractions.
Most live in run-down suburban neighborhoods, e.g. in Neuhof or in Elsau, where the social problems have led to more violence for years – this too is one of the many facets of the Alsatian capital.
Strasbourg is a unique destination filled with special eccentricities.
Take the Cathedral for example.
Unique in France, the building became Protestant in 1529, and was so until 1681, when Louis XIV took Strasbourg.
Even today, ecumenical services are held regularly in the Saint-Laurent Chapel (entrance, left side).
On this occasion, Protestants and Catholics pray together.
Above: Rose window, Notre Dame Cathedral, Strasbourg
There is so much to see and do in Strasbourg that one blogpost will not suffice.
Among the variety are:
Strasbourg Cathedral
Notre Dame Museum
Pharmacie du Cerf
Kammerzell House
Place du Marché aux Cochons de Lait
Chateau Rohan
Museum of Decorative Arts
Archaeological Museum
Place de l'Homme de Fer
Place Kléber
Museum of Modern and Contemporary Art
Place Gutenberg
St. Thomas Church
Petite France
Rhine Palace
St. Paul's Church
The Council of Europe
Human Rights Building
Palais de l'Europe
Parliamentary Assembly
Museum of Fine Arts
Museum of Engraving and Drawing
Tomi Ungerer International Centre of Illustration
Le Vaisseau Science and Technology Centre
The Rhine Navigation Museum
The Strasbourg Bar Association Museum
The Zoological Museum
The Gypsothéque / Adolf Michaelis Museum
Museum of Seismology and Magnetism
Pasteur Museum of Medical Curiosities
Mineralogy Museum
Egyptology Museum
The Star Crypt
The Museum of Chocolate Secrets
The Pixel Museum
Above: Strasbourg Observatory
Europe's Crossroads lies at the very heart of western Europe, closer to Frankfurt, Zürich and Milan than it is to Paris.
Strasbourg is the seat of internationally renowned institutions of music and drama.
It also has a long history of excellence in higher education at the crossroads of French and German intellectual traditions.
The University has attracted eminent students such as Goethe, Metternich and Montgelas.
Its people have been awarded 19 Nobel prizes, thus making Strasbourg University the most eminent French university outside Paris.
The Université de Strasbourg includes:
The IEP (Institut d'études politiques de Strasbourg), the University of Strasbourg's political science & international studies center.
The EMS (École de management Strasbourg), the University of Strasbourg's Business School.
The INSA (Institut national des sciences appliquées), the University of Strasbourg's Engineering School.
The ENA (École nationale d'administration). ENA trains most of the nation's high-ranking civil servants. The relocation to Strasbourg was meant to give a European vocation to the school and to implement the French government's "décentralisation" plan.
The ESAD (École supérieure des arts décoratifs) is an art school of European reputation.
The ISEG Group (Institut supérieur européen de gestion group).
The ISU (International Space University) is located in the south of Strasbourg (Illkirch-Graffenstaden).
The ECPM (École européenne de chimie, polymères et matériaux).
The EPITA (École pour l'informatique et les techniques avancées).
The EPITECH (École pour l'informatique et les nouvelles technologies).
The INET (Institut national des études territoriales).
The IIEF (Institut international d'études françaises).
The ENGEES (École nationale du génie de l'eau et de l'environnement de Strasbourg).
The CUEJ (Centre universitaire d'enseignement du journalisme).
TÉLÉCOM Physique Strasbourg,(École nationale supérieure de physique de Strasbourg), Institute of Technology, located in the south of Strasbourg (Illkirch-Graffenstaden).
The Bibliothèque nationale et universitaire (BNU) is, with its collection of more than 3,000,000 titles, the 2nd largest library in France after the Bibliothèque nationale de France.
It was founded by the German administration after the complete destruction of the previous municipal library in 1871 and holds the unique status of being simultaneously both a student and a national library.
Above: The BNU, Strasbourg
The municipal library Bibliothèque municipale de Strasbourg (BMS) administrates a network of ten medium-sized librairies in different areas of the town.
A six stories high "Grande bibliothèque", the Médiathèque André Malraux, was inaugurated on 19 September 2008 and is considered the largest in Eastern France.
As one of the earliest centers of book-printing in Europe, Strasbourg for a long time held a large number of incunabula – documents printed before 1500 – in its library as one of its most precious heritages.
After the total destruction of this institution in 1870, however, a new collection had to be reassembled from scratch.
Above: The Nuremburg Chronicle incunabula, 1493
Today, Strasbourg's different public and institutional libraries again display a sizable total number of incunabula, distributed as follows:
Bibliothèque nationale et universitaire
Médiathèque de la ville et de la communauté urbaine de Strasbourg
Bibliothèque du Grand Séminaire
Médiathèque protestante
Bibliothèque alsatique du Crédit Mutuel
There is a great longing within me to have you, gentle readers, discover this city for yourselves.
I want you to feel as I have felt and understand as I have understood why Strasbourg once experienced compels a person to want to return.
There are places to explore and tales to be told.
We shall return…..
Sources: 
- Wikipedia
- Google
- The Rough Guide to France 
- Antje and Gunther Schwab, Elsass 
- Le Routard Alsace (Grand-Est) 
- Marie-Christine Périllon, Alsace 
- Michèle-Caroline Heck, The Golden Book of Alsace 
- Patrick Schwertz, Alsace: 100 lieux pour les curieux
- Ignatiy Vishevetsky, "An overlooked masterpiece about looking", The AV Club, 22 March 2016