Landschlacht, Switzerland (Schweiz/Suisse/Svizzera)
Thursday 24 April 2019
She is susceptible.
He is impossible.
They have their cross to share.
Three of a perfect pair.
He has his contradicting views.
She has her cyclothymic moods.
They make a study in despair.
Three of a perfect pair.
One, one too many
Schizophrenic tendencies
Keeps it complicated
Keeps it aggravated
And full of this hopelessness.
What a perfect mess.
It has been said that there are two true tests of a relationship:
Assembling IKEA furniture together
Travelling together
Though we are not much good at the former, we are not too bad at the latter.
I have previously written about our visit to Gardone Riviera by the Lago di Garda in northern Italy.
I described with much detail the life of Italian poet Gabriele d'Annunzio and the Il Vittoriale degli Italiani where he spent his last days in this town.
Above: Gabriele d'Annunzio (1863 – 1938)
Above: Il Vittoriale degli Italiani, Gardone Riviera
(Please see Canada Slim and the Shrine of Italian Victories of this blog.)
We discovered that there is more in this town of 3,000 than just a Fascist rabblerouser's monument to ego.
Gardone Riviera, Italy, Sunday 6 August 2018
In the sweltering summer heat we discover that the town has two other claims to fame….
On 21 June 2000, the English band King Crimson recorded in its auditorium the songs "Three of a Perfect Pair" and "Blastic Rhino" for the album Heavy ConstruKction.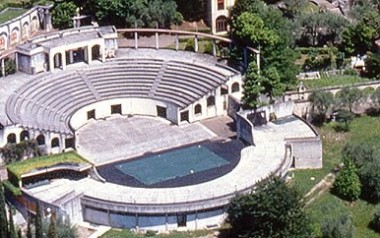 Above: L'Ampiteatro, Il Vittoriale degli Italiani, Gardone Riviera
King Crimson are an English progressive rock band formed in London in 1968.
They have been influential both on the early 1970s progressive rock movement and numerous contemporary artists.
The band has undergone numerous formations throughout its history, in the course of which 22 musicians have been members.
Since October 2017 it has consisted of Robert Fripp, Jakko Jakszyk, Tony Levin, Mel Collins, Pat Mastelotto, Gavin Harrison, Jeremy Stacey and Bill Rieflin.
Fripp is the only consistent member of the group and is considered the band's leader and driving force.
The band has earned a large cult following.
They were ranked No. 87 on VH1's 100 Greatest Artists of Hard Rock.
Although considered to be a seminal progressive rock band (a genre characterised by extended instrumental sections and complex song structures), they have often distanced themselves from the genre.
As well as influencing several generations of progressive and psychedelic rock bands, they have also been an influence on subsequent alternative metal, hardcore and experimental/noise musicians.
Heavy ConstruKction is a live album (3-CD set), incorporating video footage, by the band King Crimson, released by Discipline Global Mobile records in 2000.
The album features recordings from King Crimson's European tour of May to July 2000, taken from DAT recordings of the front-of-house mixing desk.
King Crimson's 2000 European tour was conducted to promote the Studio album The Construkction of Light.
The band members at the time of the tour were Robert Fripp, Adrian Belew, Trey Gunn and Pat Mastelotto.
Bill Bruford had previously left the group, and Tony Levin was not included in this particular King Crimson project due to prior commitments.
The third disc features band improvisations from different shows, which are often spliced together in the same track.
The liner notes describe the disc as "a cohesive presentation out of a series of incoherent events".
Which also accurates describes the band itself.
"We're so different from each other that one night someone in the band will play something that the rest of us have never heard before and you just have to listen for a second.
Then you react to his statement, usually in a different way than they would expect.
It's the improvisation that makes the group amazing for me.
You know, taking chances.
There is no format really in which we fall into.
We discover things while improvising and if they're really basically good ideas we try and work them in as new numbers, all the while keeping the improvisation thing alive and continually expanding."
(King Crimson violinist David Cross on the band's approach to improvisation)
Above: David Cross
Gardone Riviera's second claim to fame….
The Giardino Botanico Fondazione André Heller (2 acres), also known as the Giardino Botanico Arturo Hruska, is a botanical garden located on the grounds of the André Heller Foundation above Lake Garda, in via Roma, Gardone Riviera.
It is open daily in the warmer months.
The Garden was established c. 1901 by Arturo Hruska (1889 – 1971), who, from 1910-1971, collected many species on the grounds of his villa, organized as a dense forest of bamboo, Japanese ponds, streams, and waterfalls, as well as alpine plants in ravines.
The Giardino Botanico Fondazione André Heller is a few minutes below the Vittoriale.
Gardone's heyday was due in part to its mild climate, something which benefits the exotic blooms that fill the Austrian artist's sculpture garden.
Designed by the Austrian dentist and botanist Arturo Hruska at the beginning of the 20th century, thousands of tropical, subtropical and alpine plants grow here, between streams and wild limestone, is where one meets orchids and a whole bamboo forest.
Laid out in 1912, the Garden is divided into pocket-sized climate zones, with tiny paths winding from central American plains to African savannah, via swathes of tulips and bamboo.
There are more than 500 species, including cactus, edelweiss, ferns including Osmunda regalis, magnolias, orchids, water lilies and trees.
Within 10,000 square metres there are botanical species from all over the world, from the Alps to the Himalayas, from Mato Grosso to New Zealand, from Japan to Australia, from Canada to Africa.
Around 1901, Arturo Hruska, originally from Czechoslovakia, graduated in Monaco, dentist to the Czar, the Italian Royal Family, Popes Pius XII and Johannes XXIII, and King Albert of Belgium, naturalist and botanist, moved from Austria to Gardone Riviera.
The moment the beauty and the light of the Lake struck the dentist he was spurred to acquire land on the slopes of Mount Lavino.
Lake Garda with its typical Mediterranean greenery, the brilliant and magnificent peacock-blue of its waters, is numbered along with the most beautiful landscapes of Central Europe.
The garden town of Gardone Riviera extends from the foothills of the Alps down to the Po Valley.
Gardone Riviera is made of two parts: the group of houses by the water and the other located on the slope by the church.
The locals call them Gardone Sopra (Upper Gardone) and Gardone Sotto (Lower Gardone).
Gardone Sotto is the elegant part:
The Grand Hotel, immortalized in the literary novel "Untergang eines Herzens"(Beware of Pity) by Stefan Zweig

the cocktail bar where Winston Churchill rested after painting
Above: Stefan Zweig (1881 – 1942)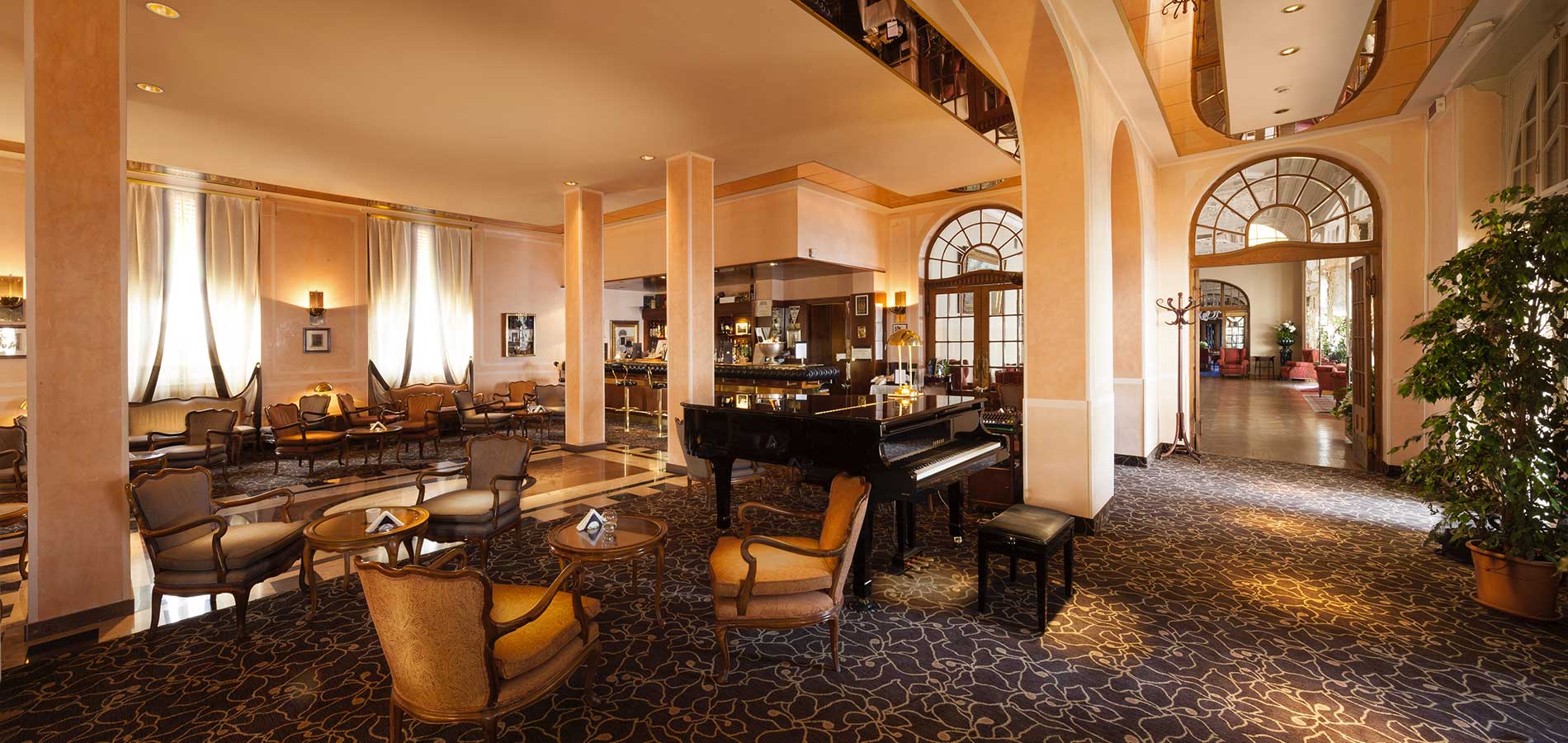 Above: Winston Churchill (1874 – 1965)
the park of the Savoy Hotel, that in the early 1900s would offer every night a great ball with an orchestra to the noble guests from Russia, Sweden and other cold lands.
Gardone Sopra is more rustic, scents of olives and dry grappa, and occasionally, within the tortuous alleys, pious women still carry the Virgin Mary in procession.
Probably their grandfathers worked as errand boys for the devious Gabriele D'Annunzio, whose luxurious residence, extending for nine hectares and located next to Gardone, is a token of magnificent outlandishness, celebrating war victims and cruel sacrifices that were so important for Mussolini but are repugnant to me.
Above: Benito Mussolini (1883 – 1945)
Gardone Sotto and Gardone Sopra combine to create a place of magic and sensuality.
The Botanical Garden, a collection of Continental stature, where Africa, South America, Asia, Europe and Australia are interwoven.
Edelweiss among orchid meadows, meter tall ferns next to splendid pomegranates.
Creeks and falls, ponds with koi carps, trouts and reflections of flying dragonflies, stone hills next to cacti and ivy towers.
Indian and Moroccan sculptures in harmony with art works from Roy Lichtenstein, Susanne Schmoegner and Keith Haring.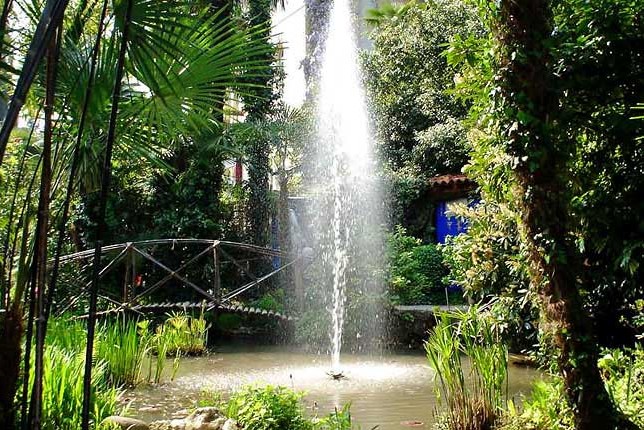 I am among this paradise, that never stops amazing me and filling me with joy, since 1988.
The dentist to the last Tsar, Dr. Arturo Hruska, funded this fortune, which also hosts a Venetian villa, that is now my beautiful home.
When I watch from one of the balconies the majesty of Lake Garda or one of my bamboo woods, it is always difficult for me to believe that this park wanted me as its custodian and ally, and I thank it, as much as I can, with love.
André Heller
With a panoramic view over the Gulf of Salò and the wide, soft hilly landscape of the southern shores of Lago Garda, Gardone Sotto and Gardone Sopra reconcile between themselves a highland landscape covered in woods and dominated by cypresses, palms and evergreen magnolias.
The owner of this Garden of Eden since 1988 has been the Viennese artist André Heller.
The playful touches Heller has hidden among the greenery include 30 pieces of contemporary sculpture.
Look out for the jagged red figure by Keith Haring near the entrance, Rudolf Hirt's Gandi-esque Ioanes, God of Water and Roy Lichtenstein's polka-dot take on the Pyramids.
The botanical garden acquired by André Heller, to be transformed into a centre for environmental awareness, hosts several works of art either donated or commissioned by the Austrian artist.
From the enigmatic snakes and symbols of day and night welcoming us at the entry gate, the whole environment indicates that this is not a common botanical garden.
The ticket office is decorated by Susanne Smoegner, displaying colours and shapes that connect adult world with memories of childhood, like Ferdinand's House built and decorated by Edgar Tezak, water plays and distant sounds.
Several elements connect with multiple traditions and spiritualties: Buddhist and Tibetan symbols, Hindu statues such as the Great Ganesh by Rudolph Hirt, elephant-god of luck and wisdom, protector of education, coexist with symbols of metropolitan culture and modernity.
Monstrous elements recur by the Bridge of Monsters, where the intolerance of contemporary man transfigures into two monstrous heads on pikes that spit at each other.
Then through a Chinese red door, Torii, you reach a purifying and cathartic path, which includes the water play Shishi-Odoshi: a sort of water clock that marks the fleeting time.
Beside a walkway several large bamboo canes invite you to tickle them: striking one against the other they play like a xylophone. 
The link with this modern and cosmopolitan humanity is underlined by the works of Keith Haring, metropolitan artist, friend of Heller, founder of the Pop Shop.
His characters walk, hug, dance, like the Red Man next to the tree/umbrella.
Another important work by Haring is the Stele which recalls a cross, but the characters moving on it carry sexual references.
Haring gifted us with his peculiar and precious interpretation of the garden with a drawing that is represented on the tickets.
Other artists employed the tools that Nature and the Garden offer:
Novak built boardwalks, walls and pavements, with the 28 different species of bamboo present in the garden that provide colors and effect that no other material can grant and used a large stone suspended by rope to deviate the water flow.
These interventions blend harmoniously in the surrounding environment like the great wooden Praying Mantis that crops up between tufts of grass: so well hidden that is almost unseen:
"Of all arts, seeing is the hardest to learn".
The union of Art and Nature is fully celebrated within the great figure of the Genius Loci, created by André Heller.
The great anthropomorphic bust with open arms, emerges from the grass and erects himself as protector and spirit guide. 
The structure completely covered by ivy encloses the constant change of nature,
Every day leaves grow and are blown by the wind, but the great blue eyes, the nose and mouth are human interventions, added value that comes from the artist.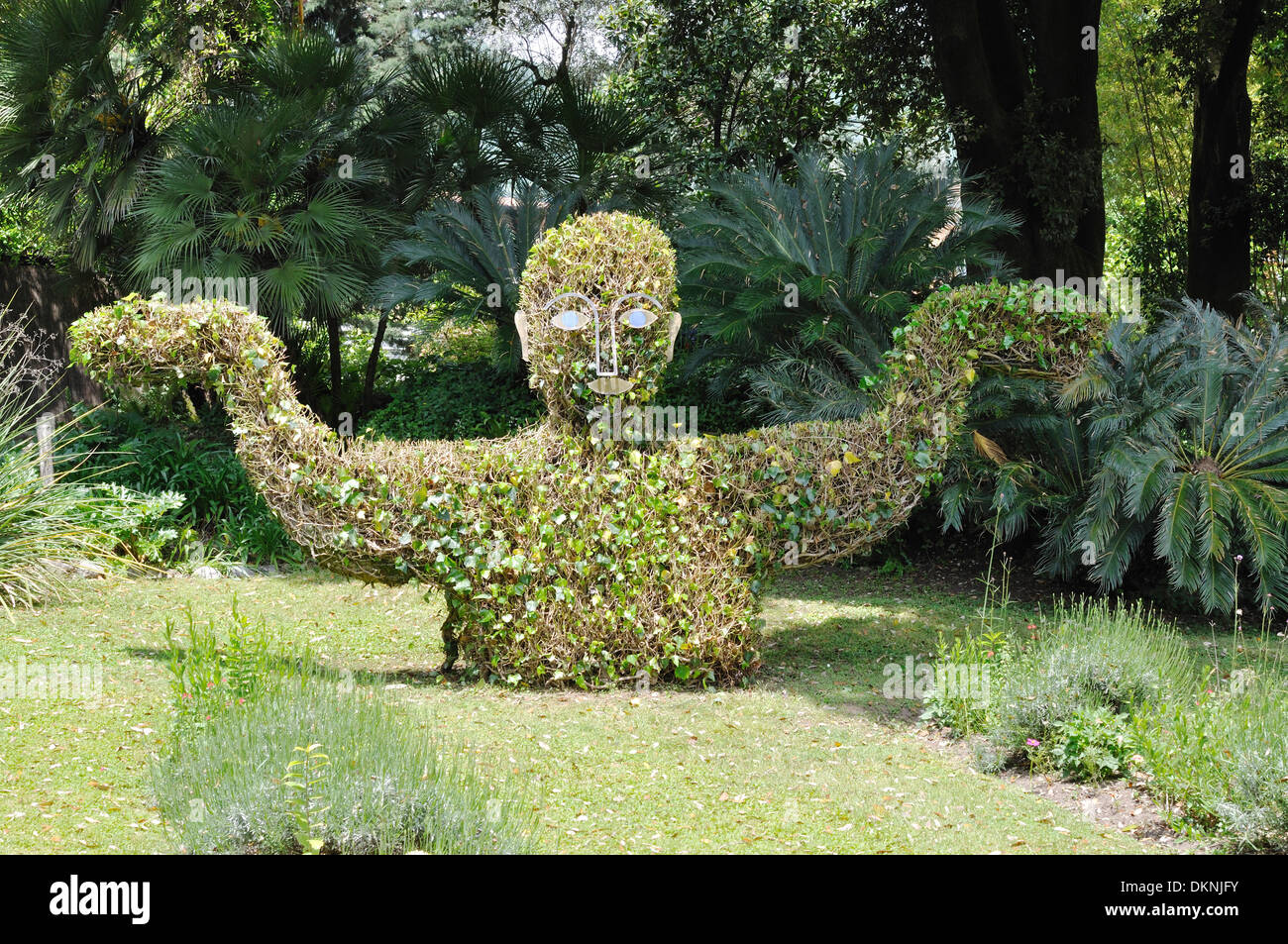 Arturo Hruska was a student of his father Josef and was already engaged in his youth with dental alloys and metal prostheses.
He completed his training in Belgium, Ireland, Austria, France, Germany, Switzerland and the USA.
He received his doctorate in 1906 in Munich and completed his studies in 1913 in Padua.
He was a surgeon and traumatologist, as well as a biologist, anthropologist and essayist.
Hruska dealt with the aetiology and therapy of periodontal disease.
He described it as "a disease that leads to tissue and enzyme changes through environmental influences and mutations" describing it as a characteristic disease of the civilized and consumerist world.
He was also the first to describe the therapy.
In 1901 he was called to the court in Petersburg.
The Czar allowed him to practice his profession throughout Russia.
Above: Czar Nicholas II of Russia (1868 – 1918)
Hruska, however, preferred to return to Italy.
In 1903 he bought some property in Gardone Riviera and started to transform the abandoned vineyard into a garden with streams, ponds and paths.
Hruska built various small lakes with water from the nearby springs which he created as naturally as possible.
The water kept the Garden damp and cool while the trees protected it from wind and cold.
On 30 September 1903, Hruska married Dutchwoman Cornelia (Corry) Anna Lelsz (1874 – 1917).
They had four children.
Like all Austrians, the Hruska family suddenly had to leave Italy during the First World War.
They hid their valuables in the caves and under the waterfall in the garden and fled with a boat.
They later settled in Bressanone (Brixen).
The Hruska family received Italian citizenship.
Arthur Hruska continued his medical work in plastic surgery and operated on maxillofacial injuries.
After the end of the First World War, the house and garden in Gardone Riviera were restored.
Hruska traveled the world, including the Pyrenees, Himalayas, Tenerife and China.
He studied mountain formations, collected plants and crossed Lapland on foot.
He then built an alpinum, a rock massif, to allow the plants to thrive in their natural environment.
His children called the Garden "Elephant Cemetery".
The Garden is lush and green, shaded by tall exotic trees: conifers, palm trees, camphor trees, banana trees, bamboo grass, ferns, agaves, lilies and shrubs in the landscaped jungle, water plants blooming along the streams and around the ponds.
Franz André Heller is an Austrian artist, author, poet, singer, songwriter and actor.
Heller was born in Vienna into a wealthy Jewish family of sweets manufacturers, Gustav & Wilhelm Heller.
He visited Café Hawelka almost daily.
It was in this coffeehouse that he met many men of letters including Friedrich Torberg, H. C. Artmann, and occasionally Elias Canetti, as well as Hans Weigel, and Helmut Qualtinger, with whom he later on collaborated and performed.
Heller took acting classes from Hans Weigel and his cohabitee Elfriede Ott.
Heller has been writing prose, poetry and songs since 1964.
He left school shortly before obtaining the Matura.
He went to a Jesuit boarding school.
From 1965 to 1967, he was a moderately successful actor at various Viennese avant-garde theatres.
In 1967, Heller co-founded Hitradio Ö3, the ORF's then progressive pop music station, where he was one of the hosts of the daily Musicbox programme.
That same year, he recorded his first LP record with the title Nr1 that was released in 1970.
His second LP Platte was released in 1971, and, subsequently, his first play premiered entitled, King-Kong-King-Mayer-Mayer-Ling at the Vienna Festival in 1972.
As a poet-songwriter, his work spans across a period of more than 15 years selecting diverse topics and writing for a German-speaking audience.
He has worked with not only international names, such as Ástor Piazzolla, Dino Saluzzi and Freddie Hubbard, but also with Austrian artists, such as Toni Stricker, Wolfgang Ambros and Helmut Qualtinger.
Heller's own poetry has been set to music.
He has also sung texts by other authors.
For instance, "Catherine", from 1970, was set to one of the first hits of Heller.
The text came from the then still largely unknown Reinhard Mey, and the music from the Austro-Canadian Jack Grunsky.
With Werner Schneyder, he created Viennese German songs that are translated from Jacques Brel, such as "Franz" (after the Brel title "Jef").
Using intimate memories of traumatic childhood experiences, and insights into his life, as well as his Catholic-Jewish origin, he created songs with the title "Angstlied" (Verwunschen, 1980).
Titles like "Miruna, die Riesin von Göteborg" (Verwunschen, 1980) are, in turn, influenced by the Vienna School of Fantastic Realism.
"Das Lied vom idealen Park" (Narrenlieder 1985), or, as a duet with Wolfgang Ambros, he also introduced the Bob Dylan cover, "Für immer jung" (Stimmenhören, 1983) are now titles that are part of the Austro-pop cannon.
In 1983, he appeared on Stimmenhören with the song "Erhebet euch Geliebte", a song at the time of the peace movement in the early 1980s.
Since the early 1980s, he turned increasingly to large public productions, installations and performances, until 1982, where his concert career came to a close.
In 1985, the album, Narrenlieder, was released.
Between 1967 and 1985, he published a total of fourteen LPs, twelve of those were gold records, and earned him seven times platinum.
In 1991, he wrote, looking back on this period:
"I started in 1967, to put my poems together using my voice on record and in recitals before millions of people.
This was following the example of Bob Dylan's first meaningful and self-published poetry.
1982 was certainly the zenith of that career, where I had to stop my concerts. I realized at this point, it was spoiled for me, because at 8pm, I had to act gifted in front of a few thousand listeners, just because they had paid for admission."
(Heller in the liner notes of Kritische Gesamtausgabe, published in 1991)
However, on his 60th birthday, Heller gave a concert in April 2007 at the Viennese Radiokulturhaus, after twenty-five years of absence from the stage in a recital entitled, Konzert für mich (Concert for me).
Between 1968 and 1983, Heller recorded 15 albums as a singer of his own texts, and in part of his own compositions.
He was on the road with 9 international concert tours and was the host and entertainer in 12 evening TV shows.
In 2006, thanks to the initiative of Chris Gelbmann, he released his last album called, Ruf und Echo.
The 3-CD compendium is the first release in the past 20 years, containing new songs, and interpretations of old hits by artists like Brian Eno, Xavier Naidoo, Thomas D, and The Walkabouts.

Heller was appointed as an Artistic Director of the Artistic and Cultural Programme that ran parallel to the 2006 FIFA World Cup in Germany.
His company, Artevent, was also responsible for the presentation of the Germany bid for the 2006 FIFA World Cup project.
He designed the final presentation in 2000 for the successful German application, and, in 2003, designed a "Fußball-Globus", an architectural project consisting of a huge lit-up football globe that toured through Germany standing in public places such as Brandenburg Gate in Berlin.
Heller invented the motto for the football World Cup, Die Welt zu Gast bei Freunden (A time to make friends).
For the World Cup, Heller planned an opening gala in Berlin's Olympic Stadium, where Brian Eno and Peter Gabriel would be involved.
On 13 January 2006, it was cancelled by FIFA.
The reason cited was that the turf, which would have been re-installed after the end of the gala, would not be in perfect condition for the first game there.
Since 2003, Robert Hofferer is his manager and leads the firm Artevent, with headquarters in Vienna.
From 1976 until 1981, Heller played major roles in various international movies.
In the late 1960s, Heller joined as a financier in the film, Moos auf den Steinen (Moss on the Stones), with Erika Pluhar in one of the main roles, for which he claims to have used up his inheritance.
It was not long before he was in front the camera as an actor:
Heller played the leading roles in Hans-Jürgen Syberberg's Hitler: A Film from Germany, in Fürchte dich nicht, Jakob! by Radu Gabrea, in Doktor Faustus by Franz Seitz, and in Peter Schamoni's Frühlingssinfonie (Spring Symphony), a supporting role in Maximilian Schell's 1979 film, Geschichten aus dem Wienerwald (Tales from the Vienna Woods), which is based on Ödön von Horváth's play.
In 1969, Heller participated in a televised version of Arthur Schnitzler's tragicomedy, Das weite Land (The Wide Land), directed by Peter Beauvais.
In 1989, he also worked as a stamp artist.
On behalf of the United Nations Postal Administration, he designed a stamp to commemorate UN Vienna's tenth anniversary.

Heller has received numerous international awards.
He has to date written 14 printed publications, among them are collections of stories Die Ernte der Schlaflosigkeit in Wien, Auf und Davon, Schlamassel, and Als ich ein Hund war, the novel Schattentaucher, and the collection of poems Sitzt ana und glaubt, er is zwa(with Helmut Qualtinger), as well as two picture books Jagmandir – Traum und Wirklichkeit, and Die Zaubergärten des André Heller.
21 TV documentaries have been produced about Heller's projects, productions, and plans.
These were done by the likes of Werner Herzog, H. J. Syberberg, and Elsa Klensch, among others.
Heller was married from 1970 to 1984 to the actress, singer, and author Erika Pluhar.
Above: Erika Pluhar, 2018
For some years, he lived in the 1970s with the actress Gertraud Jesserer, and much later, with the actress Andrea Eckert.
Above: Andrea Eckert, 2016
Heller was romantically involved for short periods in the mid-1980s with Anke Kesselaar, Rudi Carrell′s former wife.
The artist lives in an apartment in the Palais Windisch-Graetz in Vienna's Innere Stadt quarter that is owned by the Augustinian monastery of Klosterneuburg.
In 2000, Heller received there German Chancellor Gerhard Schröder.
Above: Gerhard Schröder, German Chancellor (1988 – 2005)
Among Heller's works is "Blind Spot – Hitler's Secretary" (2001): a documentary interview presented at the 52nd Berlin Film Show.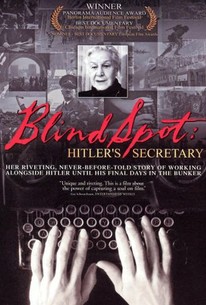 Heller also became a famous visionary artist, displaying fantastic ideas, artistic creations, multimedia shows and later realized several shows with active participation from the public, managing to create a world in opposition to the daily rational one based on technology.
In 1987 he opened the avant-garde fun fair "Luna Luna" in Hamburg – a travelling territory of modern art – in 1992 the monumental sculpture "Bambus Man" in Hong Kong.
Heller's works include art for gardens, Wunderkammern, parades, millions of LPs sold as a singer-songwriter, concerts and conferences across Europe, Asia and North America, large flying and floating sculptures, movies, fireworks and labyrinths, renewal of circuses and variety shows, as well as theatrical plays and shows for the public from Broadway to the Burgtheatre in Vienna, in India and in China, in South America and in Africa, designer of museums among which the Swarovski Crystal World, Meteorit, the art direction of the Germany World Cup in 2006, and the fantastic AFRIKA-AFRIKA circus. 
Heller lives part-time in the Giardino Botanico Hruska in Gardone Riviera.
He currently lives with the former model Albina Schmid in Vienna and travels the world.
Heller has one son, Ferdinand, who goes under the stage name "Left Boy" for his music.
Ferdinand Sarnitz, known by his stage name Left Boy, is an Austrian DJ, singer and producer from Vienna.
Sarnitz was born in Vienna in 1988 to Austrian musician André Heller and Sabina Sarnitz.
He attended the American International School of Vienna and graduated in 2007.
In his free time at school Sarnitz spent most of his time rapping.
At the age of 18, Sarnitz went to New York City to study audio engineering at the Institute of Audio Research for a year.
After living in his hometown Vienna for a short while, he decided to move to Brooklyn to live in a shared apartment with two directors, a producer and a photographer.
In December 2010, Sarnitz released his first mixtape The Second Coming for free download.
In mid-2011, he started making music videos for all of the songs.
Sarnitz often uses samples for his English songs, which haven't been released for usability, which is why an official sound carrier couldn't be released.
Even though he hadn't been signed to a record label, he was able to perform at festivals in 2012, including "Sea of Love" and "HipHop Open".
Live, he is accompanied by the dance group "Urban Movement".
Ruan Roets is a big fan, describing the Left Boy sound as "poes goed".
Sarnitz has a son, Yves-Louis.
He cites Wu-Tang Clan, Oxmo Puccino, De La Soul, Atmosphere, Ugly Duckling, Daft Punk, Édith Piaf, Nina Simone, Oumou Sangaré and Gipsy Kings as his inspirations.
In 2015, he rapped in the official theme tune "Building Bridges" for the Eurovision Song Contest.
I wonder if Left Boy truly appreciates his father's garden.
I wonder if anyone truly appreciates what came before to make what is possible today.
I think of Austria – Italy relations.
Austria (Österreich) has an embassy in Roma (Rome / Rom), a general consulate in Milano (Milan / Mailand) and 10 honorary consulates in Bari, Bologna, Firenze (Florence / Florenz), Genoa, Napoli (Naples), Palermo, Trieste, Torino (Turin), Venezia (Venice / Venedig) and Verona.
Above: Austrian Consulate, Milan
Italy (Italia) has an embassy in Wien (Vienna), a consulate in Innsbruck (Isprucco) and four honorary consulates in Graz, Klagenfurt (Clanforte), Linz and Salzburg (Salisburgo).
Above: Italian Embassy, Vienna
Since the Middle Ages, Austria has had a great influence over the Italian states, especially in the north of the country, but as well Italy has also influenced Austrian culture, architecture and cuisine.
Above: Antonio Salieri (1750 – 1825), Italian composer who worked mainly in Austria
Above: Nicolò Pacassi (1716 – 1790), Austrian architect of Italian descent
Many Italian artists and architects, like Santino Solari, Martino Altomonte, Giovanni Zucalli, Vincenzo Scamozzi, worked and contributed to the Baroque in Austria, most notably in Salzburg.
After the Congress of Vienna, Austrian control of the Kingdom of Lombardy-Venetia, with its key cities of Venice and Milan, created the conditions in which Italian nationalism and Austrian interests clashed in the three Wars of Italian Independence between 1848 and 1866 ultimately leading to Italian victory.
Tensions remained throughout the 1870s as continued Austrian rule over Italian inhabited lands such as in Trentino and Istria, inflamed Italian nationalism which in turn threatened Austrian integrity.
As a result the Austrians built further fortifications along the Italian border.
In 1876, the Austrian Archduke Albrecht advocated a preventive war against Italy.
Above: Archduke Albrecht (1817 – 1895)
Despite entering into the Triple Alliance of 1882 (along with Germany), areas of clashing interest remained.
Italy's improving relations with France, Italian interests in the Balkans, and continuing nationalism amongst Italians within Austria-Hungary concerned leaders in Vienna.
Italy's adherence to the Triple Alliance in the event of war was doubted and from 1903 plans for a possible war against Rome were again maintained by the Austrian general staff.
Mutual suspicions led to reinforcement of the frontier and speculation in the press about a war between the two countries in the first decade of the 20th century.
As late as 1911 Count Franz Conrad von Hötzendorf, chief of the Austrian general staff, was advocating a military strike against Austria's supposed Italian allies.
Above: Conrad von Hötzendorf (1852 – 1925)
During World War I, Italy fought against Austria–Hungary despite their defensive alliance signed some decades earlier.
By World War I's end, Italy emerged victorious and gained new territories from Austria and border agreements were secured.
Today both countries are full members of the Organisation for Economic Co-operation and Development and of the European Union.
The countries share 430 km of common borders.
Austrian Interior Minister Herbert Kickl said on 5 June 2018 that Italy is a strong ally of Austria.
And here's the point….
Old enemies can lay down their swords and beat them into ploughshares.
And the result, such as a botanical garden and sculpture park, can be remarkably beautiful.
This is the legacy bequeathed to Left Boy, bequeathed to those of us who reside in Europe.
Certainly individuals and nations have their unique talents and opportunities, but when we sacrifice unity in pursuit of selfish gain that beauty, so difficultly obtained, so delicately fragile, can be lost.
We live in an age where popularism and nationalism has nations in nervous anxiety and dangerous xenophobic paranoia with all those who are different than we are.
But Italian baroque in Vienna and Austrian artistry by the shores of Lago di Garda show that, rather than divide nations, differences can enhance them.
A world-renowned dentist, a multi-media multi-talented superstar, and a rising musical phenomenon, Hruska, Heller and Left Boy have shown Austrians that one can find purpose outside Austria and have shown Italians that the acceptance within Italy of strangers whose ancestors had once been mortal enemies can make Italy flourish.
Father Heller and son Left Boy have travelled and will continue to travel the world, but they were never kicked out of their Garden of Eden that their fortunes nestled and nurtured in Gardone Riviera.
Their Garden is waiting for them, and us, to return to.
Sources: Wikipedia / Google / King Crimson, "Three of a Pair" /Giardino Botanico Fondazione André Heller, www.hellergarden.com