Landschlacht, Switzerland, 26 November 2017
Where is the line between insanity and sanity?
What does it actually mean to be sane?
Sanity involves wholeness, whereas insanity implies brokenness?
One theory suggests that sanity is tied to how we fit with what is actually going on in the world.
Psychologist Erich Fromm proposed that, not just individuals, but entire socieites "may be lacking in sanity".
One of the most deceptive features of social life involves consensual validation.
"It is naively assumed that the fact that the majority of people share certain ideas or feelings proves the validity of these ideas and feelings.
Nothing is further from the truth….
The fact that millions of people share the same vices does not make these vices virtues.
The fact that they share so many errors does not make these errors to be truths.
The fact that millions of people share the same form of mental pathology does not make these people sane." (Erich Fromm, The Sane Society)
(This might explain American politics?)
Are the religious insane?
Is it insane to believe in all-powerful invisible forces we can´t see because there are phenomena we can´t explain and because we fear our own mortality?
Is it insane for groups of people to believe in the same divinity yet believe that only their manner of belief or worship is the correct one and are willing to fight to the death to defend it?
Or are our lives empty echo chambers without religion to fill them?
I am neither psychologist nor theologian and my only philosophy is to accept other people´s points of view unless their perspective hurts either themselves or others.
I handle humanity on a case by case basis, situation to situation.
For example, I have a friend who is convinced to his bones that we live on a flat Earth, that the moon landing was staged and that space photographs are faked.
On one level, I admire his tenacity to stick to his beliefs and his insistence that one should question everything.
On the other, I am baffled that he can so easily deny so much that is based on empirical evidence and scientific experimentation over centuries.
I listen to him expound his case and though I can´t agree with him, his beliefs are not sufficient grounds for dissolving our friendship, and as long as he does not insist that I share his beliefs, then we can co-exist without agreement.
Still those who live in greenhouses shouldn´t throw stones, for I am unusual in my own eccentric manner.
I don´t drive, I am not glued to my mobile devices every available moment, I prefer print to electronics, I prefer walking to any other form of transportation no matter the distance or time involved.
I am not fanatical about these preferences.
I don´t drive but I can see the wisdom of knowing how to do so.
I have a mobile phone and see its practicality but I try not to let its use become an addiction.
My wife prefers the compactness of an electronic library, while I prefer the personal connection I feel towards physical books in my hands.
But many Swiss, as well as my German wife, question my sanity when it comes to walking.
Not because they don´t enjoy hiking, they do.
But here hiking is not usually a solitary sport, but rather it is usually done in groups of people or minimally it´s done as a duo.
They feel that hiking can be dangerous and that there is safety in numbers should one of the group get injured.
Wise, to be sure, but for me the point of hiking is isolation, getting away from humanity and bathing oneself in the delights of nature.
I love my wife and we have hiked together, but she is not a quiet person comfortable with silence, nor does one stroll but rather they march with her.
But she and the Swiss are right….
Hiking can be dangerous, even fatal, and the local papers are quick to trumpet to the reading public the latest fatalities.
I derisively laugh at all of this until I find myself in solitary difficulties on some godforsaken trail of my own choosing….
Toggenburg, Switzerland, 18 October 2017
I recently began following a man.
A religious man, willing to die for that which he believed in.
In an attempt to derive some sort of meaning from the hubbub of the celebration of the 500th anniversary of the Protestant Reformation, I have begun following the life and "footsteps" of the Swiss Reformer Huldrych Zwingli, through the use of biographies and a recently purchased book, Zwingli-Wege: Zu Fuss von Wildhaus nach Kappel am Albis.
Above: Huldrych Zwingli (1484 – 1531)
The previous week I walked from Strichboden in the heart of the Toggenburg region to Zwingli´s birthplace in the town of Wildhaus.
Above: Zwingli´s birthplace, Wildhaus
(For an account of this, please read Canada Slim and the Wild Child of Toggenburg of this blog.)
I accomplished the first walking section of the nine-stage rediscovery of Zwingli´s life by walking from the wilderness to Zwingli´s birth home to get a greater appreciation of arriving in Wildhaus on foot then simply disembarking from a Postbus to walk the intended direction of the Zwingli-Wege book.
Today though I would do things the right way, the intended direction.
To do so meant returning back to Strichboden.
So, once again, train to Neu St. Johann, bus to Starkenbach, a ride up the mountain via the ancient rickety cable car system called the Selunbahn, to arrive back on top of the mountain called Strichboden, this time to walk away from, rather than towards, Wildhaus.
Destination: Weesen, where Zwingli lived and went to school from age 6 to 10.
I began hiking early afternoon, for it is hard to awake early on my days off and it takes over two hours to reach Starkenbach from my home on public transportation.
Now there are a couple of things to keep in mind as you, gentle reader, read these words….
October means the ending of many tourist facilities, diminishing daylight hours, and a reduced tendency for people to go hiking in the wilderness at this time of year.
All of these were factors I had to keep in mind.
Still the weather was warm, almost summerlike, and as the Selunbahn rose through the alpine sky, so did my spirits.
From Alp Vorderselun / Starkenbach, I began strolling towards Amden / Arvenbüel 8.4 km distance, three hours away.
Now 8 kilometres may not seem like much of a distance to walk, but midway in the walk, the trail descends steeply from 1,800 metres to 1,200 metres.
The walk began quite pleasantly.
After only one kilometre, the hiker heading west comes to the Ochsenhütte (the Oxen Huts), a small mountain inn just 100 meters from the trail (still the Toggenburger Höhenweg).
Above: Ochsenhütte, Starkenbach, Toggenburger Höhenweg
Happily, hunger is deliciously abated and after wolfing down lunch, I resume the Höhenweg and gradually ascend the Alps Bleien and Hüeberlis to arrive at the Donnerlöcher (the Thundering Hollows).
In the totality of the Churfirsten Region there are no streams.
Rainwater and melting snow simply seep into the ground.
Innumerable hollows and depressions dent the alpine pastures on this Toggenburger side of the Churfirsten range.
When it rains, water rushes through these funnel depressions to form pits deep into the earth.
Along the walls of these funnels limestone is dissolved and sinks into these depressions to form deposits within these hollows.
Over vast amounts of time the increasing weight of the accumulating limestone deepens the hollows as much as 800 metres below the surface.
Depending on the wind conditions the sound that emerges from these hollows is said to be akin to thunder.
Beyond the Donnerlöcher and the summit of Alp Tritt I find myself suddenly on the side of limestone cliffs descending maniacally sharp down towards the pastoral hills of Arvenbüel.
How easy to make a misstep, how quickly one could get injured, how foolish one feels clinging to a cliff, how insane an activity is this solitary hiking….
The hiker is torn between the reflex of great hesitation and the need to continue onwards to safety.
The feet complain, arms and back comment, the rock is unforgiving and intolerant of careless fools, and one begins to envy the carefree manner by which mountain goats navigate these heights.
This aging man is no young mountain goat gleefully leaping from rock to rock unconcernedly.
Palms sweat, despite firm grip on walking stick and mountain cable.
I recall a similar situation during my walking days in Canada when I spontaneously decided to climb up the side of the Scarborough Bluffs (just outside Toronto) with a discovered tennis ball in one hand!
Above: Scarborough Bluffs, Toronto, Ontario, Canada
Apparently I was not very wise in the past and clearly I have not gotten much wiser since then.
Still I persevere….too scared to live, too stubborn to die.
Eventually limestone turns to hilly pastureland and pastureland with glimpses of the Walensee (Walen Lake) gives way to flat streets and roads.
Fear is forgotten in a tidal wave of relief when I reach the end bus stop of the Arvenbüel – Ziegelbrücke bus 650 route before sunset.
Bus 650, happily arriving when I do, winds its way down the slopes with stops in the villages of Amden and Weesen.
I resolutely refuse to explore these villages until I return again to walk from Arvenbühl.
Weather and work make the return walk wait for nearly a fortnight….
Arvenbüel, Switzerland, 1 November 2017
All Saints´ Day is one of the days of the year that one perceives how divided Switzerland is between Catholics and Protestants.
Central Switzerland, Canton Valais, Canton Ticino, the Jura region, Canton Freiburg/Fribourg, Canton Solothurn, Baselerland, half of Canton Aargau, Canton Appenzell Innerrhoden and Canton St. Gallen remain devoutly Catholic.
Wealthier and more urban Cantons are stubbornly Protestant.
This difference of religious opinion even led to a bloody civil war in Switzerland called the Sonderbundkrieg (the Sonderbund, or Separate Alliance, War) in November 1847.
Take, for example, the half-Cantons of Appenzell: Appenzell Innerrhoden (AI) and Appenzell Ausserrhoden (AR).
(In Switzerland´s Parliament, AI and AR get only an one half cantonal vote, despite being separate individual cantons.)
AI (Cantonal Capital: Appenzell) is predominantly Catholic, so today schools, government offices, banks and shops are closed there.
Above: Coat of arms of Canton Appenzell Innerrhoden
AR (Cantonal Capital: Herisau) is predominantly Protestant, so there everything is business as usual today.
Above: Coat of arms of Canton Appenzell Ausserrhoden
Thurgau Canton where I reside is Protestant, while St. Gallen Canton is Catholic, (despite the efforts of St. Gallen reformer Vadian, whose statue is across from the Starbucks where I work when I am not teaching).
Above: Statue of Joachim von Watt, aka Vadian (1484 – 1551)
AI and AR are often confused in my mind so I had cancelled my Herisau lesson for today, forgetting that the company for whom I teach was operational today, and opted to resume my Zwingli walking.
(For more on the wonders of the Appenzell Cantons, please see A to Z: Adam to Zelg, An Aura of Appenzell Alpacas and Aion A, Riding the Rails, Railroads to Anywhere: Urnäsch and Appenzell and This Gais in Plain Sight of this blog.)
Today´s hiking trek began after a train to St. Gallen, another to Herisau and yet another to Ziegelbrücke, then a bus back up to Arvenbüel.
Another pleasant hiking day.
The trail started reassuringly level for 1.5 km from Arvenbüel through Stock and Chapf, offering great views of the Walensee, but then it began a rapid 4 km descent from a height of 1,300 metres to 900 metres through Giregärtli, Fallen and Hofstetten -a quarter of the town of Amden – to arrive at the back of an apartment building where a Turkish family offers communal drinks paid for by voluntary contributions.
What can one say about Amden?
Well, Amden is one of the largest municipalities in Switzerland at 43 square kilometres, as well as one of the most varied in terms of extremes of elevation from 2,101 metres high down to 421 metres low at Walen Lake.
There are a little more than 1,600 Ammlers, most of them good Catholics, despite Amden having seen Romans, Goths, Franks, Swabian, invading Swiss from other cantons, and the French come tromping through over the millennia.
For Amden is desirable, with scenic and strategic value and fertile land.
But its location is both a blessing and a curse, for not only has it been a much coveted area for many, but nature herself has restlessly fought against Amden with a major rockslide in 1972 that sealed off roads leading to the town, requiring facilities to be flown in and new roads built.
There are ruins of a Roman fortress here, Burg Strahlegg, built in 15 BC by order of Caesar Augustus, and uncovered by soldiers en route to the Battle of Näfels in 1388.
One Turkish coffee and 200 more meters descended to Faren later, the trail bends back upon itself heading towards another wonder of Switzerland, but not before I see one of the faithful entering the Catholic church of St. Gallus in Amden.
Perhaps it is the rare alpine air here that seems to create talent….
German landscape painter Otto Meyer (1885 – 1933) loved the place so much he renamed himself Otto Meyer-Amden, while a generation later painter Doris Stauffer (1934 – 2017) remained ever devoted to the town.
Above: Amden Landscape (1913), Otto Meyer-Amden
But Amden´s size and dominant Catholicism must not be easy for everyone.
Local popular singer Michael von der Heide´s sexuality remains a topic of much debate, a debate in which he refuses to engage in, saying that he should be judged by his talent and not his sexuality.
Above: Michael von der Heide
And, of course, he is right.
At Faren, the hiker must choose to either walk east towards the Seerenbachfälle or walk west down towards Weesen and the Walensee.
The detour to the Falls is well worth it, for they are not just one set of waterfalls but three, cascading down from a height of 585 metres, making the Seerenbachfälle trio the 3rd highest waterfalls in Switzerland.
Above: The Seerenbach Falls, Amden
The day´s goal and the focus of this walking project was to visit a location where Huldrych Zwingli once lived….
Weesen, where from ages 6 to 10 Zwingli attended the village school and lived with his uncle Bartholew.
According to the Zwingli Zentrum Toggenburg back in Wildhaus, the walk I followed over the course of three days from his birthplace to his primary school residence was also actually taken by Huldrych and his father Ulrich.
It is said that Ulrich frequently followed this path through the Amdener Pass to keep in personal contact with his son, his brother and the commerce of the area.
For commercial profit, Weesen was built at the meeting point where the Linth River flowed into the Walensee and was thus a much travelled route.
Above: Aerial view of Weesen, where Linth Canal meets Walensee
It was in Weesen where Huldrych learned German, reading, writing and arithmetic and where he met Katharina von Zimmern.
Katharina von Zimmern was born in 1478 in the rich southern German noble family of Baron Hans Werner von Zimmern and Countess Margarethe von Oettingen.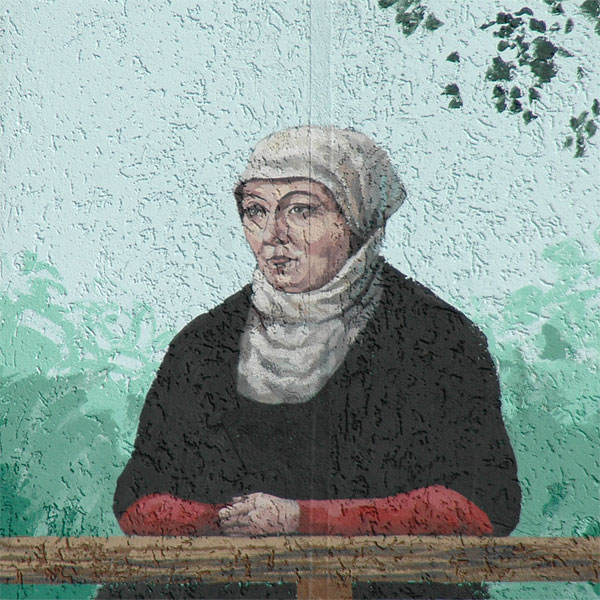 Above: Katharina von Zimmern (1478 – 1547)
Katharina was the fourth girl and had four further brothers and two sisters.
Her father loved hunting, played several musical instruments, and was in the service of the Duke Sigmund of Tyrol.
In 1488 he fell from the favour of Emperor Frederick III, due to intrigues and was forced to flee with his family.
Katharina had an adventurous escape with her mother and some siblings before arriving at Weesen on the Walensee lakeshore.
There in 1490 she met the boy Huldrych, who had been given to his uncle, the parish priest in charge.
Little did the 22-year-old nun imagine then that this boy would one day make her future position of Abbess in Zürich to be the last Abbess of the Fraumunster Abbey.
The aforementioned history of Amden is quite similar to that of Weesen, with two significant differences:
Weesen didn´t suffer a rockslide….it was razed by the victorious Swiss after the Battle of Näfels then rebuilt a few years later.
Weesen has an Abbey.
Above: Weesen Abbey
The Weesen Abbey, or as it is properly known the Maria Refuge Dominican Order of Nuns Cloister, has existed since 1256, and is known for quite a number of remarkable things:
It is one of the few monasteries that wasn´t looted during the Swiss Reformation as the cloister´s vows of charity meant there was little for anyone to steal, and though it too was a victim of iconoclastic attacks (the destruction of religious symbology) it still was able to repair itself and continue to function right up to today.
The Abbey library contains over 8,400 books, mostly in German on how to be a good nun.
The Abbey accommodates and is served by nine nuns and one laywoman who range from ages 46 to 78.
It offers a temporary guesthouse for women from ages 18 to 40.
The ladies manage their own cloister shop, bakery and atelier which produces candles and icons.
Their bakery is, surprisingly, the most modern wafer-producing factory in Switzerland, manufacturing 30,000 brown and 3,000 white wafers per week, or two million wafers a year.
The wafers are created from a mixture of flour and water without the use of either yeast or baking powder.
The Eucharist wafer, the symbolic body of Christ, is mass produced, though fully automated, in astonishing purity and massive quantities by less than a dozen women who are mostly past their prime of life.
Walk around Weesen a bit, though the tourism infrastructure doesn´t yet appreciate that non-German speakers might visit, and you may find yourself pleasantly charmed by this town.
The Hotel Schwert has been offering food and lodging since 1523, while the Town Hall has been administering since 1388 – despite the Great Fire of 1523 that razed the original building.
Follow the flow of the Lauibach, a stream that should never be underestimated, which flooded the streets of Weesen in 2005.
Visit the aforementioned Cloister and be inspired by these ladies of Maria Zuflucht.
See the Schlössli (small chateau) in the town centre where the von Zimmern family once lived after their flight from Austria.
More divinity awaits within the walls of the Holy Cross Church should you desire the trappings of Catholicism or deep within the sanctuary of the Zwingli Reformed Church if plain and simple surroundings are more to your religious inclinations.
Above: Zwingli Church, Weesen
Ponder the Russian Monument beneath the Zwingli Church and recall that the acceptance of war refugees into foreign communities began long before our present Syrian War crisis.
In the First World War and in the years between the global conflicts millions left the ruins of the former Ottoman Empire.
The Second World War saw many thousands of people flee wartorn areas and many afterwards sought to escape the chokehold of Communist dominated lands.
More than 100 Russian refugees called Weesen their new home from 1951 until 1992.
The Monument was unveiled in 2006.
Beneath the ground of Speerplatz the Middle Ages are still being uncovered and rediscovered, while on the walls of the Weesen Museum and Gallery are fine paintings capturing on humble canvases the mighty glory of the Seerenbachfälle and the quiet majesty of the Walensee.
Along the harbour of Weesen the casual stroller learns of how high the floodwaters of the Walensee can be, that Zwingli once lived here and that Franz Liszt visited, while watching as a summer fountain flings water high above the surface of the lake.
Above: High water marker, Weesen Harbour
Enjoy delicious pastries and High Tea, served by lovely ladies in 19th century period dress, inside the warm and inviting Café Liszt and see photos and sheet music by the famous composer peeking at the patrons from the walls and from on top of cleverly arranged furniture pieces.
There is a timelessness to Weesen that soothes the visitor.
This is a place contented with itself, complacent in its attractiveness.
Large enough to handle commerce and accommodate throngs of lake cruise disembarking passengers and summer visitors, small enough to feel cosy and comfortable and intimate with the surroundings and one another.
In Weesen, a young boy would learn the fundamentals of basic education, a young girl would be inspired to take up a life of service to Christ, and a wild Hungarian romantic would feel compelled by his surroundings to linger and create music that would delight crowds and put the name of Weesen into their souls.
Look up into the mountains or across the waters of the Walensee and feel the place work its quiet spell upon you.
Let your curious feet lead you down to the Linth canals and decide spontaneously which canal you will follow, whether you wish to visit Glaurus or Zürich Cantons today.
The hallows of your heart will thunderously applaud your decision to come here.
Linger awhile.
Sources: Wikipedia / Google / Marcel and Yvonne Steiner, Zwengli-Wege: Zu Fuss von Wildhaus nach Kappel am Albis