Landschlacht, Switzerland, 18 May 2016
Perhaps it is fitting to tease people from Appenzell, for it seems that Appenzellerland´s small homely villages are virtually untouched by the 21st century.
The few lost souls who visit this off-the-beaten-track region are charmed by the locals´ devotion to its traditions and the picture-perfect scenery.
The landscape is not as dramatic as that of the Alps to the south.
Here there are no jagged peaks, no deep ravines, but instead one feels as if he has stepped into a landscape painting of a type Van Gogh or his contemporaries would have created.
It is a hiker´s paradise with over 1,200 km of marked footpaths.
As Postbus / SBB train / Appenzell train give easy access to and from St. Gallen, where I work both as Starbucks barista and freelance teacher, I have often been tempted by Appenzell´s charms and filled with a Wanderlust to explore its hidden nooks and crannies…
Gais, Appenzell, Switzerland, 30 March 2016
Every job has its moments of disenchantment and I was feeling somewhat frustrated with work at Starbucks this day.
Like any workplace there is the complexity of dealing with so many different types of people, whether staff or clients, that on occasion tries mens´ souls.
Changing alliances, fluctuating moods, ongoing reoccuring problems that are part-and-parcel of operating any organisation can test even the most saintlike of workers, so after a rather straining shift in the morning/early afternoon, I took a Postbus to Hundwil to do yet another of Herbert Mayr´s recommended walks in his Bodensee Süd hiking guide.
Hundwil (in English, "dog valley") is a small municipality in the half-canton of Appenzell Ausserrhoden (outer Appenzell) of only 900 souls in a few wee farming hamlets, so there ain´t much to do here ´cept farm, play the organ in the local church or hike.
I left the village from the post office and the cemetery.
Signage was sporadic, at best, yet somehow I managed to make it to Auen with its alpacas.
Alpacas are a domesticated type of South American camel and look like small llamas.
Like llamas, alpacas are normally found on the level heights of the Andes of southern Peru, northern Bolivia, Ecuador and northern Chile.
Like their llama cousins, a number of alpaca herds on farmyards in various places can be seen in Switzerland and I am always astonished and confused as to why they have been relegated out of South America.
Alpacas are small thus poor beasts of burdens, so they are usually bred for their fiber (hair) to make blankets, sweaters, hats, gloves, scarves, ponchos, coats and bedding.
Alpacas have been domesticated for thousands of years so there are no known wild ones.
Though at first glance, they appear cute and cuddly, I suspect raising them can´t be easy…
Alpacas bray loudly, spit and kick, and eat, eat, eat, when they are not fighting or fornicating, similiar to a few college classmates I knew!
From the heights of Auen, I descended to the canyon of the Urnäsch river.
Then steep climbing up to Waldstatt reminded me that I am 51 not 15!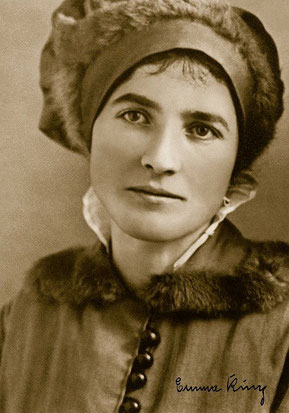 Meet Emma Kunz (1892 – 1963) who was a wee bit…unusual.
Kunz was a Swiss healer and artist, who published three books and produced many drawings.
The daughter of weavers, she was not a trained artist.
Inspired by spiritual evolution, Kunz used a divining pendulum to create her drawings by radiesthesia.
Radiesthesia, a branch of radionics, could be politely called "pseudoscience" for it contradicts principles of physics and biology.
Radionics practitioners believe that a healthy person has certain energy frequencies moving through their body that define health.
An unhealthy person exhibits other, different energy frequencies that define disorders.
Radiesthesia is the claimed paranormal or parapsychological ability to detect "radiation" within the body.
This radiation is often termed as one´s "aura".
As auras are said to create patterns, so using lines, geometry and grids, Kunz created drawings / diagrams of her exploration of her complex belief system and restorative practices.
Critics describe radiesthenia as a mixture of the occult and quack science.
Yet, nonetheless, there is the Emma Kunz Centre in the Swiss village of Würenlos near Zürich.
"The Emma Kunz Centre is situated at the source of AION A, in the Roman quarries of Würenlos.
It was founded in 1986 by Anton C. Meier in order to preserve the findings of Emma Kunz, the results of her research and the collection of her works of art for posterity.
A further aim was to extract the healing rock, AION A, which Emma Kunz had discovered and to make it available to mankind.
Thus, her innermost desire was fulfilled that a meeting place should be established at the very source of her power where cultural, intellectual and healing works could be brought together." (Emma Kunz Zentrum)
There is an Emma Kunz Path that leads the curious from the Waldstatt train station to her home, where she spent her last years, to Bad Säntisblick, a spa from where one can see Emma´s sacred peak.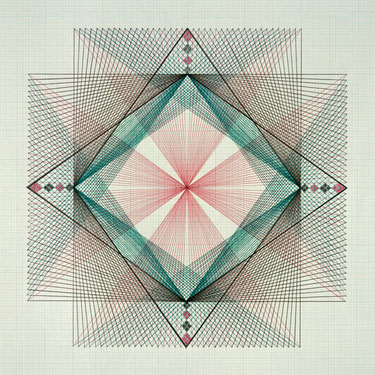 "In 1941, the founder and current director of the Emma Kunz Centre, Anton C. Meier fell seriously ill with infantile paralysis.
As a result of his illness, Emma Kunz discovered, in the Roman quarry in Würenlos, the healing rock to which she gave the name AION A.
The word "aion" comes from the Greek and means "without limitation".
With this, Emma Kunz pointed out the universal therapeutic possibilities of her discovery.
She demonstrated the enormously powerful healing capacity for the first time in her treatment of Anton C. Meier.
It derives, according to Emma Kunz, not only from the special mineral composition of AION A, but especially from its accumulated biodynamic energy.
Particular benefit is achieved in the treatment of all types of inflammation processes.
Many doctors, healers and therapists have since then carried out her wish with great success.
AION A has thus become an indispensable assistance for many people in the treatment of, for example, rheumatological problems, in all sports injuries, and damage to muscles, tendons, and ligaments.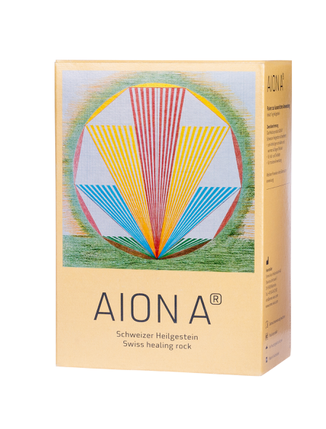 The Swiss rock powder AION A (approved by Swissmedic, Swiss Agency for Therapeutic Products) is available in Switzerland in pharmacies and chemist's shops." (Emma Kunz Zentrum)
From 1951 until her death twelve years later, Emma chose to live in Waldstatt to be close to her "holy mountain" Säntis.
Was Emma a quack, a charlatan, a con artiste?
Or was she a visionary worthy of her own museum, walking trail, stamp?
As a Canadian unschooled in the ways of New Age exotica, I shrug my shoulders and travel on.
Waldstatt is a big town of nearly 2,000 residents and connected to the Appenzell train network, so on impulse I decided to ride the rails rather than walking further…